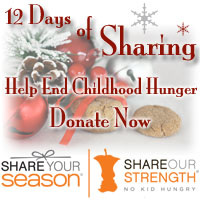 Welcome to the 12 Days of Sharing virtual cookie jar. Don't forget every donation you make to help end childhood hunger equals an entry and chance to win one of these great giveaways.
Cookies & Bars
Nut Crescents Brown Eyed Baker
Toffee Cookies with Dark Chocolate Glaze Steamy Kitchen
Raspeberry Walnut Rugelach The Family Table

Nutella Buckeye Surprise My Food and Life Encounters
Cavallucci Jul's Kitchen

Chocolate Dipped Caramel Pecan Bars Savory Sweet Life

Linzer Cookies The Other Side of 50
Chipotle Orange Chocolate Chip Cookies In Jennie's Kitchen

Orange Infused Snowball Cookies Cooking During Stolen Moments

Cream Cheese Pastry Cookies Cooking During Stolen Moments

Cranberry Palmiers Fête & Feast
Spiced Fruit Cake Bars The Runaway Spoon

Basic Butter Cookies The Family Table

Maple Pecan Cookies Family.Friendly.Food
Baklava Palmiers Daydreamer Desserts
Pecan Logs Daydreamer Desserts
W's (butter cookie) Daydreamer Desserts
Pistachio Cranberry Cookie Devour the World
Cheddar Thumbprints Mrs. Wheelbarrow
Hazelnut Thumbprints Mrs. Wheelbarrow
Cookie Cake Bars The Little Kitchen
Red Velvet Shortbread Cookies Recipe Girl

Meringue Choco Chunk Cookies HiroshimaGab
"Second Try" Cookies Umami – What's for Dinner?

Operation Christmas Cookie Hell The Yummy Mummy
Madeleines Chow and Chatter
Crispy Salted Chocolate Chip Cookies Healthy Delicious
Sweet Potato Oatmeal Cookies Savor the Thyme
Alton's Paradise Macaroons All About Alton
Molasses Ginger Snaps Inter-Faith Food Shuttle
Tangerine Ginger Vanilla Rolled Sugar Cookies Cupcake Muffin
Magic Cookie Bars Noel's Kitchen Tips
Springerle Cookies Sogni D'Oro
Lemon Ricotta Cookies Pithy and Cleaver
Eggnog Cookies with Browned Butter Icing The Naptime Chef
Lemon Sugar Cookies High Low Food Drink
Chocolate Mint Cookies Gluten Free Betsy
Nutella Kisses Chris & Chrissy
White Chocolate Thimble Cookies Noel's Kitchen Tips
Soft Molasses Cookies La Fuji Mama
White Chocolate Raspberry Slices Change Becomes Change (egg-free)
Peppermint Mocha Truffles My Kitchen Addiction
Crunchy Peanut Butter Cookies My Kitchen Addiction
Buttery Sugar Christmas Cut-out Cookies Southern Grace Gourmet
Gluten-free Rugelach Gluten Free Girl
German Pfeffernüsse Cookies La Fuji Mama

Peppermint Bark Smookies What's Gaby Cooking
Holiday Lace Cookies Local Appetite
Chocolate Crinkles Seattle Tall Poppy

Cakes
Pumpkin Dump Cake Holy Cannoli Recipe
Chocolate Orange Spice Cake In Jennie's Kitchen

Almond Walnut Coffee Ring Umami – What's for Dinner?

Fruit Cake Evil Shenanigans
Cupcakes & Muffins
Lime Coconut White Chocolate Chip Muffins Cupcake Muffin
Chocolate Cheesecake Cookie Cups That's So Yummy
Zesty Lemon Muffins Noel's Kitchen Tips

Other Heavenly Sweets
Rum Balls Mrs. Wheelbarrow's Kitchen
Single Serve Whipped Cream In Jennie's Kitchen
Homemade Cinnamon Buns In Jennie's Kitchen
Hot Cocoa + Chocolate Ganache In Jennie's Kitchen
Cocoa Candied Nuts In Jennie's Kitchen
Spiced Apple Cider In Jennie's Kitchen