crispy chewy walnut cookies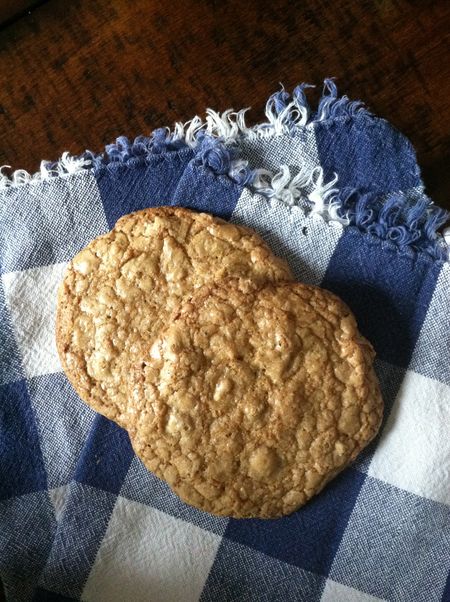 The weather in NYC has been abysmal the last few weeks. Not good for someone who often jokes she operates on solar energy. When I woke up to sunshine streaming in through the crack in the curtains I knew it would be a farmers' market day. Wednesdays and Saturdays are my favorites for going to Union Square because it's bursting with the most farm stands.
I had no business going today with my manuscript due the end of next week, but it's where my heart needed to be. Eating is a common way to cope with deep sadness, but whenever I feel out of sorts I find more comfort in ingredients. As I crossed over Union Square West and found myself in the center of the market, I began sprinting, scanning stands to see what I wanted. Then I stopped and realized it was the equivalent to gobbling my food up too fast.
After the dreary weather, this time at the market needed to be savored. It needed to nourish my mind so I could get back to the real work at hand, which at this moment is finishing the last of the recipe development and writing headnotes. I took a deep breath, closed my eyes and slowed down my pace. After collecting my bounty, I headed to the subway.
Sitting across from me was a young couple, and I couldn't help but watch them dig into their fruit cups from a bodega. He was eating pineapple, and she plopped an orange wedge into his cup. He stabbed it with a fork and dropped it back into her bowl. She returned it—and he again stood his ground, but with a sly grin and sparkle in his eyes. They compromised on a strawberry half, which she casually held up to his mouth from the tip of her fork.
I got lost in my phone, reading the Dining In section, and when I next put my head up, his was nestled in the nook of her elbow. His eyes closed, with a faint smile, and her's the same. One would think this made me sad, or perhaps even angry at my situation.
The effect was opposite, though, and it left me hungry for a connection like that again. Feeling joy at watching such a sweet, simple display of intimacy reinforced that there is still an appetite to love like that again. These feelings do not come without a price. There is the immediate wave of guilt that comes with every lonely moment. Does my loneliness diminish the depth of my love for Michael? Does it mean I'm weak to want the brush of a hand against my face? It's a rhetorical question, and one I began exploring with my therapist last week.
This has nothing, and everything, to do with making walnut cookies. See, my other therapy is baking. The exacting science and chemistry of making sweets soothes my need for control. My ingredients are variables to which I can dictate the final outcome, provided I respect their limitations and understand their individual needs. It's a relationship of a different nature.
My obsession with this particular cookie started on Sunday. Here's where we fall down the rabbit hole of my thought process. Mikey used to find it both amusing, and an oddly insane and creative experience to watch.
Pink lemonade was on my mind for a few days by that point since it's a recipe for the cookbook. I woke up on Sunday in a sluggish mood, which isn't revelatory news. The girls are amazing about playing and chillng in their room on Sunday mornings, so once I decided my empty bed held no more allure, I decided to tackle the homemade pink lemonade. The recipe was a huge success, but it left me with more lemonade than I knew we could drink in a day or two.
The only solution I could see was to propose a lemonade stand. Isabella flew up the stairs to our craft room and together we made that sign. Really the sign was all her handy work, I just added the letters and glitter. My next thought was "we need cookies". There were squeals of joy, and while the girls may have been concerned if their real mom had been abducted by an alien, they were more than happy to have this more relaxed "let's sprinkle glitter all over the place" fun-loving woman who had inhabited her body.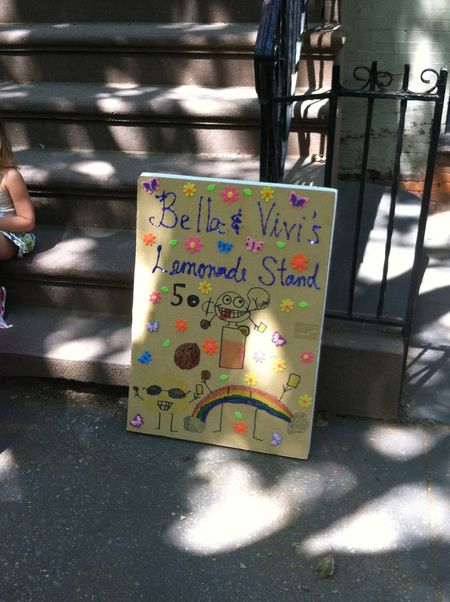 Of course there were no aliens involved. When I woke up just an hour earlier, that dreaded feeling of loss and loneliness tried to wrap its unwanted arms around me. I decided to push back, and did it the best way I know how. I went to the kitchen and decided to take control of my variables. Rather than use my standard recipe, I needed to make something new to fill the void I was feeling. My friend Bryan told me he likes to melt the butter before making chocolate chip cookies, so it was time to give that trick a try. I've also noticed lately that whole wheat pastry flour adds a nice crunch to my cookies while still leaving the centers a tad chewy. See, not all change is bad.
Two days, and three batches of cookies later, I suffered from chocolate overload. This didn't mean my cookie craving was gone. No, not at all. I began thinking about black walnut cookies.  Back in college I was a nanny to a family with roots in Kentucky. Every few months I eagerly awaited the shipment of cookies their grandmother sent in the mail. I didn't have black walnuts on hand, but wondered how they would taste with regular walnuts as a stand in. If chocolate chip cookies are the headliner on the A-side, then these walnut cookies are the opener on the B-side, and that's where the more interesting, serious work begins.
Crispy Chewy Walnut Cookies
makes 18
1 stick (4 ounces) butter, melted and slightly cooled
1/2 cup (100 grams) granulated natural cane sugar
1/2 cup (79 grams) packed dark brown sugar
1 large egg (50 grams)
1 teaspoon (5 ml) vanilla extract
1 cup (145 grams) plus 2 tablespoons (16 grams) whole wheat pastry flour
1/4 teaspoon (1 grams) baking soda
1/4 teaspoon (1 grams) fleur de sel
1 cup walnuts (100 grams), chopped
Preheat the oven to 375ºF. Line three baking sheets with parchment paper; set aside.
Add the butter and sugars to a deep bowl. Beat on high speed until well combined, about 2 minutes. Add the egg and vanilla, and beat on high speed until light and fully, 2 to 3 minutes.
Add the flour, baking soda and fleur de sel to the bowl. On low speed, mix until the flour is completely mixed in, about 1 minute. Add the walnuts and beat on medium high speed 30 seconds to 1 minute, until well mixed.
Drop generous tablespoonfuls of dough, three inches apart on the prepared baking sheets (you should be able to fit six per sheet). Bake for 14 minutes, until the edges are golden and the bottoms are lightly browned. Remove sheet from the oven and let the cookies cool on the pan for 2 minutes. Using a spatula, transfer the cookies to a wire rack to finish cooling completely.