hello june, it's nice to see you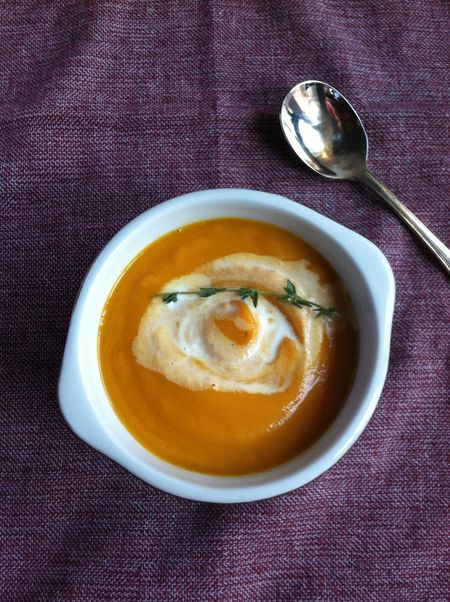 carrot fennel soup, coming to a cookbook near you in 2013.
I should not be here right now. I don't mean the "being here" as in the bigger philosophical question of life. I mean really, there's a book, a manuscript due today. So far there have been 93 pages written. Over 100 recipes tested, written and edited, with a lot more to come. 30,074 words have been strung together so far, in a coherent manner I hope, to form a cookbook.
There is still more to be done, but I found myself here this morning, watching and waiting. I woke up and felt thankful for the sun streaming in through the bedroom windows. I went down to the kitchen to start my writing day, and have been too pleasantly distracted by the birds singing in my neighbors' backyards. I miss my own yard, the one we used to share back at our old place.
I remember when we started our apartment hunt 14 years ago. We saw over 40 places, and when we walked into the one that would become our home, the one to which we would bring our daughters to after they were born, though we had no idea we'd ever have children—well, the moment we walked in there we just knew. It was love at first sight, even with the living room walls painted pink—I'm not kidding. The kitchen had animal heads resting on the cabinets.
And that yard—the place where we would soon retreat for solitude and to hear the cardinals sing so sweetly. That yard was a mess. It was overgrown, untended to and unloved. It was a jungle but we knew that apartment was "the one" the moment we walked into it on a dreary Sunday afternoon right around this time in 1999.
Birthday parties were held in that yard. Friends gathered for BBQs and cocktails. Late night plans were hatched and when life allowed, we would meet back there for a date after the girls went to bed. I'd bring out coffee or tea, sometimes a glass of wine, and we would soak in the dark and silence. The light was broken for years, yet I could still see his chestnut eyes sparkle in the vast darkness.
I woke up this morning excited for the sunshine, the birds and knowing that in just 30 days The Perillo Girls would be leaving for Paris. For a whole month we will leave these memories, the physical space of them at least. We will plant roots for one month in a place I've never been too, where they speak a language I don't understand.
I am terrified beyond words. My daughters would never it know, though, because I'm good at masking my fears. They deserve the gift of fearlessness, to go after whatever they want in this lifetime and claim it as theirs. I want them to learn this from fact, not fiction. I will be their fearless leader, filled with more fear than they can ever imagine.
Today is 30 days until Paris and 300 days since Mikey died.
I've been through a range of emotions since I woke at 5:15am. Happy, sad, confused, hopeful. And now I start my day feeling optimistic. I have survived 300 days of something I never imagined, never wanted and often wish I could turn back the clock 301 days.
But—I am still standing.
I have stumbled.
I have felt broken.
But—I am still standing. And today I will face day 300 with the same fearlessness that motivated me  to buy three plane tickets on a cold day back in January to show the girls that there is a world more vast than the life their father and I started together here in Brooklyn.