Italian Inspiration from Boston's North End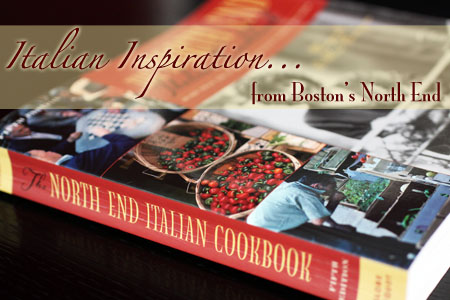 by Jen Schall
Many of my fondest travel memories are of the food that I have eaten while traveling.  Getting a taste of the local restaurants and cuisine is my favorite way to explore each new place I visit.  When the time comes that I must return home, as it inevitably does, I often look for cookbooks to take home with me as souvenirs and reminders of my delicious travels.
One of my favorite places to visit is the Italian North End of Boston, Massachusetts. On my first visit to the city, I picked up a copy of The North End Italian Cookbook by Marguerite DiMino Buonopane, and it has since become one of my favorite cookbooks. While we don't live in Boston, my husband and I regularly relive our travels through the delicious Italian recipes in the cookbook. 
Won't you join me on a culinary stroll through Boston's very own Little Italy?
For Starters…
One of my favorite restaurants in Boston's North End is Giacomo's – a quaint little restaurant right on Hanover Street. In fact, the amazing food at Giacomo's was the reason I purchased the North End cookbook in the first place.
In the cookbook you will find a few of the dishes that are popular appetizers at Giacomo's. I adore the calamari fritti, but have not yet had the guts to try it myself at home.  Marinated mushrooms are another Giacomo's favorite, although my husband and I actually prefer the recipe for baked stuffed mushrooms with ricotta.  I recently served the mushrooms as appetizers at a dinner party and they were a huge hit!
If you prefer soup, I can personally recommend the pasta e fagiole. It makes a great first course or a nice, warm lunch on a chilly day.  It also freezes well, so make a big batch!
The Main Course…
Pasta is one of my favorite dishes, and nothing can beat fresh homemade pasta.  If you take a stroll through the North End, you will find shops that sell a variety of beautiful fresh pastas. I enjoy meandering through the Italian markets as much (or maybe even more!) than eating at the restaurants.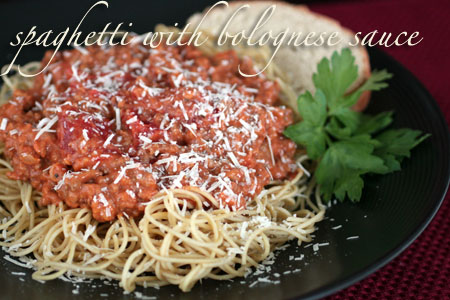 As you would expect, the cookbook contains quite a few recipes for homemade pastas – including ravioli and fettucine, two of my favorites.  To top off the pasta, try one of the many delicious sauce options – simple marinara sauce, Sunday gravy (which is actually a tomato based meat sauce), pesto sauce, or my personal favorite – the bolognese.
If you are not in the mood for pasta, no problem! The cookbook is also full of meat, poultry, and fish options. I have made the the chicken limone and haddock alla pizzaiola, and they are wonderful.  The dish my husband is always asking for, though, is chicken cutlets parmigiana.
Don't Forget About Dessert!
No trip to Boston is complete without visiting a pasticceria for cannoli and an espresso! My favorite pastry shop in the North End is Maria's (although I do enjoy Mike's and Modern, as well).  Don't worry when you don't see cannoli in the case when you walk in the door, though.  The cannoli shells are in the back and are filled on the spot when you order so that they stay crisp and fresh!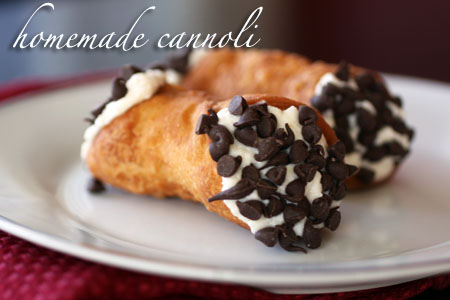 I have pretty high standards for cannoli, and the recipe in the cookbook does not disappoint!  I recently made the homemade cannoli for the first time, and I was thrilled to discover that they were much like the cannoli from Maria's!  
If you're not quite ready to try the homemade cannoli, there are plenty of other desserts to try.  The cookbook has a few holiday favorites like ricotta pie and anisette cookies.  Another one of my favorites is the chocolate walnut biscotti – they are perfect dunked in coffee as an afternoon snack!
Visit Jen over at My Kitchen Addiction to get the recipe for these delicious cannoli.