brown butter brussels sprouts & butternut squash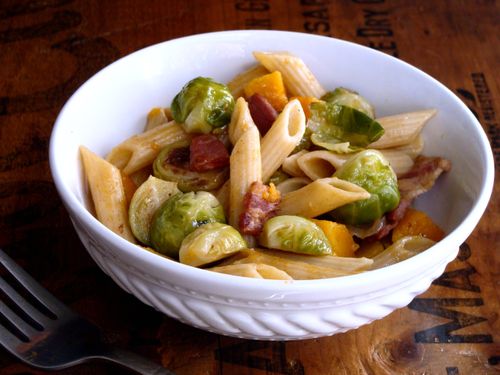 I was excited to see this week's Food 52 contest was paying homage to Brussels sprouts. For as much as I now love them, I remember the moaning when they were served with lunch when I was in daycare way back when. I don't remember exactly when I rediscovered them, but I look forward to fall when they pop up in farmers' markets. While they're pretty expensive at $4 a pound here, out in Long Island's North Fork, I've scored whole stalks for $1— a treat both delicious and beautiful to look at.
The thing about Brussels sprouts is they always play second fiddle on the dinner plate. I wanted a dish where they'd star front and center. I made a mental review of what was in the fridge and remembered I had a half a butternut squash. It would add some natural sweetness to balance their earthy, almost bitter flavor. Bacon is always a classic pairing, and who am I to deny the two a chance to mix it up in a dish? Then comes the secret ingredient (okay, so maybe I blew it by mentioning it in the title). Yes, I really did up the ante by browning the butter. Tossed together with some penne, and my job was done—Brussels sprouts had been elevated from a mere side dish. Who could possibly resist a meal with bacon and brown butter? Even a finicky six-year old who at first glance said "I don't think I'm going to like this" ate half a serving.
Brown Butter Brussels Sprouts & Butternut Squash with Penne
Serves 4 to 6
Why start the bacon in a cold pan, you ask? It's the easiest way to ensure my pan doesn't overheat since dinnertime is an elaborate juggle with a clingy 17-month old and helping my six year old with her homework. For those less tethered, go ahead and preheat your pan, but why not use those few extra minutes to make a cocktail instead?
3 ounces smoked slab bacon, roughly diced
2 tablespoons butter
2 cups diced butternut squash
1 small shallot, thinly sliced
10 ounces Brussels sprouts, tough ends trimmed and cut in half
Salt and freshly ground pepper, to taste
1 1/4 cups vegetable stock
8 ounces dry penne pasta, cooked according to package directions
Freshly grated Parmesan cheese, to taste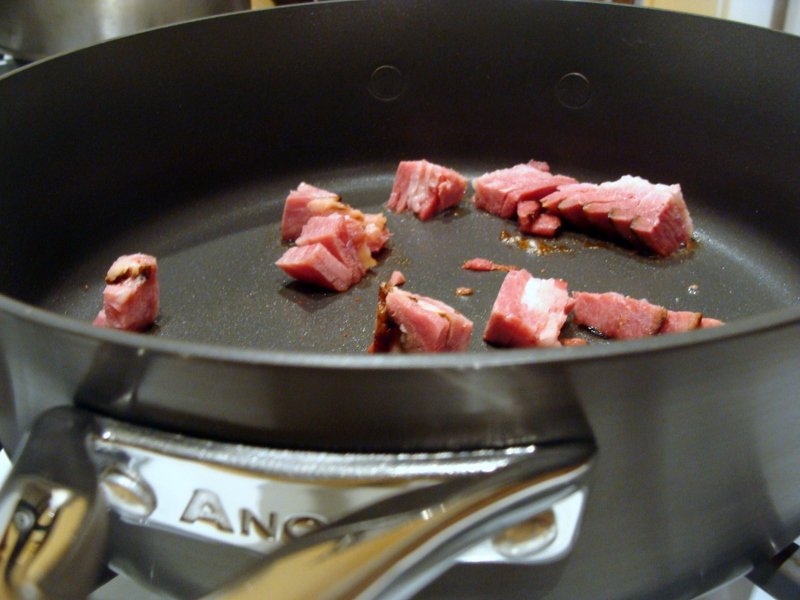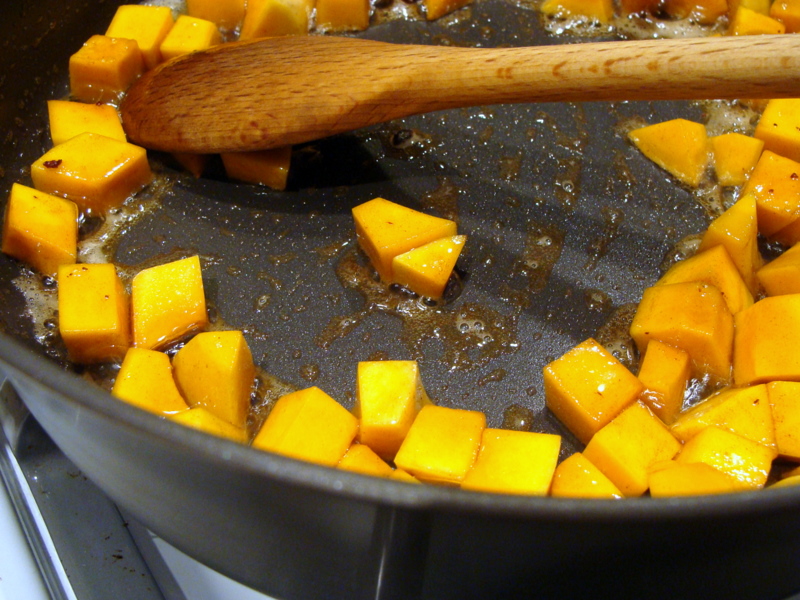 Add bacon to skillet and heat over medium-high flame. Cook bacon until nicely browned. Transfer to a small bowl using a slotted spoon; set aside. Add butter to skillet and cook until it turns a deep golden color (it will also have a nutty fragrant scent). Add butternut squash to pan and cook 5 minutes, stirring occasionally, until caramelized and lightly browned. Add the shallots and Brussels sprouts and season with salt and pepper. Cook for five minutes, until Brussels sprouts are just tender.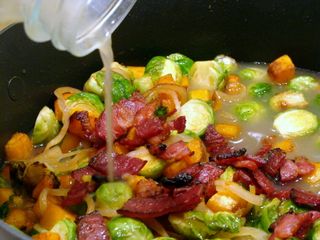 Stir in vegetable stock, adjust salt and pepper, if necessary, and bring to a simmer. Return cooked bacon to the skillet, and cook for 1 to 2 minutes, just until sauce is heated through. Add cooked pasta and toss well to coat. Divide among deep serving bowls and top with freshly grated Parmesan cheese before serving.
Some more Brussels Sprouts inspiration from my fellow #FallFest contributors:
Feed Me Phoebe: Roasted Brussels Sprout Salad with Radicchio, Egg Mimosa, and Bacon Vinaigrette
Dishin & Dishes: Sautéed Brussels Sprouts with Bacon and Pine Nuts
Weelicious: Shredded Brussels Sprouts with Lemon and Poppy Seeds
Devour: Bring On the Brussels Sprouts
The Cultural Dish: Roasted Brussels Sprouts – Three Ways
In Jennie's Kitchen: Penne with Brown Butter Brussels Sprouts & Butternut Squash
Napa Farmhouse 1885: Roasted Brussels Sprouts Empanadas with Mustard Sauce
Red or Green: Roasted Brussels Sprouts & Peppers Pizza
Taste with the Eyes: Quinoa Omelette filled with Roasted Brussels Sprouts and Cheddar
Jeanette's Healthy Living: Roasted Brussels Sprouts with Mint, Cilantro and Vietnamese Style Dressing
Domesticate Me: Kabocha Squash Quinoa Bake with Brussels Sprouts and Pancetta
The Wimpy Vegetarian: Warm Brussels Sprouts Salad with Caramelized Onions
The Mom 100: Bacon-Wrapped Brussels Sprouts
FN Dish: 8 Crowd-Pleasing Brussels Sprouts for Your Thanksgiving Table