Rome is on my travel bucket list. Until I get there, I feed my urge to go by following a few bloggers and writers living in the Eternal City. Right now I can see it's rice salad season from their photos on Instagram. I know, that sounds crazy—does rice really have a season? Well, it's not so much about the growing season of the rice, as it is about the ingredients you use to make Italian Rice Salad. Fresh tomatoes are a main ingredient, and that's what makes rice salad a seasonal dish in the Roman mindset.
Aside from tomatoes, and of course the rice, the remaining ingredients for insalata di riso vary based on the recipes I researched to come up with this version. That seems much like many other family recipes handed down generation to generation. A pickled, briny addition seemed to be key, be it capers, olives, or a giardiniera (pickled vegetable mixture). Many, but not all, include red bell peppers, carrots, and celery—I went with two out of the three here.
One thing I do urge, though, is to mix your salad while the rice is still warm, not cold as some recipes direct. Trust me on this one. Warm rice will better soak up the flavors of the dressing and olive oil (I used Dress It Up Dressing's Red Wine Vinaigrette here).
If you've salted your rice properly, you might find there's no need to add any additional salt once the salad is mixed; I didn't feel the need for any extra in mine. I'll leave that final decision up to you, so season according to your own taste. I thought about using brown rice, but decided to stick with tradition, and use white. Swap in brown if that's what you prefer.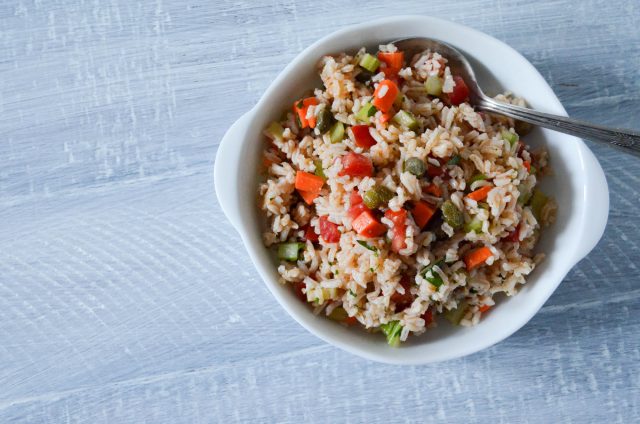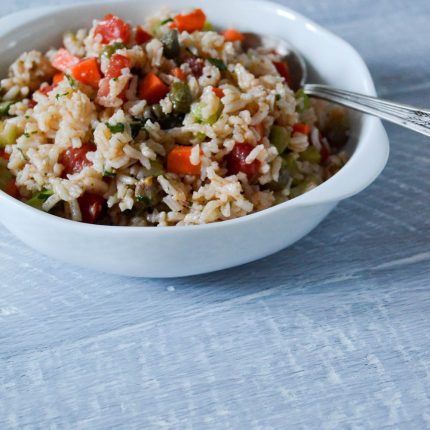 Italian Rice Salad
Ingredients
2

cups

300 grams warm, cooked rice (white is traditional, but brown would be okay, too)

2

tablespoons

Vinaigrette Dressing

recipe is here

2

tablespoons

extra virgin olive oil

1

plum tomato

chopped

1

celery stalk

chopped fine

1

carrot

peeled & chopped fine

2

tablespoons

capers

packed in brine or salt cured

Handful of fresh parsley

chopped

Freshly ground black pepper

Sea salt

optional
Instructions
Add the rice to a deep bowl. Stir in the

Vinaigrette

and olive oil. Add the tomatoes, celery, carrot, capers, and parsley. Stir until well mixed. Season with the pepper. Let sit 30 minutes before serving so rice can absorb all of the flavors.
SaveSave
SaveSave