Pork Fried Rice Salad | Finder's Feast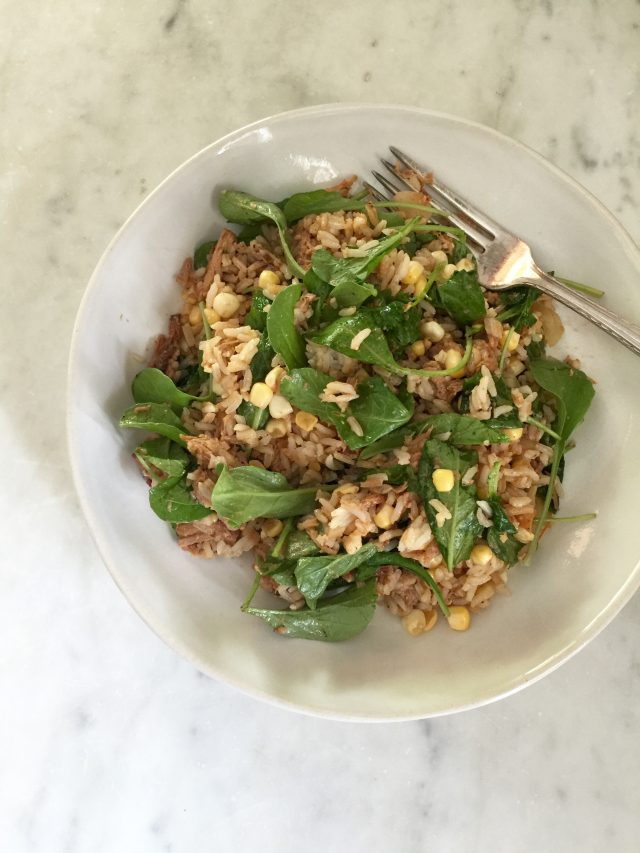 Last week I made this Pork Fried Rice Salad on the debut episode of my new weekly video series on Facebook, called Finder's Feast. This is so near and dear to the heart and soul of how I cook at home. Last summer, food waste was all the rage. Dan Barber hosted a pop-up restaurant, WastED, at his Blue Hill space in Greenwich Village. The James Beard Foundation trended on Instagram with their #jbfscraps hashtag, in which they shared a few of my photos, too. It was quite the honor.
Flash forward one year later. Chefs obviously still have an interest in food waste. It's imperative to the survival of their businesses. The media's awareness regarding food waste seems to have waned a bit, though. It left me shaking my head. I've been working on a book proposal for more than two years about this very topic. It's yet to find a home, but I'm not letting that stop me. Finder's Feast is my personal mission to connect the dots between turning leftovers from trash to treasure in home kitchens across America.
Did food waste have its 10 seconds of fame, and that's it?
During the experience of trying to sell this concept to a publisher, I've come to wonder if publishers even understand the challenges that really face home cooks on a daily basis. I'm not talking about the DIY, I can make my own water food bloggers like myself (Mikey used to make this joke about me often). I'm talking about the average busy person, who shoves leftovers from last night's dinner, be it homemade, takeout, or from a restaurant meal, in the fridge, and then let them linger a slow death until discarding them in the trash.
That disconnect between thinking you'll use it up, and either forgetting about it, or not feeling inspired enough to do anything with your leftovers is the biggest source of food waste in home kitchens. It's just one small part of the food waste equation, but little changes can have big impact if we're all doing it. We haven't even discussed the financial factors here.
Who likes throwing money away? That's exactly what you do every time you toss unused leftovers in the trash.
It's easy to see why a chef-driven cookbook would be inconsequential, to me at least. Sure, a big name might draw in big sales, but would it really impact the average American family's relationship to the leftovers wasting away in the fridge, freezer, and pantry? I'm not a betting gal, generally, but this time I'd stake a Benjamin on a big, resounding "no". Chefs' sources of food waste are monumentally different from home cooks. Most of us aren't tasked with fish carcasses or 100 pounds of carrot peelings (this is what you can do with your more modest peelings at home). The taco filling you took home from lunch a few days ago, though, now that's something we need to talk about.
And that's exactly what I talked about, and cooked with, in the debut of Finder's Feast on Facebook Live.
So, what is Finder's Feast, in case it's not yet obvious? In this modern day foraging mentality, you need not look any further than your own fridge, freezer, and pantry to find ingredients for your next meal. The most important ingredient you need to add is inspiration. That's where I'm here to help. I love the challenge of making something out of nothing (frankly, that feels like my whole life in a nutshell).
Every Friday at 1:00pm, you can watch me whip up something from a few base ingredients found right in my own kitchen. Last week it was this Pork Fried Rice Salad, inspired by leftover pork taco filling I brought home from lunch at Bubby's Take Away, a restaurant in Red Hook, NY.
Who knows what'll it'll be this week. You'll have to tune in at 1:00pm Friday on my Facebook page to find out. Click here to like the page.  Look forward to seeing you there!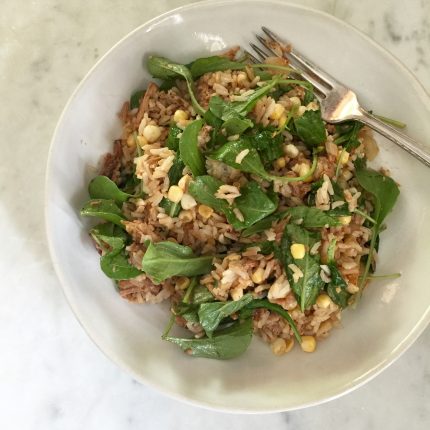 Pork Fried Rice Salad
This salad is ready to eat right away, but is even better if you let it sit a few hours in the fridge. The arugula will wilt a bit from the acid in the dressing, but that's fine by me. If you want to keep it fresh, pack the arugula separately, and stir it in just before serving.
Ingredients
1

tablespoon

Vinaigrette Dressing

recipe here

1

tablespoon

soy sauce

1 ½

teaspoons

sesame oil

Freshly squeezed juice of ½ lime

2

cups

cooked leftover white rice

1

cup

cooked leftover pulled pork

1

ear of corn

kernels only (save cobs in a bag to make this broth)

2

handfuls of baby arugula

Sea salt & freshly ground black pepper

to taste
Instructions
Add the vinaigrette, soy sauce, sesame oil, and lime juice to a deep bowl. Whisk until well blended.

Add the rice, pork, and corn. Stir until well mixed.

Stir in the arugula. Taste for season, and adjust with salt and pepper, as desired, before serving.
SaveSave