BBQ Pork & Cheddar Biscuits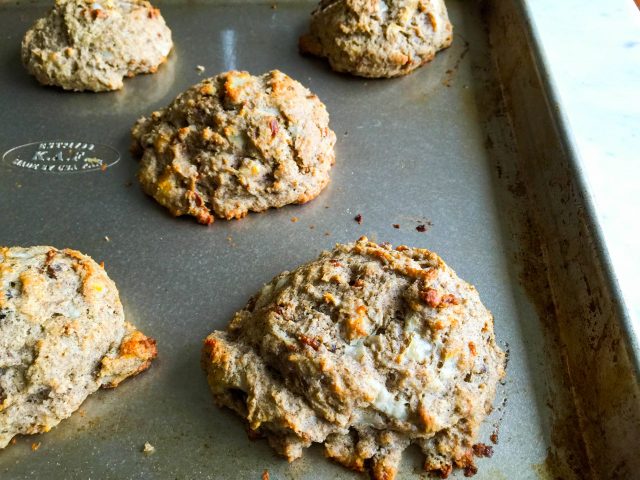 Good heavens. I don't think you'd believe me if I told you how long ago I created these BBQ Pork & Cheddar Biscuits. It was at the beginning of this year, while I was living in Maryland, in the thick of developing my Finder's Feast concept. Sadly, that book proposal is on a permanent holiday. Truthfully, I don't think the publishing world knows what to do with the idea of leftovers. C'est la vie, oui?
The word alone isn't very sexy, and the thought of eating last night's dinner, again, is something lots of people dislike. That's why, in my world, I would banish the word leftovers. Why can't we just call them ingredients, as we would anything else we use to prepare meals?
That is exactly the premise behind Finder's Feast, appreciating every morsel of food, and discovering new ways to breath life into everything in your fridge, freezer, and pantry. It's a matter of financial survival for restaurants to use up every last bit, and that's the mindset every American person in the world should have when thinking about food, including, yes, leftovers.
Buckwheat flour is something I love baking with, but a little goes a long way. I keep it in the front of the fridge, where I see it daily, to remind me to use it before it spoils. On one particular day, the buckwheat flour had some yummy neighbors, in the form of leftover ribs and cheddar cheese. I looked at the three ingredients, and the light bulb went off.
Biscuits. Yes, why not make a batch of BBQ Pork & Cheddar Biscuits to use up some of my buckwheat flour stash?
I even made you all a video to see just how easy they are to make. Looking at this video reminded me of how much video I produced, shot, and edited last holiday season. I really hope to get back in the swing of things with that. Life just seems to be so busy lately, with me borrowing hours from tomorrow, and the day after that, just to get through the here and now. Until then, hope you enjoy these biscuits! Tell me, what would you do with these three ingredients. If you decide to play long, share a photo on Instagram, and use #FindersFeastChallenge so I can see your creations. xo-Jennie
More Finder's Feast Inspired Recipes
Banana & Toasted Pecan Buckwheat Pancakes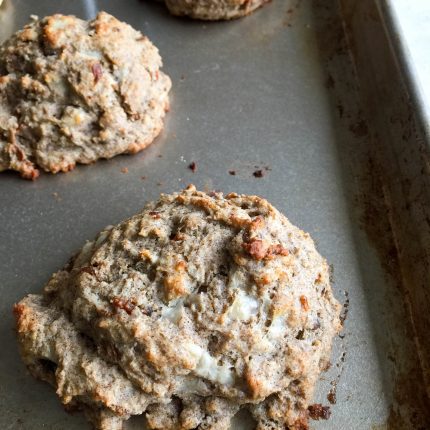 BBQ Pork, Cheddar & Buckwheat Biscuits
Ingredients
1 1/2

cups

225 grams whole wheat pastry flour

1/4

cup

30 grams buckwheat flour

1

tablespoons

15 grams baking powder

1/4

teaspoon

1 gram baking soda

1/2

teaspoon

3 grams sea salt

2

teaspoons

12 grams granulated natural cane sugar

6

tablespoons

84 grams cold butter, cut into 12 pieces

1

cup

84 grams shredded cheddar cheese

1

cup

156 grams chopped leftover pork or beef ribs (bones removed first)

1 1/4

cups

296 ml cold, well-shaken buttermilk
Instructions
Preheat the oven to 425Fº (220Cº) with the rack adjusted to the upper middle position.

Add the flours, baking powder, baking soda, salt, and sugar to a deep bowl. Whisk to blend.

Using your fingertips, rub together quickly until it forms a sandy mixture with some pebble-sized pieces.

Scatter the butter pieces over the flour mixture. Using your fingertips, rub together quickly until it forms a sandy mixture with some pebble-sized pieces.

Add the cheese and meat to the bowl. Stir until well mixed.

Pour in the buttermilk, and stir just until there are no visible signs of flour, and it comes together into a wet, sticky dough.

Drop 1/4 cupfuls onto an ungreased baking sheet (I use an ice cream scoop to ensure evenly shaped biscuits). Bake for 15 to 17 minutes, until the biscuits are golden on the bottom. They'll brown lightly on top, too, but it'll be harder to notice since the buckwheat flour is dark. Let sit on the tray for 2 minutes, then serve warm.

Note: If baking smaller biscuits (I use a 1 1/2 tablespoon cookie scoop for this), start checking them around 12 minutes.