Taco Lettuce Cups | Back to School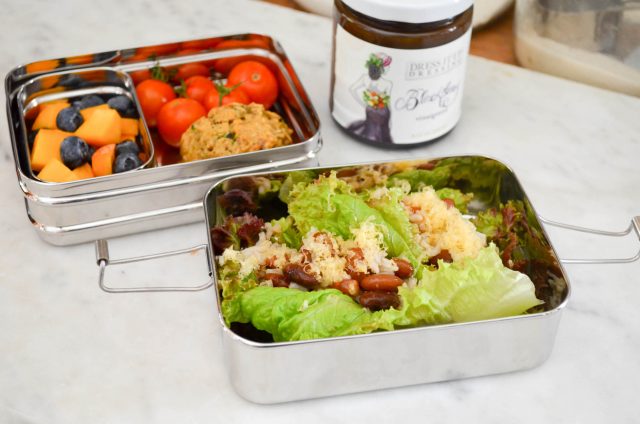 It's hard to believe summer is coming to a close, but it's quite evident from the photos on my Facebook and Instagram feeds. I was surprised to see kids going back as early as the first week of August. Thankfully we get a few weeks longer to enjoy the summer, and our vacation on Cape Cod.
Back to school also means back to packing school lunches again. I know fatigue sets in around January, but I start each new school year with renewed energy. One thing I've always loved about this daily ritual is it provides a way to connect with my daughters when I'm not actually with them.
At ages 8 and 13, the girls take pride in packing their own lunches a few days a week. Thankfully they let me lend a hand the rest of the time. Bento boxes are all the rage, but I've shied away from them for so long. I mean, who has time to shape rice into cute little bears? I prefer to find my creativity in what I pack for them.
A couple of months ago ECOlunchboxes reached out regarding their 3-in-1 nesting lunchboxes. They've become our go-to, coming in quite handy for our road trip to Cape Cod. They make for a nicer dining experience—think of them as portable, self-contained plates. My girls love the feeling of surprise as they open them to see what I tucked into each compartment.
I decided to repurpose some leftovers for lunch one day. Heating up last night's dinner for the next day's lunch isn't a new idea. Turning it into something totally different, though, gives new life to leftovers—that's the premise behind my Finder's Feast series on Facebook Live. I found some rice in the fridge from a few nights earlier when I made stir-fry. I always have a pot of homemade beans for spur of the moment dishes.
The resulting main course was these Rice & Bean Lettuce Cups, also known as Taco Lettuce Cups in our house. They're a spin on vegetarian tacos, sans the tortillas (but feel free to add meat if you some leftover). Hope your kiddos love them as much as mine. Oh, in case you're curious, that muffin-looking snack in there is a Zucchini Oatcake (click here for the recipe).
p.s. ECOlunchbox has a special offer for readers of In Jennie's Kitchen. Use code jennie5 at the checkout, and save $5 off orders of $35 or more. 
ECOlunchboxes provided complimentary samples. All opinions expressed are my own, as always.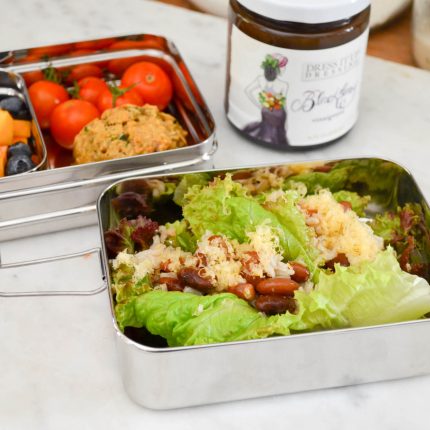 Taco Lettuce Cups | Back to School
Feel free to leave out the cheese if you want to keep this vegan.
Ingredients
¼

cup

leftover cooked rice

¼

cup

leftover cooked beans

pinto or black

2

teaspoons

Vinaigrette Dressing

recipe here

2

small red leaf

green leaf, or romaine lettuce leaves (from the inner core)

Grated cheddar cheese

optional
Instructions
Add the rice, beans, and

vinaigrette

to a small bowl. Stir to combine.

Arange the lettuce leaves in the bottom of the bento box compartment. Using a spoon, divide the filling between the lettuce leaves. Sprinkle the cheese on top, if using.
SaveSave