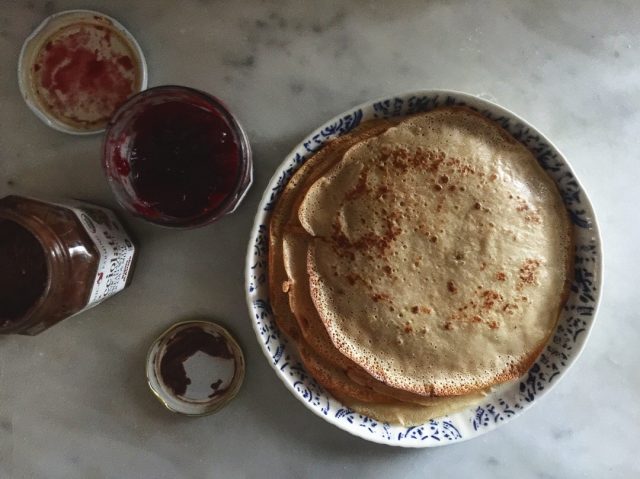 If you're observing Passover, and not a big meat eater, then right about now you might be pressed for ideas to make your meals interesting. Even if you're not particularly missing the taste of bread (I'm surprisingly not), wanting something that serves the purpose of constructing a sandwich, in a way matzo simply cannot, is understandable (especially if you're tasked with packing school lunches like myself).
That's where these Passover Crêpes come into play. I first made them to take on a little road trip to Long Island on the second day of Passover. Thankfully it occurred to me how challenging eating out would be before packing the kids into the car for a two and a half hour ride to visit my in-laws and grandparent in-laws plots at the cemetery.
This morning, I broke out crêpes, yet again, to make for the girls' school lunch. I read a recipe this past weekend for crêpes made with only potato starch, to avoid the distinct flavor matzo cake meal adds to a recipe. Personally, I don't mind it, and while it's clear we're observing Passover in our own way, the matzo taste in everything I've been making this week is a comforting reminder of why I chose to make Passover so prominent in our lives this year. Of course, I didn't grow up observing it, so I can also see how some Jewish friends might so over anything matzo at this point.
Regarding how to serve these Passover crêpes, we veer towards the sweeter side, with jam, lemon & sugar, or an organic nutella-like spread we buy at the health food store (you could also make your own using one of these recipes). You could even uses these crêpes with a savory filling like sautéed vegetables or cheese (just omit the vanilla in the batter). I've been thinking about layering them into a lasagna, similar to this one Domenica made for Easter.
p.s. I might give the potato starch-only version a try soon just to see if it's a good, naturally gluten-free way of making crêpes. It's always fun to find new ways for all of you enjoy the recipes I share here.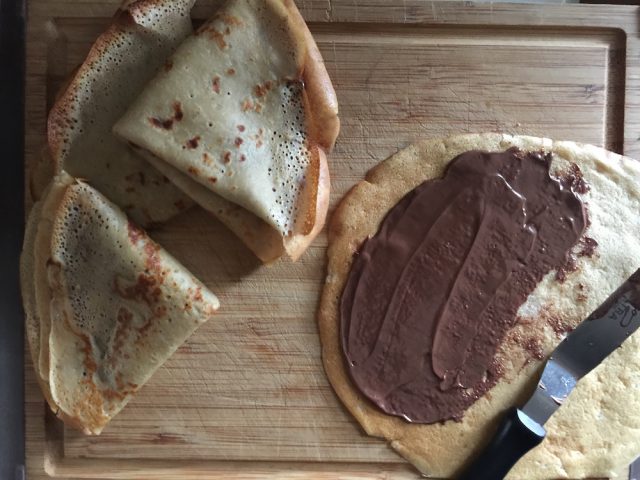 This recipe is now part of my new site, Simmering. It can be found here.
SaveSave
SaveSave