Virginia looked at me quizzically when she asked what I was baking the day I made these Zucchini Oatcakes. She had no idea what an oatcake was exactly. My reply? Imagine a zucchini muffin and a granola bar had a baby—that's what this Zucchini Oatcake would be. She understood immediately, and said "mommy, you sure have a funny way of explaining things".
Odd as my example might be, it really is spot on. These Zucchini Oatcakes aren't quite a muffin, but they're not so sturdy to be deemed a bar of any sorts. The wonderful thing about these, aside from how yummy they are to eat, is they're forgiving enough to pack as an on the go snack. No worries about crumbles in your purse (please tell me I'm not the only one who has this problem), and they're perfect to pack in school lunches.
The inspiration came from a recipe I made three years ago for oatcakes from Heidi Swanson's Super Natural Every Day. Back then I stuck to the original recipe. Much as I loved it, the recipe then went into sleeper mode. It came back to mind while contemplating zucchini muffins recently. I love my recipe for zucchini walnut muffins, and the kids do, too. After so many years of making them, though, it felt like time for a change.
I thought about that original oatcakes recipe. And then I almost lost my mind when I couldn't find it. Rather than being sorted with the muffins in the breakfast section, the recipe is sorted under treats. Once I managed to locate the recipe, I was off and running.
These Zucchini Oatcakes are undoubtedly inspired by Heidi's recipe, but they're distinctly different.
I found the original one to be a bit fussy—two types of flours, two types of sweeteners, and two types of fat. Perhaps that's why I shelved it in the recesses of my mind. I wanted a streamlined recipe, and that's exactly what I'm sharing with you today. These Zucchini Oatcakes are straightforward, unfussy, and absolutely delightful to eat.
Another bonus is you can freeze the formed oatcakes, and bake them as you want for a fresh oatcake experience at a moment's notice. This was great for me since the recipe makes 12, and we only need a few at a time. Simply line a sheet pan with waxed paper. Add the scooped oatcakes to the pan, and place in the freezer until the oatcakes are set. Transfer them to a ziptop bag once they're firm enough. You can bake them straight from the freezer (in a preheated oven, of course)—just add 5 extra minutes to the baking time.
Seven Years Ago: Fried Green Tomatoes
Six Years Ago: Peach Blueberry Cobbler Cake
Five Years Ago: Total Eclipse of the Heart
Four Years Ago: Crispy Baked Eggplant
Three Years Ago: Day 742
Two Years Ago: Crispy Buttermilk Fried Chicken
One Year Ago: Homemade Vegan Ricotta Cheese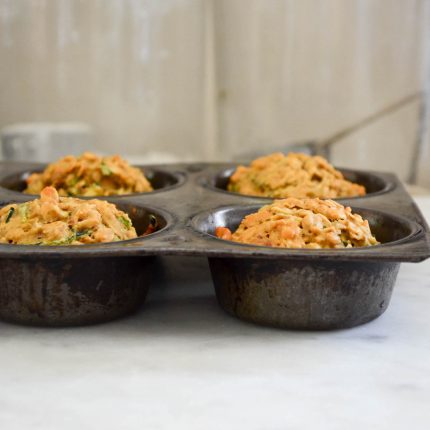 Zucchini Oatcakes
A few notes to address before diving into the recipe: These bake up pretty much the same size as when scooped into the tins, so don't expect them to rise dramatically. I love walnuts, but pecans and perhaps even pistachios would work nicely here, too. If you want to swap in a whole grain, whole wheat pastry flour would be an equal substitute here. In the interest of keeping them dairy-free, you can use coconut oil instead of butter. Regarding greasing the tins vs. using paper liner, this is definitely better suited to greasing the tins. I used olive oil cooking spray, and it worked like a charm. No need to flour the tins once coating them.
Ingredients
2

cups

200 grams old fashioned rolled oats (not quick cooking)

1

cup

145 grams all purpose flour

½

teaspoon

4 grams baking soda

1

teaspoon

4 grams fine sea salt

¾

cup

70 grams walnuts, chopped & toasted

6

tablespoons

84 grams butter, melted

½

cup

120 ml maple syrup

1

large egg

½

teaspoon

vanilla extract

1

medium zucchini

grated (about 1 ½ cups / 150 grams)
Instructions
Preheat the oven to 325ºF (160ºC). Grease a 12 cup muffin tin.

Add the oats, flour, baking soda, salt, and walnuts to a deep bowl. Stir with a fork to combine.

Add the butter, syrup, vanilla, and egg to a small bowl. Whisk until well blended.

Pour the butter mixture over the oat mixture. Use a fork to stir until just combined, and there are no visible dry bits of flour.

Stir in the zucchini.

Spoon into the prepared muffin tins. Bake until golden around the edges, and set in the center, about 25 minutes. Transfer pan to a wire rack, and let the oatcakes cool at least 15 minutes before serving.