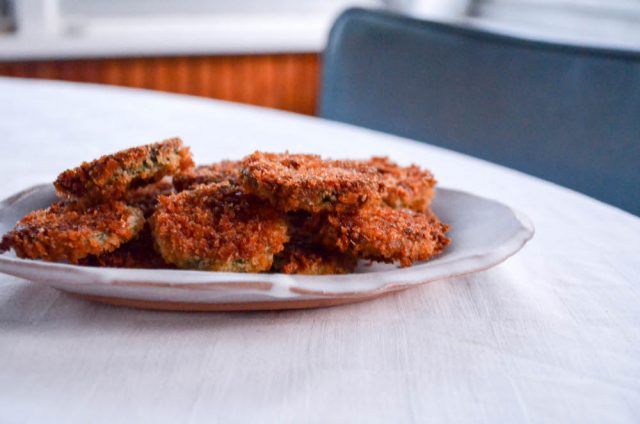 There are recipes that live in the Top 10 realm year-round, regardless of seasons. My Crispy Baked Eggplant is one of them. One taste, and it's easy to understand why. A crispy bite of eggplant that hasn't taken a bath in hot oil is a wondrous experience. The secret lies in the type of breadcrumb. Panko, a coarser texture, is key here, allowing for an extra crispy coating. I've made this a lot the last few weeks, and it's only this summer that my attention turned towards doing the same thing with zucchini, to make a Crispy Baked Zucchini version of this recipe.
I love zucchini, as you can see from all of these recipes. Most of my collection, though, veers towards the sweeter side of cooking with zucchini. This Crispy Baked Zucchini is a nice way to enjoy the vegetable as, well, a vegetable, and not dessert or breakfast food (though this is one of all-time favorite ways to eat it for breakfast!).
You can serve it as an appetizer with some wine, rosé would be my choice. It can also be a strong supporting character at dinner, rounded out with some pasta, tomato sauce, and a salad. I guess you could even swap it in for the zucchini in this Zucchini Parmesan recipe if you wanted. Whatever way to choose to serve it, just make sure you add making this Crispy Baked Zucchini to your To Make list before the season ends. I promise, if you love zucchini and crispy fried things, then you won't regret it, especially since there's no frying involved.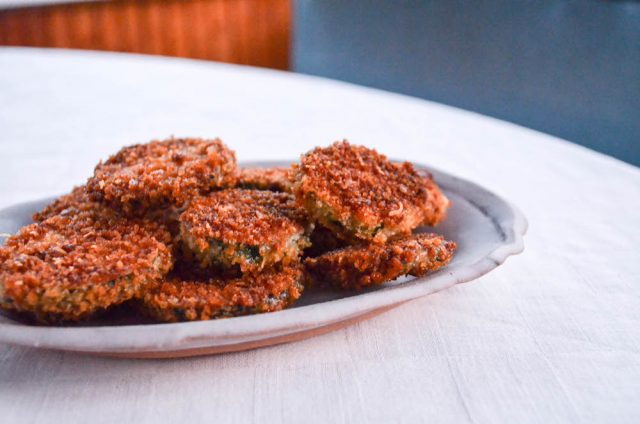 Crispy Baked Zucchini
I prefer to bake the zucchini in batches, as it allows the first tray to cool a bit, so the kids can dig in without burning their mouths once I bring them to the table. This also lets me multi-task, since it takes time to get the second tray coated, and ready to bake. You can certainly coat them all at once, and bake both trays, just keep an eye on them, as you may need to alternate the pans in addition to turning each slice halfway through the baking time.
Ingredients
3

medium to large zucchini

sliced into 1/4-inch thick rounds

Extra virgin olive oil

for coating the pan & drizzling

All purpose flour

about 1 cup (145 grams)

Panko breadcrumbs

about 2 1/2 cups (140 grams)

3

large eggs

Freshly ground black pepper

to taste
Instructions
Preheat the oven to 475F (245C). Lightly drizzle two rimmed baking sheets with some of the olive oil. Place the flour and breadcrumbs each in separate shallow dishes (pie plates work very well).

Add the eggs, salt and pepper to a deep bowl, and beat with a fork to combine.

Coat each slice of zucchini as follows: gently press into the flour, flip and gently press again to coat both sides. Use a fork to dip the slice in the egg and lightly coat both sides, shaking off any excess egg. Dip the slice into the panko, using your fingers to brush some crumbs on top, and gently press the zucchini so the crumbs stick. Place the fully-coated slice on the prepared baking sheet.

About halfway through coating the slices, one tray will be full. Drizzle the slices lightly with some oil. Go ahead and bake those slices for 15 to 20 minutes, turning halfway through, until golden on both sides. You can coat the remaining slices, set them on the second tray and then pop them in the oven once the first tray comes out. (see headnote)

Transfer the slices to a paper-towel lined plate for 1 to 2 minutes to absorb any excess oil. Serve hot, warm or even at room temperature. Leftovers may be stored in a covered container and heated in a 350F oven for 10 minutes.
SaveSaveSaveSave
SaveSave
SaveSave