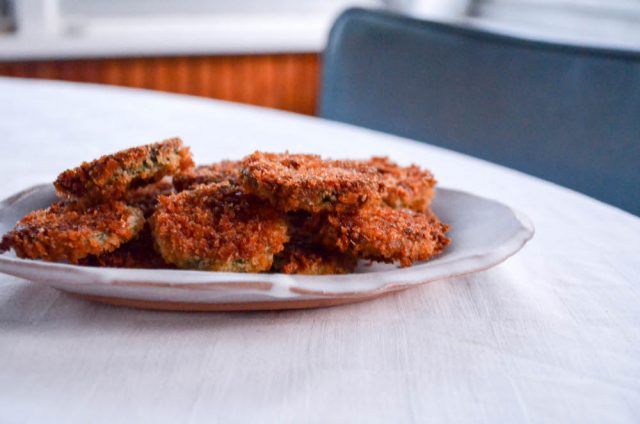 There are recipes that live in the Top 10 realm year-round, regardless of seasons. My Crispy Baked Eggplant is one of them. One taste, and it's easy to understand why. A crispy bite of eggplant that hasn't taken a bath in hot oil is a wondrous experience. The secret lies in the type of breadcrumb. Panko, a coarser texture, is key here, allowing for an extra crispy coating. I've made this a lot the last few weeks, and it's only this summer that my attention turned towards doing the same thing with zucchini, to make a Crispy Baked Zucchini version of this recipe.
I love zucchini, as you can see from all of these recipes. Most of my collection, though, veers towards the sweeter side of cooking with zucchini. This Crispy Baked Zucchini is a nice way to enjoy the vegetable as, well, a vegetable, and not dessert or breakfast food (though this is one of all-time favorite ways to eat it for breakfast!).
You can serve it as an appetizer with some wine, rosé would be my choice. It can also be a strong supporting character at dinner, rounded out with some pasta, tomato sauce, and a salad. I guess you could even swap it in for the zucchini in this Zucchini Parmesan recipe if you wanted. Whatever way to choose to serve it, just make sure you add making this Crispy Baked Zucchini to your To Make list before the season ends. I promise, if you love zucchini and crispy fried things, then you won't regret it, especially since there's no frying involved.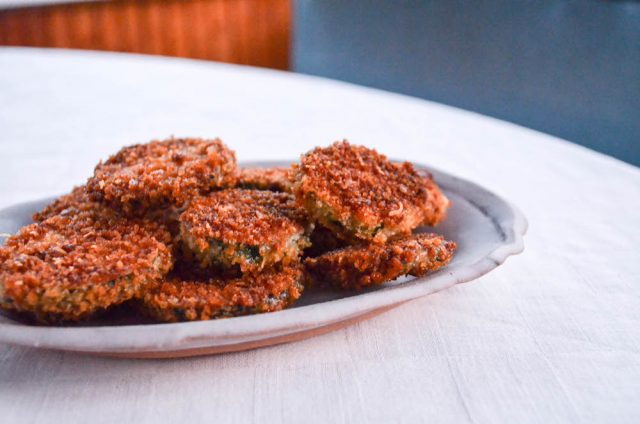 This recipe is now part of my new site, Simmering. It can be found here.
SaveSaveSaveSave
SaveSave
SaveSave