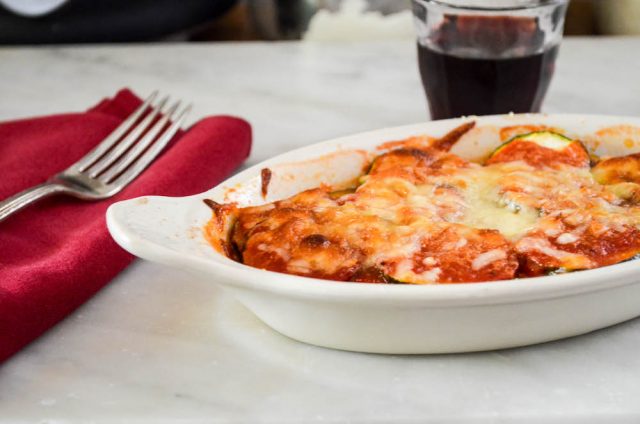 When I did my wellness reboot last fall, I learned, or rather confirmed, a few things I already knew about the inner workings of my body. Nightshade vegetables, much as I love them, are not something my digestive system appreciates so much. They wreak havoc on my system eaten in anything more than a sparing quantity. I managed to find some balance, but here we are again, the onset of eggplant and tomato season leaving me longing for one of my favorite dishes: eggplant parmesan.
I rarely make it the old school way you'll find at many Italian-American restaurants, with layers of crispy fried eggplant, sauce, and cheese. Instead, I usually make a riff on a Sicilian style. The eggplant isn't breaded. Sometimes it's just fried lightly in oil, or you can do as I do, and just layer the raw slices, salting them beforehand if needed.
The problem with this dish overall is that eggplant and tomatoes are both nightshade vegetables. One or the other on its own, and I can digest a small amount provided I'm not eating them every day. Combined, it's an attack on my stomach. This was kind of devastating to finally accept last September.
When lunch time rolled around recently, I opened the fridge and stared longingly at the eggplant in the crisper bin. Instead of getting too bummed out, or worse, making something I knew my stomach would rebel against, I turned my attention to the zucchini right beside it.
What about making Zucchini Parmesan?
It wasn't exactly a revolutionary idea, yet it was a new one for me to try out.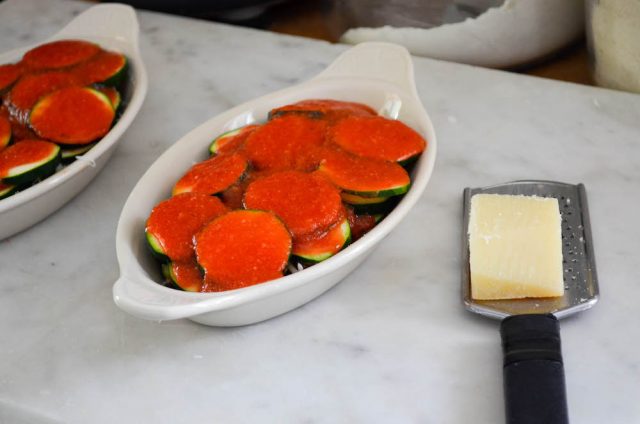 As with the way I prepare eggplant parmesan, I chose to not fry or coat the zucchini. I also decided to make two individual casseroles—one for lunch that day, another to use as a quick dinner later in the week. You can choose to make one larger casserole if you prefer.
There's an urge to serve this with pasta, and you certainly can if you want. I didn't feel the need for it, the Zucchini Parmesan filling me all on its own. I suppose you can even serve this as a side dish—maybe with grilled chicken? One thing for sure is I'll be making this often the rest of the summer, and maybe even tuck a few casseroles in the freezer to enjoy in the coming months.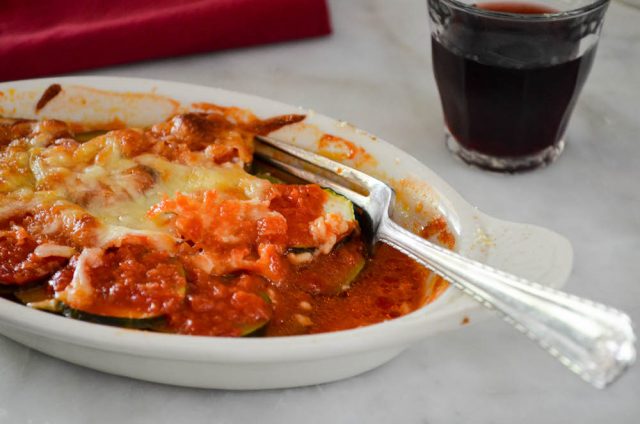 Eight Years Ago Fried Green Tomatoes, Peach Raspberry Tart, and Trutas.
Seven Years Ago Freezer Preserved Tomatoes, Cantaloupe Cooler, Peach Blueberry Cobbler Cake, Pickled Jalapeno Watermelon Rind, and Ginger Soy Marinated Flank Steak.
Six Years Ago 60-minute Chicken Stock, Cherry Slushies, and Perfect Pancakes.
Five Years Ago Crispy Baked Eggplant, Homemade Corn Broth, and Smoky Watermelon Gazpacho.
Four Years Ago Easy Peach Jam, Peach Allspice Muffins, Lemon Blueberry Scones, and Day 742.
Three Years Ago Minty S'mores Milkshakes, Cantaloupe Sorbet, Crispy Buttermilk Fried Chicken, and A Clean Slate.
Two Years Ago Roasted Beet Greens, Seriously Delicious Ribs, and Homemade Vegan Ricotta.
One Year Ago No Cook Tomato Basil Sauce, Crispy Baked Kale Chips, Zucchini Oatcakes, Sweet Butter Pastry Crust, Peach Blueberry Tart, Quick Pickles, and Pork Fried Rice Salad.
Zucchini Parmesan
Ingredients
2

medium zucchini

sliced into 1/4-inch thick coins

1

cup

marinara sauce

recipe here

Freshly grated Pecorino cheese

¼

cup

shredded mozzarella cheese
Instructions
Preheat the oven to 375ºF (190ºC).

Use 1/3 cup of the sauce to coat the bottom of two 8-inch by 2-inch oval ovenproof casserole dishes. Arrange half of the zucchini over the sauce (it's fine if they overlap).

Spread another 1/3 cup of sauce over the zucchini.

Sprinkle some Pecorino on top, then scatter half of the mozzarella.

Repeat with the remaining zucchini, sauce, Pecorino, and mozzarella to make one more layer, making sure to end with the mozzarella.

Bake 30 minutes, until the zucchini is tender, sauce is bubbling, and cheese is golden. Serve hot, or at room temperature.
SaveSave
SaveSave