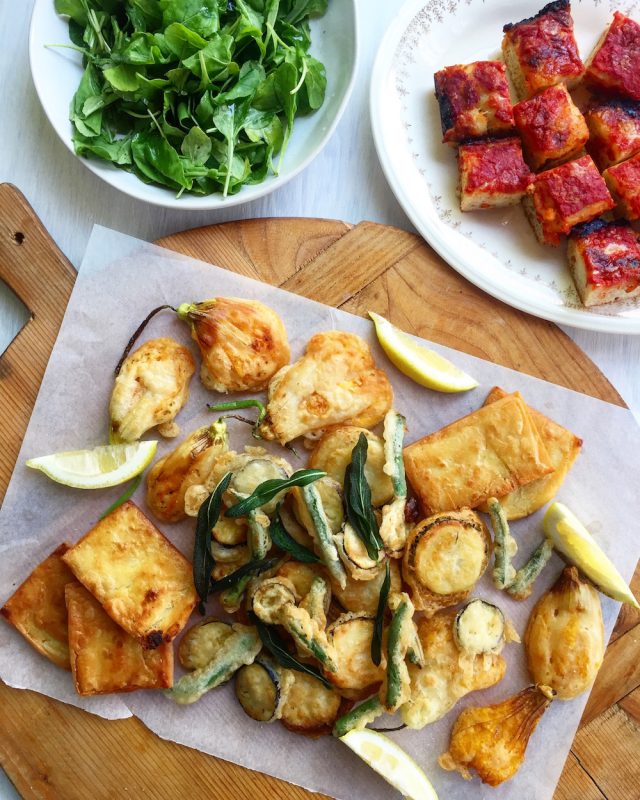 A couple of weeks ago I shared a video on Instagram for making fritto misto. It's one of my favorite fast, fresh, and easy meals to make for lunch, or as nibbles to go with wine or prosecco while I'm preparing dinner. Fritto misto is an Italian dish much like vegetable tempura, a mix of vegetables dipped in a light flour batter, then fried quickly, and best enjoyed hot.
The phrase literally translates to mixed fried. You can use any vegetables you like—best to slice them thin so they cook quickly, otherwise your batter might brown before the vegetable cooks sufficiently. Zucchini, both the whole vegetable and the blossoms, and eggplant are my favorite. Green beans are appreciated for their minimal prep, just snapping off the ends. I love bell peppers, too.
My herb garden is overrun with sage, so frying up some leaves are a must for me. No need to dip them in batter. Fry them just after the vegetable are done, keeping a careful eye as they take mere seconds to shrivel up into crispy, herbaceous bites. A squeeze of fresh lemon juice brightens everything up, as does a peppery arugula salad (but feel free to make a salad of whatever mixed greens you have available).
Some people might even like an aioli to dip their fritto misto (I am not one of those people!).
I'm not really sharing a recipe here today, more tempting you with the inspiration to make fritto misto because it's really a no-recipe recipe of sorts. The kind you rely on your instinct to make rather than a strict recipe. There's a video on Instagram in my highlights where you can watch me make it. All you need is flour, salt, and seltzer. And oil for frying, something neutral like grapeseed or canola. You want the batter to be thick enough to lightly cling to the vegetables, but not so thick that it weighs them down.
Vacation is imminent as I click away at the keyboard in Rhode Island, a brief stopover at my friend's house before we leave for North Truro in the morning. All the while, I'm trying not to get anxious about all the shark activity on the ocean beaches. Thankfully the house we stay at is on the bay, but I'll still be playing it safe.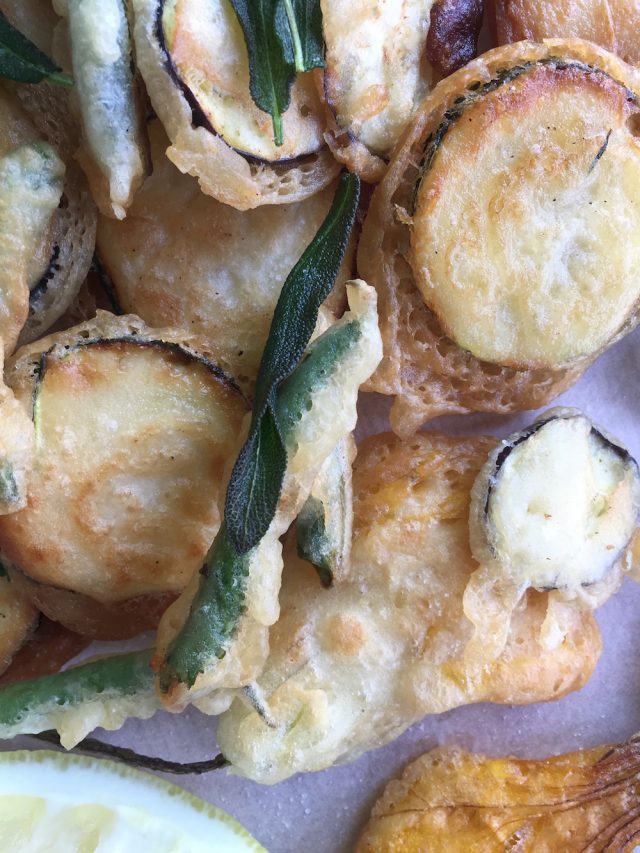 I'll be working from home the first week of vacation, but since home will be the beach, I'll keep the complaining to a minimum! Still, I can't wait until August 25th when my mind can completely unplug, especially since Matthew will be joining us for a few days then, too. Hope everyone is enjoying these last few weeks of summer.
Fritto Misto
Ingredients
Assorted vegetables

sliced thin

Flour

Sea salt

Freshly opened bottle of seltzer

Oil

for frying
Instructions
Watch

this

video on Instagram to see how to prepare your Fritto Misto.

Enjoy!
SaveSave
SaveSave
SaveSave
SaveSave