Honey Blueberry Muffin Cake
It's odd being here, but not really being here. I didn't feel like I could take the entire two weeks off from work since I started my new job barely three months ago, so this first week has left me out of sorts. Starting tomorrow early afternoon, though, work email gets switched off, and both the girls and the beach will get my full attention.
While work is occupying a lot of my time here, there's still meals to be made, and mouths to be fed. Quite a few appetites to satiate, in fact, since one of my best friends is here with her kids. Sophia, her daughter, is Isabella's oldest friend. Their relationship began almost 14 years ago when I came home to find Sophia's grandmother sitting on our stoop in Brooklyn.
When I happened upon AnnaMarie sitting on the stoop, I noticed the embroidered date on the blanket covering Sophia in her stroller. May 11, 2004. I told her that was my daughter's birthday, just one year earlier. Within months, Vania, Sophia's mom, and I became friends.
As years passed, friendship became so much more. A sisterhood, becoming each other's pillars through some of life's toughest moments. Without Vania, I might not know Michael actually died of Good Pasture's Syndrome, not cardiac arrest as initially believed, and stated on his death certificate. She was in the hospital with me when he was pronounced dead. The ER doctor asked if I wanted an autopsy done, and I looked to her for guidance since she was a doctor herself.
First instinct is not wanting your loved one dissected, but the reality is he died so suddenly, and was a relatively healthy person. She advised me this was no longer about him, but about our girls. They needed to know what happened for their own future health.
All this is to say that Vania is an example of the family we choose in life, and in my experience, often more stable, loving, self-sacrificing, and thoughtful than the one we're born into. Spending time together like this in a place filled with so much meaning is special, and has become a bit of a summer ritual since Michael passed away.
Cooking for her and all of our children is a task that brings me so much joy, though preparing meals here is also challenging. We're back in our old cottage, the one Michael and I began renting in the summer of 2004. As with any vacation rental, you never know what you're going to find in the kitchen in terms of tools and equipment. Even though this is our 14th summer here, having taken a break from it last year, there's always something missing that was here the year before, or sometimes something new that helps get the job done.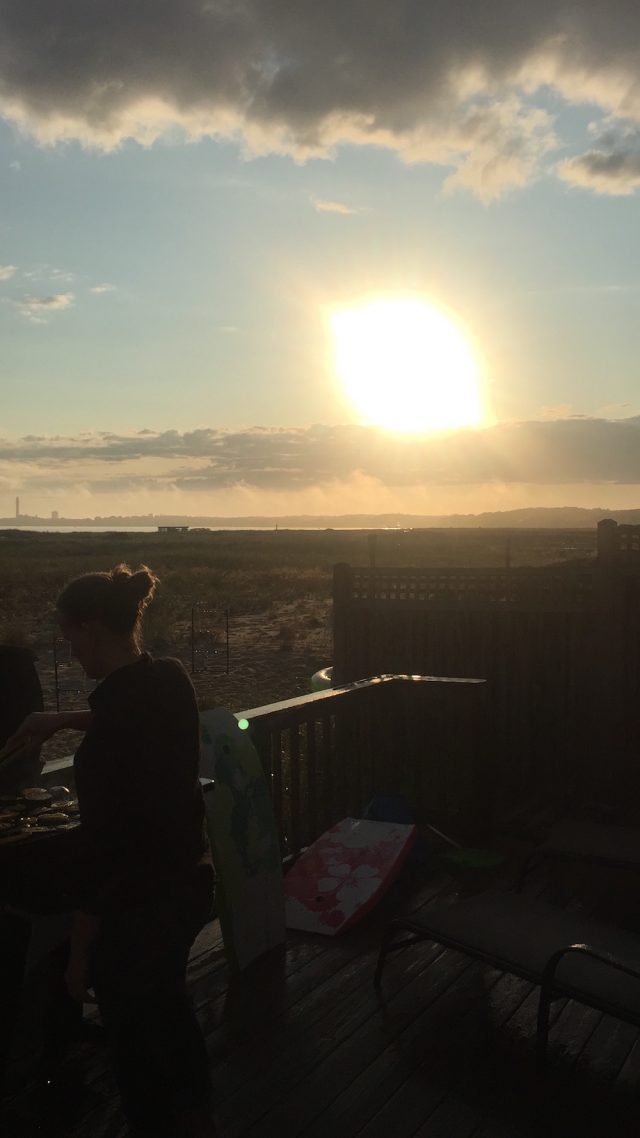 This year a lot is missing in the kitchen. No more cast iron skillet. Sheet pans gone. The worn, warped, translucent green liquid measuring cup, and  the extra cutting boards were MIA, too. For the first few years I forgot to bring a cutting board, and the glass one that sits on the counter year after year is unnerving from the sound it makes as the knife makes contact. On many occasions we'd arrive to discover I forgot to pack a cutting board, and drive over to Land's End Marine Supply, the hardware store in Provincetown to buy a new one. One year I opted to leave it, a pay it forward of sorts. Up until two years, the wooden cutting board was there to greet me year after year.
So, the theme this year is Macgyver this Meal. I rigged a metal oven rack into a sheet pan to bake cookies our second day here, and used a vegetable peeler to shred cheddar cheese yesterday since the hand grater seems to have shacked up with the missing cutting board.
The muffin tins I bought at the thrift shop a few years back for a buck are also gone, and perhaps that's a good thing. Without the need for being resourceful, none of us would know about this Honey Blueberry Muffin Cake. Basically, I used this exact recipe, in terms of ingredients and preparation, but instead of spooning the batter into a six-cup muffin tin, you spread it into an 8-inch pie plate lined with parchment paper. Bake the cake at 350ºF for 30 to 33 minutes, until deep golden on top, the blueberries are bubbling a bit, and a skewer inserted in the center comes out clean. Once the cake emerges from the oven, you'll find yourself with one huge muffin top you can cut into wedges.
Life often takes us in directions we never expected. Sometimes the road is rocky, the terrain difficult to navigate. But sometimes, once we open our mind to new possibilities, and new ways of doing things, we find ourselves exactly where we were meant to be.