Mango Hummus + Island Time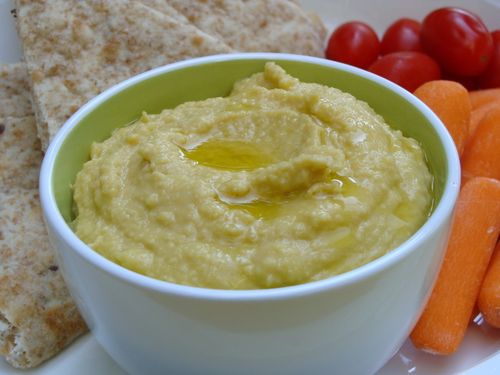 Is it really Friday? I'm so thankful to have a busy work schedule given the economy and job market but I'm always torn between the sunny outdoors and air-conditioned confines of the home office. I've got some haricot vert and fingerling potatoes that I hope haven't passed their prime, along with a few tomatoes from the farmers' market, so I'm going to make something out of them for lunch. Before I do that, though, I wanted to post that mango hummus recipe I tweeted about a few weeks ago. I created it for Role Mommy as a back-to-school lunch snack. As I suspected, the mango lent a sweet undertone followed by a hint of spice from the garlic. It also doubles as a sandwich spread, and I used it on that eggplant and manouri cheese panini last week.
This is my last week before leaving for the sandy shores of Cape Cod. I cannot wait to switch my internal clock to "island time". I've got some great guest bloggers joining starting August 24th, so get ready for some extra company in the kitchen. September is also shaping up to be quite busy with the added project of editing and recipe testing a cookbook (specifics are top secret for now, and it's not my own, but a fun assignment nonetheless) and this little thing called BlogHer Food in San Francisco at the end of the month. I'm going to lay-low this weekend and maybe make my six-year-old's favorite breakfast on Sunday, buttermilk pancakes or perhaps some French toast bread pudding, while catching up with the morning news shows and Wait, Wait Don't Tell Me. See you all on Monday.



Mango Hummus
Makes about 2 cups
One 15-ounce can chickpeas, rinsed and drained
½ cup diced mango (about half a mango)
1 clove garlic, sliced
Freshly ground pepper, to taste
¼ cup extra virgin olive oil
Add chickpeas, mango and garlic to the workbowl of a food processor. Pulse until mixture forms a thick paste. Season with pepper. Slowly drizzle in olive oil and process until hummus is smooth and creamy about two minutes.