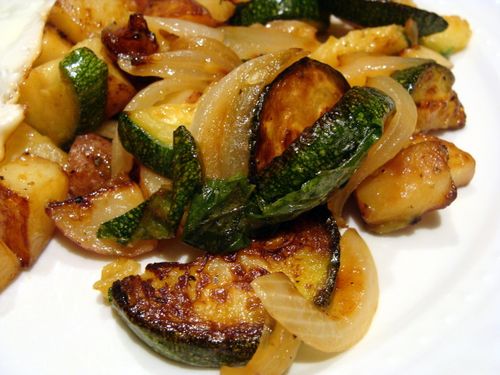 The irony of being a food writer is that some days I forget to eat lunch. Crazy and seemingly impossible, I know, but especially true when I'm testing desserts all day. A few weeks back, the hunger started kicking in, so I went to my old standby and took out some eggs (you know they're a nutritional powerhouse, right?). Looking for a companion on the plate, I rummaged through the fridge and found some zucchini from the farmer's market. I also spied some new potatoes and onions, so they came along for the ride. I had the makings for what is now known in my house as zucchini potato hash. A fresh handful of basil from the backyard gave it a nice spicy kick. Just the boost I needed too to get on with the rest of my workday.
Zucchini Potato Hash
Serves 2 to 4
The key here is cutting the potatoes small enough so they cook evenly with the zucchini and onions. Feel free to add some paprika or chipotle power if you like your hash with a kick.
2 teaspoons extra-virgin olive oil, plus more as needed
1 medium zucchini, sliced into half moons
3 new potatoes, diced into 1/2-inch cubes
1 medium onion, sliced
Salt and freshly ground pepper, to taste
handful of fresh basil leaves, torn
Heat oil in a 10-inch skillet over medium-high heat. Add zucchini, potatoes and onions and saute golden, about two to three minutes. Season with salt and pepper. Cover loosely with a lid and reduce heat to medium-low. Cook for five minutes, then add torn basil leaves. Stir well and continue cooking, uncovered, until vegetables are tender throughout, about five more minutes. Serve hot.
Related Links