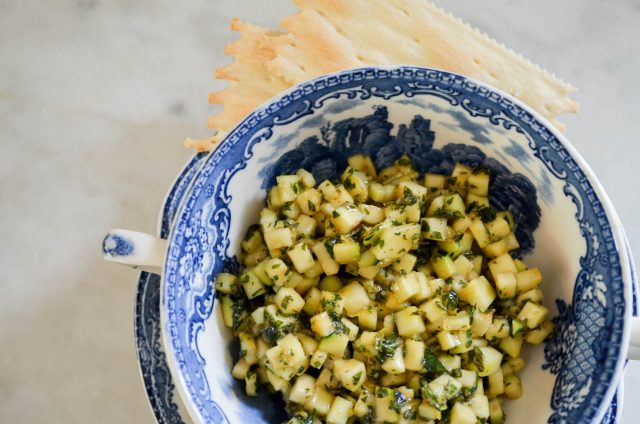 It happened some six or seven years ago, the moment zucchini tartare came into my life. I was standing in my kitchen in Brooklyn, NY, reflecting on my over zealousness at the farmers' market that day. How was I possibly going to eat all the zucchini I bought without getting squash fatigue? Muffins and quick breads were certainly an option. One of my favorite summer breakfasts (besides this salad) is a dish of zucchini & pecorino scrambled eggs my mom used to make when I was a kid.
None of these were exactly healthy options, although they're all delicious. They also don't shine the spotlight on zucchini. I wanted to come up with a recipe that appreciated zucchini for its own merits. While staring down at it, my mind wandered to tartare, a dish usually made with beef or tuna. What about a vegetarian version, an appetizer that tasted amazing, and also proved vegetables can be as interesting to cook with as meat?
Best part about this recipe is you only need five ingredients to make it—six if you count the salt. Knife skills are the key to making this tartare. You want to finely dice the zucchini. If you're looking for a shortcut, shredding it on a grater would work, although you're veering more into slaw territory with the presentation. Then again, we're talking about a vegan appetizer inspired by a meat-based dish, so why start following the rules now?
Click here to get the recipe.


More Favorite Zucchini Recipes
Zucchini, Scrambled Eggs & Pecorino Cheese