My mind is constantly a whirl of recipes. Some of them are to share here with all of you, others are destined for the Cuisinart blog I've been writing the last four years. A few will soon grace Betty Crocker and Pillsbury's websites too, like that chocolate chess pie I teased you with recently. Come September, there will be some new and inspiring afterschool snack ideas in Relish magazine.
Then there are the recipes I'm hoarding for the book proposal. I really hope to share those with you soon, but once I get the blasted proposal in order, it will still be quite some time before they get from my kitchen to yours.
And then there are the recipes like this one. The ones that demand to be shared immediately. The problem is there is no such thing as immediate these days, and for her patience, I owe Deb a big apology. I promised her this recipe a few weeks ago. Some might say I even taunted her with my tweets, but finding the time to transcibe my notes to these pages proved elusive.
This is Gabrielle Hamilton's milk-braised baby zucchini.
A few months ago I had lunch at Prune. While everyone ordered their entrees, one dish in particular caught my eye, so while no one else ordered sides or appetizers, I felt compelled to see what this milk-braised baby zucchini was all about.
When it arrived at the table, chunks of zucchini, slathered in a creamy white sauce, I was a little put off. Perhaps it was caused by one too many bad Chinese restaurant experiences, but goopy white sauces make me weary. I was also surprised to see squash on the menu too. It was mid-March here in New York City. Squash was no where to be found at the farmers' market, not even from the hydroponic folks, and I thought Hamilton was a local and seasonal chef. Perhaps she has an "in" I don't know about. This dish intrigued me, so much so that I was willing to turn a blind eye to the seasonal calendar.
As the first piece touched my tongue, my eyes closed uncontrollably. You know this sensation, it has happened to us all, when something you taste is so good it commands your full attention. From that first taste, I knew I'd ache for the first zucchini to appear at the farmers' market so I could recreate it at home.
The dish was pushed back to the recesses of my mind as everyday life took over. As time passed, the frost subsided, making way for these hot, humid days we're now faced with here. As my Saturday morning market trips grew warmer, and the time came to leave the house with simply a short-sleeved shirt, jeans and sandals—the day eventually came almost three months later.
I spied the thin, green cylinders at Maxwell's Farmstand. They were the very first stand to have zucchini, and they came at a price too—$2.50 a pound. But this culinary foreplay had to end, and so I tucked a bundle in my bag.
At this point, most food writers would just call the chef and ask them about the dish. For me, the challenge is in trying to make the dish from taste alone, and so I closed my eyes, remembered that first bite, then thought about it a few minutes. I realized it would be much easier than I'd initially thought, and started melting some butter in a pot on the stovetop.
Flour would be essential to thicken it, so a little bit went in to make a roux. Then the zucchini followed too, cut into coins, a little thinner than the chunks Hamilton has in her version. Once they were coated with the flour and butter, they simmered in a milk bath seasoned with salt, pepper and freshly grated nutmeg for 30 minutes, until they were meltingly tender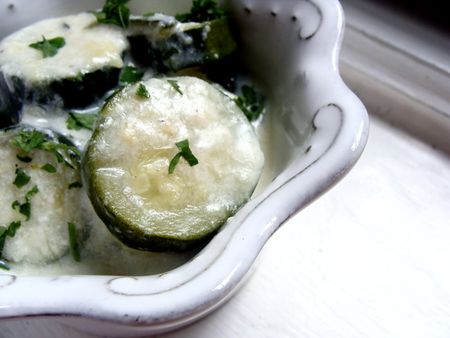 I was so proud of myself, and glowed as I brought this to my girlfriend's house for dinner. The moment I opened the container and told her about the recipe, her eyes lit up. She said this was how mother often prepared vegetables back home in France. It's funny how a recipe inspired by lunch on the lower east side of Manhattan, cooked by a girl whose life has existed mainly in Brooklyn, connected a friend to her childhood a continent away. It's a reminder of how food is a universal language, one we should all become well-versed in.
Milk-Braised Zucchini
serves 4
Funny, now that zucchini is actually in season, this dish is no longer on the menu at Prune. No worries though, since we can all make it in the comfort of our own kitchen now.
2 tablespoons butter
1 tablespoon/10 grams flour
24 ounces zucchini (about 6 medium ones), trimmed and cut into 1/2-inch coins
1 1/4 cups/312 ml millk
Sea salt and freshly ground black pepper, to taste
Generous pinch of freshly grated nutmeg
Melt the butter in a heavy-bottomed 2-quart pot over medium heat. Add the flour, and cooking stirring with a wooden spoon until the mixture starts to foam and turns golden. Stir in the zucchini, making sure all the pieces are well-coated. Stir in the milk, and add the salt, pepper and nutmeg.
Bring to a boil, then reduce heat to lowest setting and cover pot with a lid. Cook for 25 to 30 minutes, until the zucchini is extremely tender when pierced with the tip of a fork. Don't worry if the sauce looks curdled or broken—just stir it together a few times and will come together into a velvety texture. Let the zucchini sit in the pot, uncovered, for 5 to 10 minutes so the sauce can thicken further, before serving.
More zucchini-inspired recipes:
zucchini & cheddar cheese muffins