This past Saturday started somewhat normal. I rose at an abnormal hour for a weekend day, this time feeling a bit more tired and slow-moving, having played cruise director to Isabella. Since the whistle blew last Tuesday at noon, my life has been kids, kids and more kids.
Wednesday we trekked to Harlem to visit Kim. I think I was more excited about this playdate than Isabella. I was happy and at peace, sitting across from one of my best friends while the girls played.
Thursday we walked the High Line and cooled off with some stracciatella from L'Arte del Gelato and plum syrup soaked shaved ice from People's Pops.
Friday we took a field trip to the Union Square Greenmarket in search of strawberries. We came home empty-handed, but with full bellies from a mother-daughter lunch at Craftbar, complete with veal-ricotta meatballs, fried oysters and crispy-gooey risotto balls.
By Saturday, all I wanted to do was sleep in a bit, but it's high season here. Sleep is for the winter, when the streets are covered with snow. The wind whipping around my face, all the while making me wish for summer.
It seemed like a normal Saturday as I dressed and headed to the market. As I sank into the drivers' seat it felt good to be alone for the first time in almost five days. I'm a solitary creature and really love my alone time, so these two weeks between the end of school and start of camp are always a struggle. I don't mind getting up early to squeeze in a few hours of work, and while I don't necessarily enjoy working late at night, I do what needs to be done. What does drive me crazy, though, is the feeling of being tethered 24/7.
So, as I drove to the market, I took a deep breath and was happy for the silence that filled the car.
Then something happened as I strolled the stands, squinting at the day's bounty as the first rays of sunshine pierced through my sunglasses. A sadness settled inside me as I started thinking about strawberries.
As quickly as the season started, it seeemed to end. This shouldn't have taken me by surprise. I tweeted the weekend before that is was likely the last chance to scoop them up. I took the opportunity to buy eight quarts myself and went home to make some conserve, some jam and freeze a few bags to tide me over until next year's harvest.
Just as I'd come to peace with bidding adieu to strawberries, I noticed two of the three farmers who normally grow cherries were already done for the season.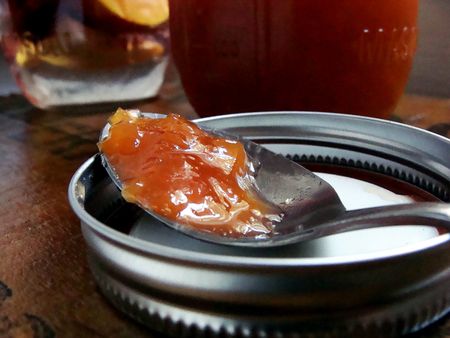 Two weeks for cherry season? I hurried to the only stand that did have cherries and thumbed through a few boxes, eventually filling my bag with three and a half pounds worth. I was ready to elbow anyone who got in my way too. I wasn't letting cherry season go without a fight, if need be.
Luckily nobody got hurt, and as I paid and chatted up the farmer from Tree-licious, I found out it was a bad year for sweet cherries. Something about rain, and it looks like plums are in danger too from some pesky fungus.
I've been thinking about my market trip a lot the past few days. The problem is I think I've outlived my life expectancy in the Northeast. The terribly short season we have here doesn't fit into my sensibilities of how to eat anymore. Seasonal and local means mostly root vegetables, apples and pears for the better part of the year.
Until I can convince Mikey to trade this great city for one in sunny Southern California, I'll have to be thankful I taught myself how to preserve, or rather prolong, the seasons as long as possible. Soon the strawberry jam in the pantry and berries in the freezer will have company. Raspberry conserve is on the menu this week, and blueberries will follow suit too. Before I know it peaches will be here too, and I've got a few recipes up my sleeve for the first sitings of the season.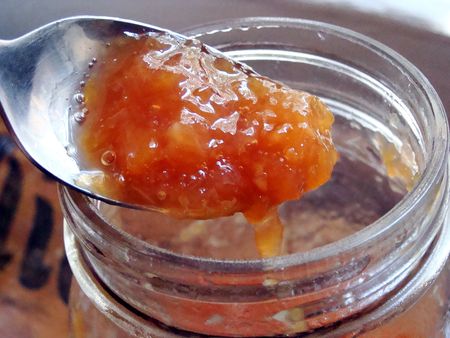 easy peach preserves
makes 2 pints
I must confess summer apples are not easy to come by. That's not say they're impossible to find, but you do have to keep your eyes peeled for them. Last year I bought mine from Fishkill Farms. They're tart, thin skinned and a doppleganger for Granny Smiths. What makes them so special is that the young fruit is high in natural pectin, which means this jam thickens beautifully without a load of sugar or the aid of commercial pectin.
If you can't find summer apples near you, then use your favorite brand of pectin, adjusting the amount according to the package directions. My go-to brand is Pomona's Universal Pectin. To put these up in canning jars for the winter, spoon the jam into sterilized glass jars. Cover with sterilized lids and rings, then process in a hot water bath for 10 minutes.

1/3 cup/1.65 ounces peeled, shredded summer apples
3 cups/14 ounces peeled, finely diced fresh peaches
2/3 cup/5 ounces sugar
Add ingredients to a microwave-safe glass bowl. Stir to mix well. Cook, uncovered, on HIGH for 6 minutes until boiling and bubbly. Carefully remove bowl using a kitchen towel or pot holders. Stir and return to microwave. Cook on HIGH for 8 to 10 more minutes, until thick and jammy. Transfer to clean, sterilized canning jars and process in a hot water bath, or store in a sealed jar in the refrigerator for up to one month.
*note: times are based on using a 1000 watt microwave.
More peach recipe from In Jennie's Kitchen:
peach raspberry tart and maple syrup poached peaches. 
∞∞∞
This post is a part of the Food Network's Summer Fest 2011. This week the food blogosphere is filled with lots of peachy keen recipes, so get a pen and paper to start planning your shopping lists!
CIA Dropout: Peachy Keen Panna Cotta
What's Gaby Cooking: Peach and Blueberry Cobbler
In Jennie's Kitchen: Easy Peach Preserves
Daily Dishin: Fresh Peaches and Cream No-Bake Pie
Cooking with Books: Peaches and Cream Cheesecake
Cooking With My Kid: Peach & Friends Cobbler Pie
White on Rice Couple: Peach Heirloom Tomato Salad
Cooking With Elise: Bruschetta with Grilled Peach Chutney
FN Dish: Summer Fest: Peach Recipes
Taste With The Eyes: Warm White Peach and Blackberry Cobbler
Recipe Girl: Fresh Peach Pie
A Way to Garden: Farm Fresh Peaches Frozen to Perfection
Napa Farmhouse 1885: Fresh Peach Cookies
Sassy Radish: Peach, Apricot and Blueberry Cobbler with a Cornmeal Crust
Sweet Life Bake: Sweet Peach Ancho Chile Salsa
Indian Simmer: Indian Peach Gujiya
Pinch My Salt: Creamy Peach Smoothie
Dixie Chik Cooks: Peach Cobbler
Food2: 5 Killer Peach Flavored Cocktails
Healthy Eats: 8 Ways You Didn't Know You Could Eat Peaches
Cooking Channel: Peaches on the Grill
Add a Pinch: My Grandmother's Peach Cobbler
And Love It Too: Pan Seared Salmon with Fresh Peach Salsa
The Sensitive Epicure: A Summer Peach Tart, Gluten-Free
From My Corner of Saratoga: Double Caramel Peaches
She Wears Many Hats: Peach Wontons