strawberry rhubarb crumble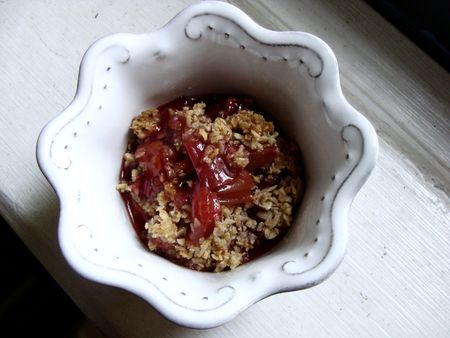 By time you read this, Isabella will officially be a third grader. Right now though, as these words flow from my fingertips, she has 141 minutes left as a second grader.
The end of every school year feels like a wow moment. Lately, every moment feels like a "how the hell did my life land here" moment. Sometimes those moments are good, in fact most times they're amazing. The reality though is life is never as perfect as it seems on the outside.
There are cracks, and some days feel like they're all about shoring up the dam, so the river of memories don't come crashing in, sweeping me away with them.
My sunglasses offered cover for the tears that crept into my eyes this morning as Isabella walked from the schoolyard into their building, hand in hand, with one of her long time pals Lucie. They have known each other since Pre-K. That's exactly half their lifetime right now. We'll fittingly celebrate the official start of summer vacation at her friend Georgia's house just a few blocks away.
Lucie, Isabella and Georgia are the Power Girls, in case you didn't know.
Together they can take on the world, their friendship having grown as solidly as their ability to read and write. They put on shows together, dress up, act silly, and yes, fight as girls are destined to do no matter how close they become.
I know the Power Girls will some day live in separate corners of the world, and when that day comes I hope they remember this sunny, summer day, sharing a fruity crumble topped with tufts of fresh whipped cream.
I know I will.
∞ In Jennie's Kitchen—June 2010: basic butter crust ∞
∞ In Jennie's Kitchen—June 2009: basil pesto ∞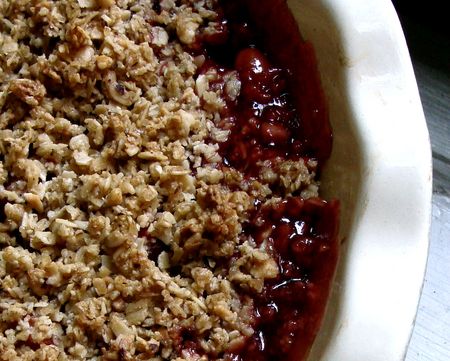 Strawberry Rhubarb Crumble
serves 8 to 10
I love pies, but lately time has been so pressed, crumbles have been my go-to dessert. They're so quick and easy, I've actually made four in the last ten days. This recipe is also a great example of how to make an existing recipe one you can call your own.
Crumbles are all about the topping—I suspect the combination of strawberries and rhubarb may be as old as the invention of the wheel. I started with a recipe from Heidi which has a lovely sounding pine nut and oat topping. My first problem was I didn't have pine nuts. Then I thought of Shauna as I was muddling over some ingredient ideas. I always think of her when I bake, and this dessert was quite easy to make gluten-free. I nixed Heidi's spelt flour and used all gluten-free certified oats. I also omitted the black pepper because Isabella downs a glass of water if she so much as tastes one speck of the stuff.
I also wanted to give my humble crumble a flair of sophisication, so added some fresh lemon thyme. A whisper of cinnamon lends a warm note too, and I can't tell you enough how much I adore the crunch from the coarse sugar in the topping too.
It gets better. I have a dairy-free and vegan version to share too—it's a simple swap of olive oil and maple syrup. Once I took away the melted butter, I knew the topping would need something else to bind it, hence the maple syrup instead of coarse sugar.
One final note, as a matter of full-disclosure. This is not the official crumble I made for the last day of school. That is another wonderful version I'm keeping under wraps. I've been at hard work on my cookbook proposal, and when it comes to fruition, then the whole world can revel in the deliciousness of the Power Girl Crumble. Until then, this one rocks—trust me.
For the topping:
1 cup (125 grams) old-fashioned oats
1/2 cup (45 grams) toasted hazelnuts
1/4 cup (49 grams) coarse sugar (like Sugar in the Raw)
1/4 teaspoon (1 gram)  fine sea salt
Leaves only from 3 sprigs of lemon thyme
Dash of ground cinnamon
4 tablespoons (2 ounces) butter, melted
For the filling:
1 pint (10 ounces) strawberries, stems removed
4 stalks (12 ounces) rhubarb, cut into 3/4-inch pieces
1 tablespoon (10 grams) cornstarch
3/4 cup (150 grams) natural cane sugar
Preheat the oven to 375ºF.
To make the topping, add the oats, hazelnuts, coarse sugar, salt, lemon thyme and cinnamon to the bowl of a food processor. Pulse until it forms a coarse, sandy mixture. Pour in the butter and pulse 3 to 4 more times until the mixture comes together into little clumps. Set bowl in the refrigerator to chill while you prepare the filling.
Cut the strawberries into quarters and place in a deep bowl. Add the rhubarb, sugar and cornstarch to the bowl. Using a spoon to stir together until well coated. Scrape fruit mixture into a 10-inch deep ceramic pie plate or 8-inch square glass baking dish.
Sprinkle the oat topping evenly over the fruit and bake for 35 minutes, until the juices bubble and the topping is a deep golden color. Remove from oven and let sit on a wire rack until cooled, about 2 hours. May be prepared and baked the night before—just cover the top with plastic wrap and let sit on the counter until ready to serve the next day.
***
Dairy-Free Strawberry Rhubarb Crumble
Omit the butter in the crumble topping. In its place, add 1 tablespoon olive oil and 2 tablespoons (30 ml) pure maple syrup.
***
Serving Suggestion:
I love a few generous spoons of this over thick, creamy yogurt, especially for breakfast when I'm feeling a little decadent.
Storing Leftovers:
The crumble is fine covered with plastic wrap overnight at room temperature. Anything longer than that, I suggest popping it into the fridge.