Pop Quiz: Is Rhubarb a Fruit or Vegetable?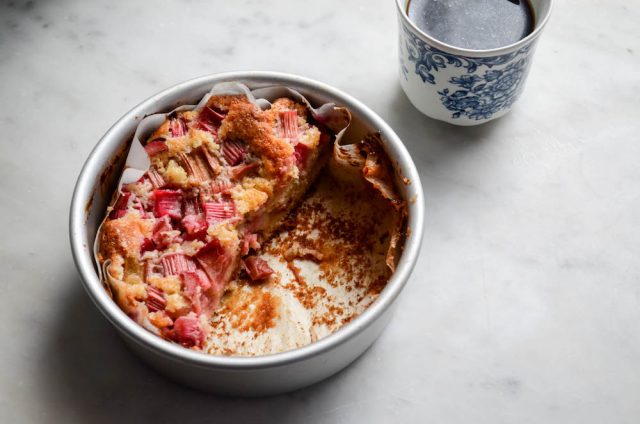 The winters are long here. Not as long as the midwest, where spring and summer seem to be a blip. Still, four months of darkness and mummifying ourselves with layers of clothing leaves everyone ready for a change of pace come May.
In usual fashion, spring is in the express lane, and now our temperatures are barreling towards summer. Before we get there, though, there's rhubarb to consider.
The season for rhubarb always feels too short. While most people pair it with strawberries, our rhubarb season will be mostly done by time the first berries ripen. My feelings about rhubarb also revolve around pushing it front center, and while supporting cast members are fine (looking at you strawberries), it's rare to see a sweet dish that appreciates all rhubarb has to offer on its own. So, it was a happy surprise to come across Luisa's Simple Rhubarb Cake from Classic German Baking last week.
The cake comes together swiftly, and easily, with rhubarb taking front and center stage. Luisa notes that it'll look like too much rhubarb, and it does. Once it bakes, though, the batter rises up, enveloping the vegetable, creating a cake with pockets of sweet, sour rhubarb jam. And, yes, rhubarb is indeed a vegetable!
I wasn't sure my girls would like the cake, and prefaced it that way before serving them a thin wedge. To my surprise, it was a huge hit. I decided to halve the original recipe to make a smaller 6-inch cake. It yields six normal-for-us size servings, or four very generous slices of cake. Delicious as this Simple Rhubarb Cake was the afternoon I first baked it, I found it aged well, and loved it even more the next day, after sitting on the counter overnight.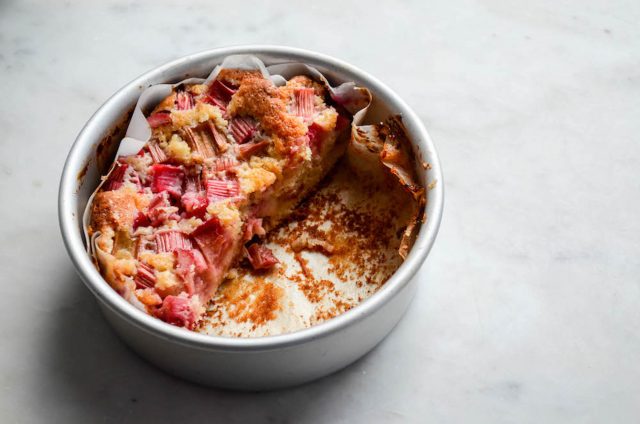 Six More Ways To Enjoy Rhubarb
Double Crust Mostly Rhubarb Pie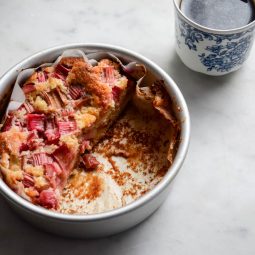 Simple Rhubarb Cake
Ingredients
3

stalks

250 grams rhubarb, chopped into 1/2-inch pieces

8

tablespoons

100 grams sugar

3 1/2

tablespoons

50 grams butter, softened

1

egg

Freshly grated zest of 1/4 lemon

1/4

teaspoon

vanilla

3/4

cup

95 grams flour

1

teaspoon

baking powder

Thick pinch of salt

2

tablespoons

milk
Instructions
Preheat the oven to 350ºF. Line a 6-inch cake tin with parchment long enough to cover up the sides to the top of the pan.

Add the rhubarb to a small bowl, and toss with 3 tablespoons (35 grams) of sugar.

In a separate small bowl, add the butter and beat until creamy, 30 seconds. Add the sugar, and beat until light and fluffy, 2 to 3 minutes.

Add the egg, lemon zest, and vanilla, Beat until fluffy and well mixed, 1 minute.

Add the flour, baking powder, salt, and milk. Beat on low until just mixed, then increase speed to high for 15 seconds.

Scrape the batter into the prepared pan. Evenly spread the rhubarb on top. It'll seem like too much—don't worry. The batter rises over it as it bakes, enveloping the rhubarb.

Bake for 1 hour, until a skewer inserted in the center comes out clean of batter (there might be some sticky rhubarb-like jam on it). Let the cake cool completely before cutting, preferably all day, or overnight.
SaveSave
SaveSave
SaveSave
SaveSave