Strawberry Rhubarb Margarita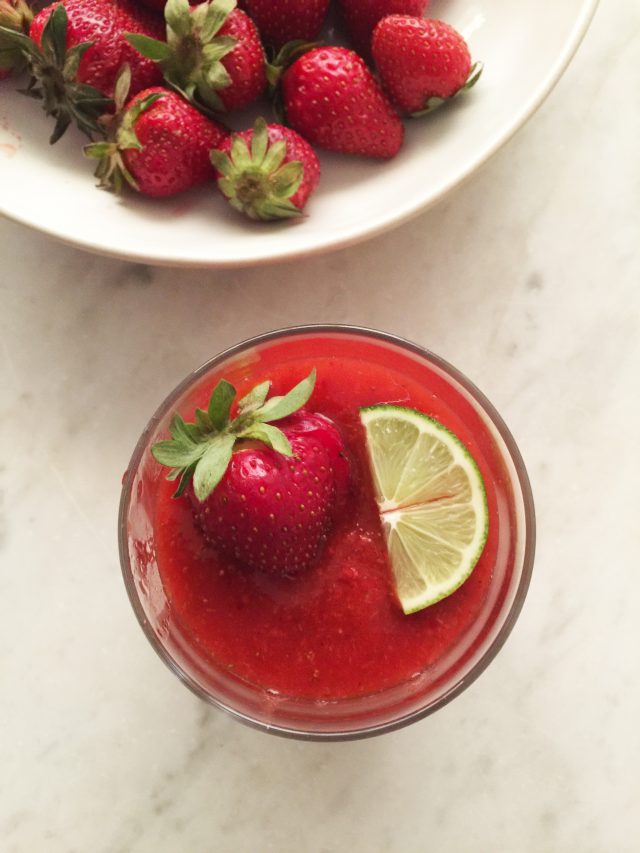 I always love the idea of rhubarb more than rhubarb itself. I feel like I can admit this here, to all of you. Once the farmers' markets fill with the ruby red stalks, the temptation to gather a few ribs is something I can't resist. While many people pair it with strawberries to make pie, I much prefer to let my strawberries go solo. My favorite way to prepare rhubarb is using it to make this roasted rhubarb jam, until now, that is.
Recently, I found myself confronted with these beautiful stalks. I knew the following few days would be crazy busy with a quick roundtrip into NYC for a doctors' appointment, and then Isabella's birthday party the following day. Still, almost involuntarily, I found myself with a few pieces of rhubarb in my basket, a little voice whispering "you'll regret it if you don't buy them". 
I came home from the market, and decided I would chop up the rhubarb, tuck it away in a ziptop bag in the freezer, and perhaps make jam another day. Freezing fruit is the easiest way to preserve the shelf life of fruits and veggies. This leaves me in a bit of predicament with moving next month.
Anyway, I remembered something I'd been meaning to try with them for what feels like forever. Back when I lived in Brooklyn, and had a regular Saturday morning routine at the Grand Army Plaza farmers' market, one of the vendors mentioned making frozen cocktails with it.
I may not be a fan of strawberry rhubarb pie, but the idea of strawberry rhubarb margaritas intrigued me.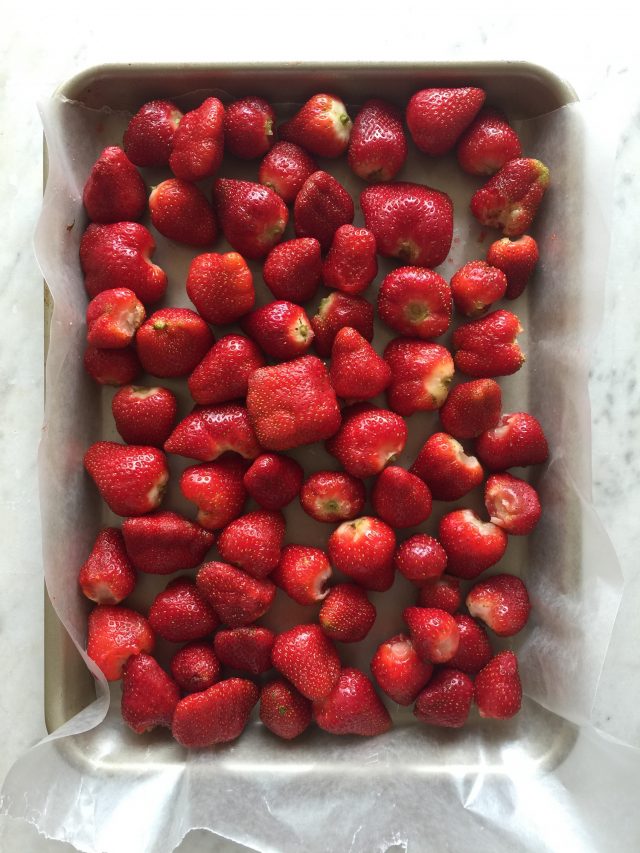 I already had some strawberries in the freezer. A fresh batch of simple syrup sat on the counter, begging to be used. All I needed was a few squeezes of lime juice and some tequila. In went everything to the blender, and a few minutes later I was sipping a frosty, spiked version of strawberry rhubarb pie.
There's so much you can do with this to make it your own. Swap in rum for a daquiri. Add some coconut milk with that rum, and you've got a strawberry rhubarb pina colada. Leave out the alcohol all together, and this is a refreshing treat everyone can enjoy.
Seven Years Ago: Classic Sangria
Six Years Ago: Garlic Scape Pesto
Five Years Ago: 10 Things About Me
Four Years Ago: About a Boy (day 268)
Three Years Ago: Strawberry Rhubarb Crumble
Two Years Ago: Eating Our Way Through Philly
One Year Ago: Peanut Butter & Banana Smoothie
This recipe is now part of my new site, Simmering. It can be found here.
Posts are free for everyone to read. Recipes are for paid subscribers only.