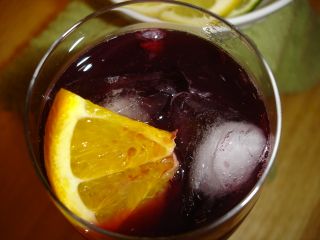 Today is a great start to the week. Not only am I testing margarita recipes for work, but I've also been spotted as a Foodie Mom by lifestyle expert Julie Mulligan on the 1-800-Flowers website. Don't forget to get your fixings from the Taco Night post for tomorrow's Cinco de Mayo celebration. Need a thirst quencher? This sangria recipe is the just the remedy.
And if you need a gift idea for that special mom, foodie or not, visit The Mama Chronicles, and get a 15% code to use on your purchase at 1-800-Flowers.com.
Classic Sangria
Serves 8
Adapted from Raising the Bar by Nick Mautone (Artisan 2004)
If you don't have a muddler, the back of a wooden spoon gets the job done too.  You can make this up to two days in advance ­– just strain the fruit after it's done "marinating".
1 lemon, sliced
1 lime, sliced
2 oranges, sliced
½ cup superfine sugar
8 ounces freshly squeezed orange juice
One 750-milliliter bottle dry red wine
Add
sliced lemon, lime and orange to a pitcher.  Sprinkle sugar over fruit and muddle
until the sugar dissolves in the fruit juices.
Pour orange juice and wine over mashed fruit and stir.  Chill, covered, for at least four hours.  Serve in wine glasses, garnished with an orange wedge.
TIP: Let the lemon, lime and oranges get to room temperature before muddling to extract the most juices. Use chilled wine and orange juice if you want to serve your sangria immediately.
Sparkling Sangria
Pour three ounces of sangria into a champagne class.  Add 1 ounce of seltzer water.  Garnish with a maraschino cherry.