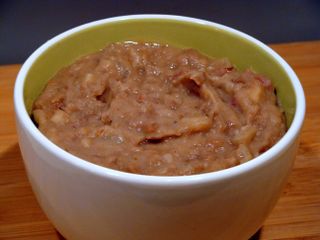 Refried beans are easy to make at home.
Photo by Jennifer Perillo©.
Taco night is universally popular, whether you're hosting a casual get-together or it's a busy Monday night. These recipes are also timely with Cinco de Mayo celebrations taking place tomorrow. With two kids in two, we're keeping the festivities at the homefront.
I love meals that require "audience" participation. Not only does it help me with the prep duties, it's great for getting kids involved or catching up with friends while you chop, sauté and simmer. Set-up stations to shred cheese, chop jalapenos (adults only on this one please) and mix cocktails. I start by making my own ground beef using the meat grinding attachment on my Cuisinart Stand Mixer (these recipes were actually created for their blog). It only takes a few extra minutes and kids love watching whole chunks of beef transform into ground meat. Just be sure to grind it no more than a few hours before preparation and store it covered in the refrigerator until ready to cook. You can also pick up ground beef from your local farmer's market, where you'll likely get the best quality available (I love Grazin' Angus Acres). My recipe below has cinnamon in the spice mixture, a tip I learned years ago while working with a Mexican cook at a restaurant in downtown Manhattan.
Another taco night must have is refried beans. Skip the ready-to-heat canned version and make your own. In about the same time it takes to heat the store bought stuff, you're ready to enjoy a homemade batch. You can also make this a day or two ahead to save some day-of prep time. I can't resist adding plantains to the menu too. I'll let you choose between making them into tostones or maduros—both are a great accompaniment.
Photo by Jennifer Perillo©.
As You Like it Beef
Serves 4
The trick to cooking for a family is to add the spice in stages. I reserve some of the meat sautéed with just the onions and tomato paste for my less adventurous older daughter. After adding the cinnamon, coriander and cumin, I save another portion for the baby, before kicking up the heat with some chipotle for the adults.
1 pound sirloin, chuck eye beef, or combination of both
2 Tablespoons olive oil
1 medium onion, chopped
2 Tablespoons tomato paste
1 to 2 Tablespoons water
Dash of cinnamon
½ teaspoon coriander
¼ teaspoon cumin
Salt & freshly ground pepper to taste
Chipotle or chili powder, to taste
1. Grind the beef using the meat grinding attachment on your Cuisinart Stand Mixer just before ready to cook.
2. Heat olive oil in a medium skillet. Add onions and sauté  until slightly tender, about two minutes. Add beef and sauté , breaking it up into bits with the tip of a fork. Add tomato paste, stirring meat well to mix it throughout. Stir in 1 to 2 tablespoon of water. Add spices, stir well and simmer until meat is cooked through. Serve buffet-style with refried beans, salsa, guacamole, shredded cheddar cheese and tortillas so everyone can assemble their own tacos.
Refried Beans
Serves 4
I normally rinse canned beans to reduce the sodium, but the liquid they sit in is key to making them "refried". The bacon adds a delicious smoky hint but you can leave it out to make a vegetarian version.
1-15 ounce can pinto beans
4 slices thick-cut, good quality bacon, chopped
1 small onion, chopped fine
1 clove garlic, minced
olive oil, as needed
Salt & freshly ground pepper to taste
1. Pour the beans with their liquid into the workbowl of the food processor attachment of your Cuisinart Stand Mixer. Process until almost smooth, leaving a few chunky pieces; set aside.
2. Heat a medium non-stick skillet over medium flame. Add bacon and sauté  until it starts to brown. Add onion and garlic and sauté  until bacon becomes crisp and onions and garlic turn golden (you can add a little olive oil if there is not enough fat from bacon).
3. Add the chunky pureed beans to the skillet. Reduce heat to a simmer and cook for 10 minutes. Remove from heat and cover, or transfer to a covered casserole dish until ready to serve.