Just a quick visit today, on a Monday that seems to have flashed by way too quickly. I suppose it's good when Mondays don't linger on too much, yes? I woke this morning, and make a batch of Strawberry Poppy Scones (more on those soon), and then decided to make some of this Strawberry Almond Milk.
I love making almond milk. It tastes better than any of the boxed stuff, and I can control what goes into it—meaning no fillers or preservatives. Just almonds, water, and a pinch of sea salt. There is a way to up the ante on homemade almond milk, though—add fresh strawberries!
Last year, if you recall, I made a homemade Cherry Cashew Milk. I still adore that recipe, but this strawberry almond milk earns its keep in my rotation, too. A little bit of vanilla extract gets us closer to the Nestle Quick strawberry milk I used to love making as a kid. I prefer the natural sweetness the almonds lend, but you can add some maple syrup to your milk if you like it a little sweeter. Just a splash should do the trick.
I hope Monday has been gentle to all of you. Sorry for the hit and run here, so to speak. I'll be back shortly, but wanted to share this recipe before it escaped my very long To Do list! xo-Jennie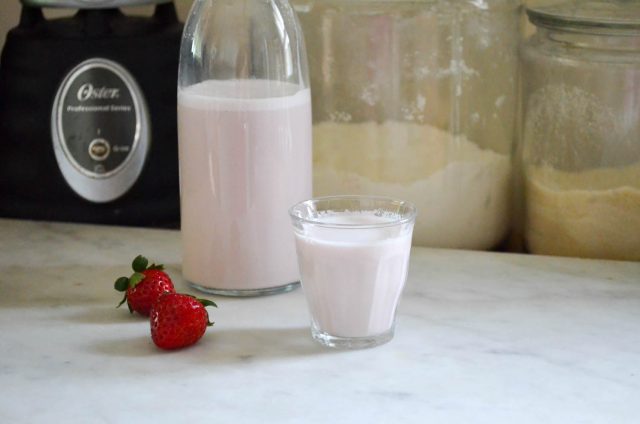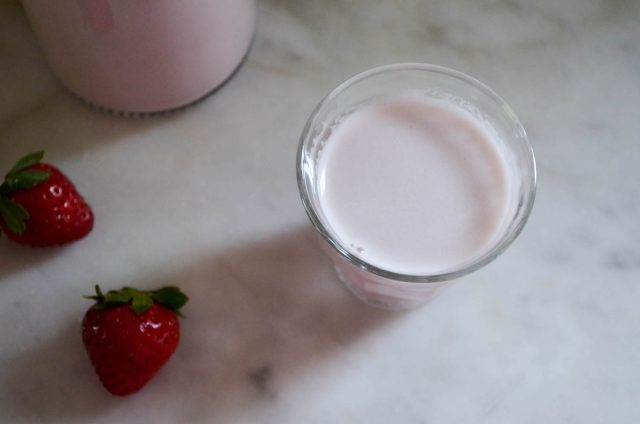 Eight Years Ago: Classic Sangria
Seven Years Ago: Whole Grain Pizza
Six Years Ago: Dairy-Free Carrot Cupcakes
Five Years Ago: Crispy Chewy Walnut Cookies
Four Years Ago: Strawberry Rhubarb Crumble
Three Years Ago: Eating Our Way Through Philly
Two Years Ago: Perfect Chocolate Chip Cookies
One Year Ago: Strawberry Rhubarb Margarita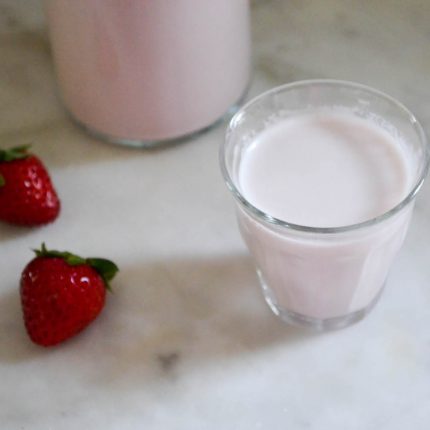 Strawberry Almond Milk
Ingredients
1

cup

soaked almonds

120 grams (read this for more on soaking almonds)

2

cups

filtered water

3

large strawberries

Pinch

of sea salt

Splash of vanilla extract

Splash of pure maple syrup

optional
Instructions
Add all of the ingredients to the bowl of a blender. Cover, and blend until the almonds are mostly pulverized (2 to 3 minutes in my no-frills, basic blender).

Pour through a fine mesh bag to strain out the pulp (I use a special nut milk bag from the healthfood store). You can save the pulp, and dehydrate in a low oven (250F), then use as a gluten free "breadcrumb" or add it to your compost pile.

Store in a glass jar in the fridge for up to 4 days. Shake gently before drinking.