carrot cupcakes, with a twist
I know, it's Monday. The day of the week we're supposed to start fresh. Get back on track, vow to eat better than last week. Maybe even get back into an exercise routine, if you fell off the wagon a few weeks ago. I may or may not be guilty of this last one.
For now, I'll plead the fifth, and share a carrot cupcake recipe with you. I think it's perfect for Mondays for a few reasons. It's dairy-free, so that means no butter. Good for the waistline and no fuss with waiting for it to soften. Instead I swapped in extra virgin olive oil.
I also used coconut milk. It adds an amazing lightness and moistness. I've been obsessed with using this in baking ever since going to a Thai Kitchen event a few weeks ago. I even used it in a smoothie recipe I developed for a back to school article out this September in Relish magazine.
I'm not shy about using sugar normally. Thankfully Costco sells organic natural cane sugar in 10 pound bags, so it fits comfortably in my budget. This time around, though, I decided to use pure maple syrup for the sweetener. I buy jugs of it from an upstate farmer at the Greenmarket, and have been playing around with it a lot in breads, cakes and muffins too.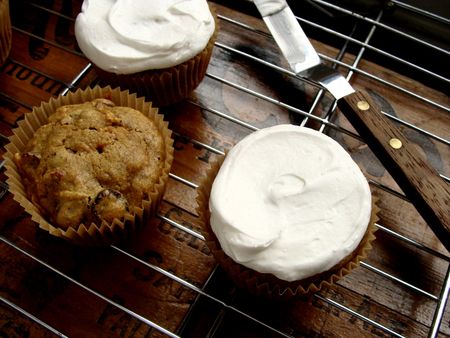 The only thing I felt a twinge of guilt over is the frosting. Since the cupcakes were dairy-free, I wanted to keep on that track with the finishing touch. If you believe there is no other topping for a carrot cupcake than a cream cheese based one, well then, we'll have to agree to disagree.
I was like you once and thought the same thing. Then I made this light and fluffy frosting with just three ingredients. It was perhaps the easiest frosting you'll ever make—and the taste will leave you wondering where you've had it before.
It's a trick many bakeries use—shortening. I've always felt a bit odd about shortening. I mean, it's not something that grows or is natural. Butter comes from milk, which comes from cows. Olive oil comes from olives, which grow on trees. These are the kind of foods I understand. They make sense. Manufactured foods scare the heck out of me. I'm all for kids playing with their food, but I prefer for the man-manhandling to start at my plate, not before it gets there.
Still, I know shortening is a common vegetarian and dairy-free substitute in frostings, so decided to give a non-hydrogenated vegetable shortening from Spectrum a chance. The frosting came together in just a few minutes, and I licked the bowl quite liberally once the cupcakes were frosted. So, never say never is all I'm saying. 
If you still feel guilty about cupcakes on a Monday, take heart that these can probably pass for muffins if you leave off the frosting. If you don't like pecans, as I've used, then add walnuts. Prefer raisins instead of dried cramberries? Go for it!
Regardless of what you decide, just stop making excuses and go make these cupcakes, muffins, whatever you want to call them. And hopefully by time you read this, I'll be back on track with my exercises, because I intented to have mine with lots of frosting.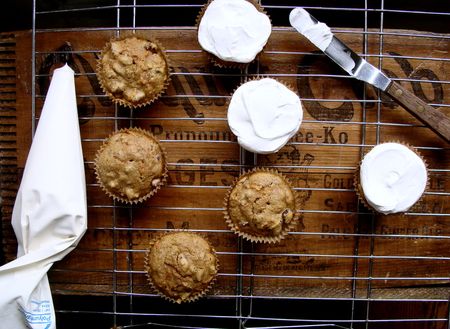 Dairy-Free Carrot Cupcakes
Makes 12
For the cake:
1 1/2 cups (200 grams) whole wheat pastry flour
1/2 teaspoon (3 grams) baking powder
1/2 teaspoon (2 grams) ground cinnamon
1/4 teaspoon (2 grams) baking soda
1/4 teaspoon (1 gram) fine sea salt
1/2 cup (125 ml) lite coconut milk
1/2 cup (125 ml) pure maple syrup
1/4 cup extra virgin olive oil
1 large egg, at room temperature
2 tablespoons orange juice, preferably fresh squeezed
1 1/2 cups (130 grams) shredded carrots
1 cup (110 grams) pecans, coarsely chopped
1/2 cup (62 grams) sweetened dried cranberries
For the frosting:
1 cup (154 grams) non-hydrogenated vegetable shortening, such as Spectrum
1/2 cup (59 grams) confectioners' sugar
1/2 teaspoon pure vanilla extract
Preheat the oven to 350ºF. Line a 12-cup muffin pan with paper liners; set aside.
In a deep bowl, whisk together the flour, baking powder, cinnamon, baking soda and salt.
In a separate bowl or deep measuring cup, use a fork to beat together the coconut milk, syrup, oil, egg and juice. Pour over the flour mixture. Using a wooden spoon, stir until just combined and there are no visible traces of flour. Gently stir in the carrots, pecans and cranberries. Evenly spoon the batter into the prepared muffin tin. Bake for 20 to 22 minutes, until a metal skewer inserted comes out clean. Remove from oven when done and set the tray on a wire rack to cool completely before frosting.
To make the frosting, add the shortening, sugar and vanilla extract to the bowl of a stand mixer fitted with the whisk attachment. Start on low speed until the sugar is mixed in, then increase mixer to medium-high and beat until the frosting is light and fluffy, about 2 minutes.
Spoon an even amount of frosting onto each cupcake, then use an off-set spatula or butter knife to spread frosting to the edges.