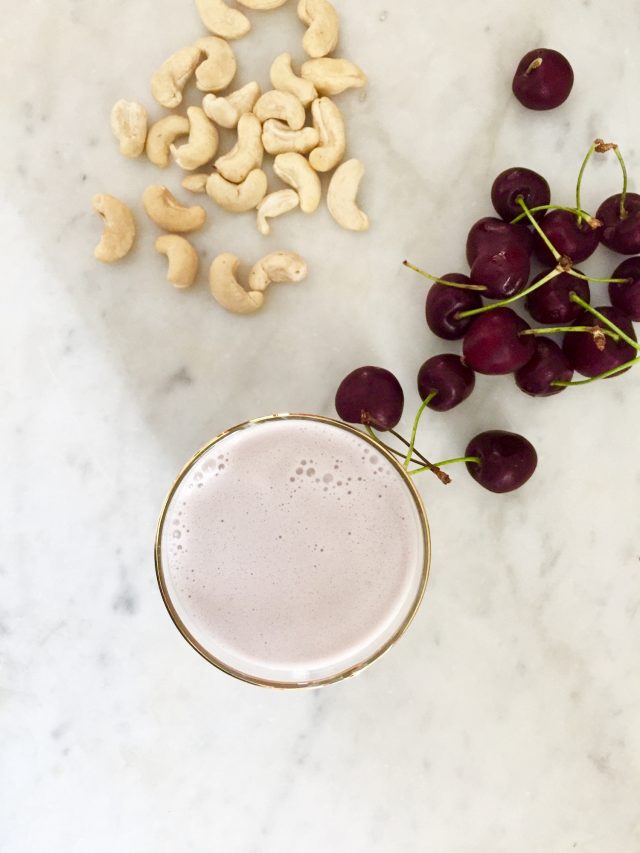 Pink milk seems to be everywhere lately. Heidi recently shared a recipe for Strawberry Almond Milk on 101 Cookbooks. Elise and Deb Perelman both shared recipes for Strawberry Milk on Simply Recipes and Smitten Kitchen. As for me, I've been making it for years, but not in a way I felt I could share a recipe, until the idea for this Cherry Cashew Milk came along.
My version of pink milk is one that taps straight into my Nesquik childhood days. I loved making strawberry milk from that powder. Nowadays, strawberry milk is usually a delicious casualty from making strawberry jam, with a much better ingredient list.
You know that foam I tell you to skim from the top of the pot? Well, if you're savvy enough, you know not to dump it. Underneath the foam that you've collected from skimming is an intensely flavored, scarlet hued treasure—a strawberry syrup of sorts. A teaspoon or two into a glass of milk, whatever kind you like to drink, makes the most amazing strawberry milk.
But Heidi's post got me thinking about cashew milk.
While I've made almond milk in the past, cashew milk is my real love. And since strawberry season is long behind us here in the Hudson Valley, cherries would have to stand in. A very worthy understudy, ready to step into the limelight.
I'd been super excited to try Heidi's suggestion of using my French press to strain the cashew milk, but it wasn't successful. Perhaps a blender with more power than my retro Oster would've produced a finer textured milk? Or maybe a different French press would've done the job. It wasn't much of a bother strain the Cherry Cashew Milk through a very thin kitchen towel. The resulting milk is phenomenal, and a reminder that I need to make my own cashew milk more often.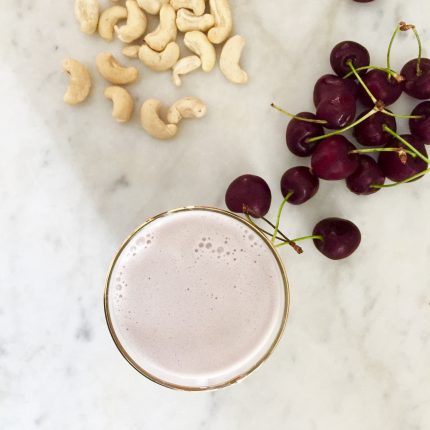 Cherry Cashew Milk
Note: soaking the cashew overnight serves two purposes. First it softens them, making it easier to blend. Secondly, it makes them easier to digest, removing tannins and other protein compounds that makes nuts tough to digest. This is why the soaking water should be discarded, or repurposed (I use it to water the garden).
Ingredients
1

cup

200 grams raw cashews

1

cup

cherries

pitted

1/4 to 1/2

teaspoon

vanilla extract

3

cups

filtered water
Instructions
Add the cashews to a deep bowl. Add enough water to cover the nuts completely. Let them soak overnight (the bowl can be kept at room temperature).

The next day, drain the cashews, and discard the water (or toss it in the garden or compost pile). Add them to a blender along with the cherries, vanilla, and water. Blend until smooth.

Arrange a piece of cheesecloth or very thin kitchen towel over a deep bowl. Pour the cashew milk through, squeezing the cloth to drain as much milk as possible from the solids.

You can spread the solids out on a tray, and bake in a 250F until dry to use as a nut flour, if you like. I usually add mine to the compost pile.

Transfer the milk to a container, cover, and refrigerate. Use within 5 days.