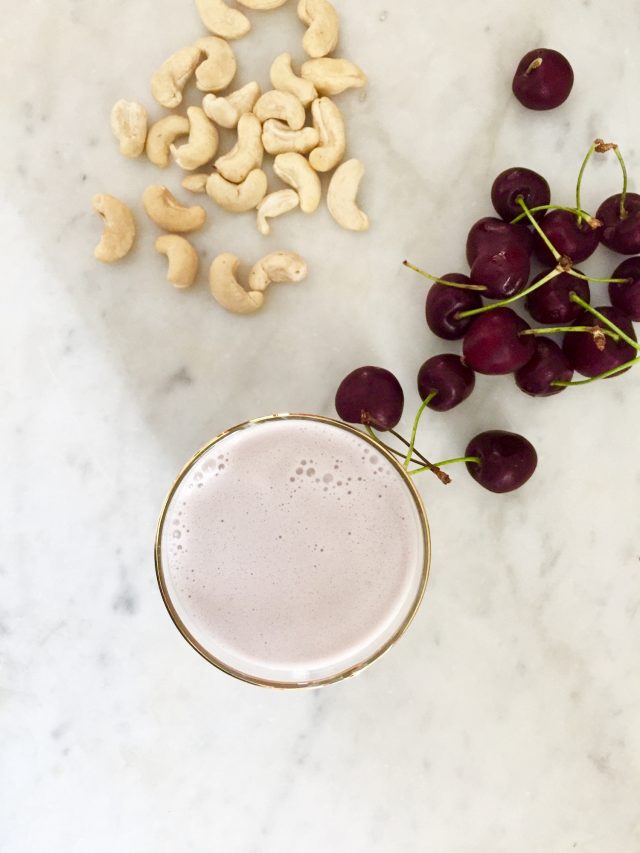 Pink milk seems to be everywhere lately. Heidi recently shared a recipe for Strawberry Almond Milk on 101 Cookbooks. Elise and Deb Perelman both shared recipes for Strawberry Milk on Simply Recipes and Smitten Kitchen. As for me, I've been making it for years, but not in a way I felt I could share a recipe, until the idea for this Cherry Cashew Milk came along.
My version of pink milk is one that taps straight into my Nesquik childhood days. I loved making strawberry milk from that powder. Nowadays, strawberry milk is usually a delicious casualty from making strawberry jam, with a much better ingredient list.
You know that foam I tell you to skim from the top of the pot? Well, if you're savvy enough, you know not to dump it. Underneath the foam that you've collected from skimming is an intensely flavored, scarlet hued treasure—a strawberry syrup of sorts. A teaspoon or two into a glass of milk, whatever kind you like to drink, makes the most amazing strawberry milk.
But Heidi's post got me thinking about cashew milk.
While I've made almond milk in the past, cashew milk is my real love. And since strawberry season is long behind us here in the Hudson Valley, cherries would have to stand in. A very worthy understudy, ready to step into the limelight.
I'd been super excited to try Heidi's suggestion of using my French press to strain the cashew milk, but it wasn't successful. Perhaps a blender with more power than my retro Oster would've produced a finer textured milk? Or maybe a different French press would've done the job. It wasn't much of a bother strain the Cherry Cashew Milk through a very thin kitchen towel. The resulting milk is phenomenal, and a reminder that I need to make my own cashew milk more often.
This recipe is now part of my new site, Simmering. Join thousands of other subscribers now for only $5/month or $30/year (that's six months free!)