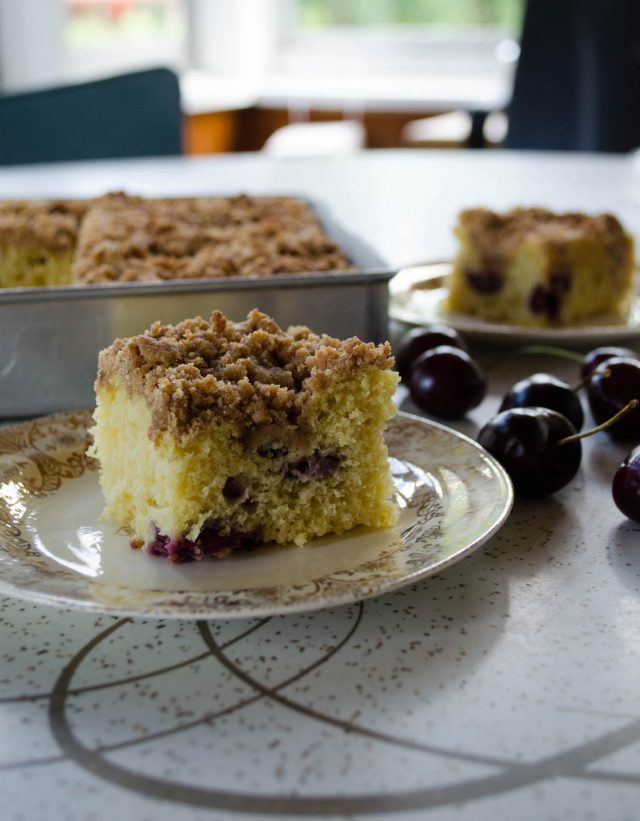 My mom wasn't a big baker growing up, unless we're talking about the month of December. Then the stand mixer came out, gingerbread was rolled almost paper thin, and patience was found to coax butter cookie dough through the spritz press. The rest of the the year, baked goods were either bought from the Italian pastry shop, College Bakery, or courtesy of Entenmann's. So, when I'm developing new recipes, often I'm trying to recreate something out of nothing more than a taste memory. Such was the case with this Sweet Cherry Coffee Cake.
It started as a muffin making session a few days earlier. I'd over bought blueberries at the farmstand. Looking at the containers piled around the kitchen, making blueberry muffins seemed a good way to use up some of them. I pulled out the spring issue of City Girl, Country Kitchen, and decided to make a batch of my Old Fashioned Blueberry Muffins after dinner.
The girls were so excited when they woke up the next morning. Seriously, those muffins are the best ever. I realize that's a big thing to say, but try the recipe for yourself, and you'll see it's true. Even the gals at the farmstand said it was the best blueberry muffin they'd ever eaten.
A couple of days later, not only did my blueberries runneth over. I now found myself drowning in too many cherries. Now, let's set the record straight. This is not necessarily a bad thing. Cherry season was coming to an end, and I'd lost my mind, buying more than I could possibly consume. I pitted and froze some, and ate my weight in some more. Still, I needed to do something with these cherries, and didn't feel like making pie. I know, that seems inconceivable to me, too. I suspect one of my besties will be shaking her head when she reads that last sentence.
This Sweet Cherry Coffee Cake solved two problems. It helped use up some of those cherries lingering in the fridge, and served as breakfast the next morning.
Coffee cake came to mind thanks to Virginia. I'm not sure when, or how, her cravings for this started, but she's in constant search of coffee cake when we go out these days. Perhaps genetics run deeper than hair and eye color. Coffee cake has long been a family favorite, and not at any coffee cake will do. The cake crumb needs to be tender, buttery, a bit crumbly, but still retain structure. And it can't be dry. Good heavens there are way too many dry coffee cakes in the world.
And then there's there's the crumb topping. Don't skimp here, please. Listen, if you're going to commit to the calories involved with coffee cake, go big, or go home is my feeling. It's not like you're making it every day (and if you are, please tell me where and what time to show up). I know what's going to happen when you set out to make this cake. You're going to start sprinkling on the crumb topping, and think "Jennie has lost her mind; there's way too much topping for the cake".
Now, that we've gotten that out of the way, I promise you this is the perfect amount of crumb topping. Before baking, it's going to look like the crumb topping is crashing the coffee cake party. What you have to remember, though, is that as the cake rises, the filling disperses, slightly sinking into the batter (this is a good thing). What results is a cake that is completely covered, but not overwhelmed, with crumb topping after baking. I predict my auntie is going to lick her computer screen when she reads sees these photos.
If you don't have cherries, you should know blueberries would be a fine substitute. I'm even willing to wager that peaches would be amazing. And once cherry season is over, you can still satisfy this craving with frozen cherries. Just let that them thaw ever so slightly so you can cut them in half (whole pieces would weigh the cake down to much). And if you want to ditch the fruit all together, then that's okay, too.
Last note. Coffee cake is often drenched with confectioners' sugar. This is how my mama and aunties tend to like it. I am not of that camp. I prefer to the let the buttery crumb take center stage. Do what you like, and if that means adding a sprinkling, or shower, of powdered sugar, then so be it.
Seven Years Ago: Same Day Pickles
Six Years Ago: Zucchini Coffee Cake
Five Years Ago: 20-Minute Marinara Sauce
Four Years Ago: Rustic Lemon Cake
Three Years Ago: Raspberry & Chocolate Mint S'mores
Two Years Ago: Cantaloupe & Lillet Sparkler
One Year Ago: Basil Pistachio Pesto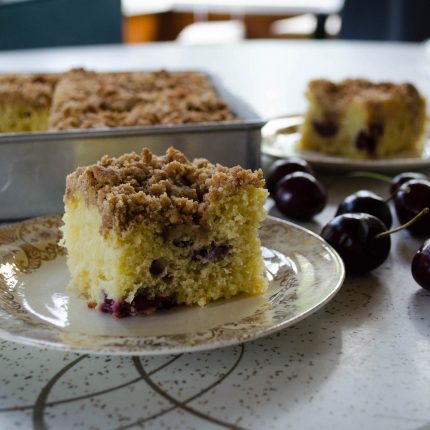 Sweet Cherry Coffee Cake
Ingredients
For the Crumb Topping:

3/4

cup

115 grams whole wheat pastry flour

3

tablespoons

40 grams granulated sugar

3

tablespoons

40 grams brown sugar, light or dark is fine

1/2

teaspoon

2 grams sea salt

As much cinnamon as you like

I err on the side of a generous pinch

6

tablespoons

84 grams butter, melted

For the cake batter:

1 3/4

cups

262 grams flour

1/3

cup

70 grams granulated sugar

1/2

teapsoon

2 grams sea salt

1

tablespoon

15 grams baking powder

2

large eggs

4

tablespoons

56 grams butter, melted

1

teaspoon

5 ml vanilla extract

1

cup

237 ml wel-shaken buttermilk

1 ¼

cups

1173 grams pitted bing cherries, cut in half
Instructions
Preheat your oven to 375F (190C). Generously rub the sides and bottom of an 8-inch square pan with butter. Add a bit of flour, and tip the pan from side to side until it's well coated with the flour. Tap the pan to remove any excess.

Prepare the crumb topping first. Add the flour, sugars, salt, and cinnamon to a deep bowl; whisk to combine. Using a fork, stir in the melted butter, making sure there are no dry bits of flour.

To make the muffin batter, add the flour, sugar, salt, and baking powder to a clean deep bowl.

In a small bowl or large measuring cup, combine the buttermilk, egg, and melted butter. Beat with a fork. Pour the buttermilk mixture over the flour mixture. Stir with a fork until just combined. Using a rubber spatula, fold in the cherries.

Evenly spoon into the prepared muffin tin. Evenly sprinkle the crumb topping onto the muffins, pressing it in gently so it sticks.

Bake until a deep golden brown, and until a metal skewer inserted in the center comes out clean, about 35 minutes. Remove from the oven. Set the tray on a wire rack, and allow muffins to cool at least 30 minutes before serving.

Make Ahead

Once baked, let cake cool completely. Cut it into pieces, and wrap them individually in plastic film. Store in a tightly sealed ziptop bag. Take pieces out the night before you plan to eat them, and let them thaw in the fridge overnight.

Make It Your Own

This is basically my master recipe for muffins, which I've adapted for a square pan. Taking it one step further, the fruit changes with the seasons. Raspberries, blackberries, and diced peaches are a few of my other favorites during summer months. You can also play around with the spice in the crumb topping. Swap out the cinnamon for allspice, cloves, or ground ginger.