perfect chocolate chip cookies
best chocolate chip cookie recipe The reality of moving finally hit me. You'd think the boxes around the house would've made it feel real, but when I started packing the move was three weeks away. Now we're in the final countdown. Seven days to go (maybe less by time I press the publish button and you read this). For the first time in my four decades on this earth I won't be a New York resident. Moving upstate at least kept me within arm's reach of my beloved city. My city and zip code may have changed on my return address, but I was still a New Yorker. I know…once a New Yorker, always a New Yorker. And as the saying goes, you can take the girl out of Brooklyn, but you can't take Brooklyn out of the girl.
Since I'm keeping my house here upstate, it's not a pack-everything-up-and-get-out-of-dodge kind of move. The house will stay fully-functional, so we can come back and forth this summer, and then when weekends allow once school starts in the fall. I'll be baking these cookies a lot in both places.
They're a dream come true for me. They remind me of the soft, chewy Entenmann's chocolate chip cookies I used to love eating as a kid and teenager. I came across the recipe on Williams-Sonoma's instagram feed a few weeks ago. What hooked me was their name—perfect chocolate chip cookies. I was a bit skeptical about the perfect part. Perfection is a goal of extremes, and not one size fits all, so I approached my first batch with caution. I was pleasantly surprised, but still skeptical. Maybe it was a fluke.
So, I made another.
And then another.
It turns out some things aren't too good to be true—they're exactly as they should be. Just right.
Five Years Ago: Deep Chocolate Cherry Cashew Cookies
Four Years Ago: Chocolate Snaps
Three Years Ago: Whole Wheat Chocolate Chip Cookies
Two Years Ago: Hazelnut Thin Crisp Cookies
One Year Ago: Chewy White Chocolate & Pistachio Cookies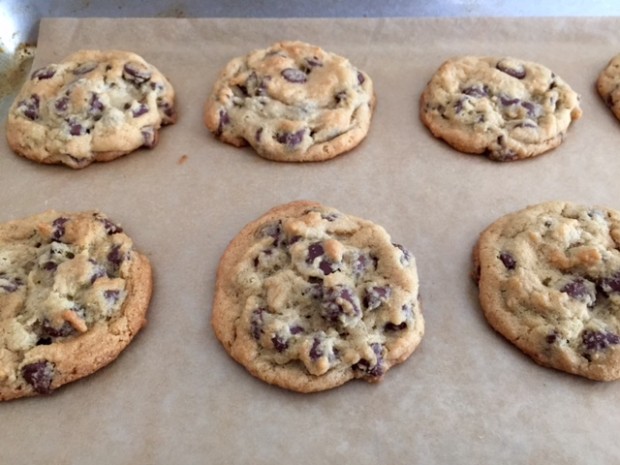 Perfect Chocolate Chip Cookies
reprinted from the Williams-Sonoma Taste Blog
makes 45 cookies
Music Pairing: Starting a New Life by Van Morrison
(do yourself a favor—close your eyes, listen to the music, and don't watch the cheesy video)
I found it so interesting to read the comments on the original recipe posted on WS' blog. They were pretty split with half the people saying they were indeed perfect, and the others saying the recipe was a fail. The complaints were about flat cookies, mainly, but some complained about too many chocolate chips, too. I was skeptical about the quality of chips—it's a lot, and I don't generally care for an overly chocolatey chocolate chip cookies (crazy, I know). And yet, I think the ratio is perfect! Obviously, if you want less, then use less. Since Virginia doesn't like chocolate chip cookies, I sometimes leave them out all together, and it makes for an awesome chewy vanilla cookie. Also, I found mini chocolate chips to be better if using the smaller cookie scoop (see note below).
As for being flat, the cookies will look a little puffy when they come out of the oven, then settle down into about 1/8-inch thickness. That's one of the qualities I loved most about this recipe—not too thick, not too thin. Without seeing photos of the "flat" complaints, it's hard to know exactly why people had this problem. It could've been that their butter was too soft, or that the baking soda had gone bad. The latter usually has a long shelf-life, but if you're unsure about your's, mix a little with vinegar to test it out. If it fizzes, you're good to go. If it doesn't, toss it and buy a fresh box.
Lastly, I modified the technique in the recipe. You can skip sift the dry ingredients separately. I just add them to the bowl as listed in the directions below. I've also made this recipe using my hand mixer, and on other occasions simply using a fork to cream the butter and sugars and then a hand whisk to beat in the eggs and vanilla. Both methods yielded the same results.
1 1/4 cups (200 g) all-purpose flour
1 teaspoon (5 grams) baking soda
1/2 teaspoon (3 grams) salt
1 stick (112 g) unsalted butter, softened
1/2 cup (105 g) firmly packed light brown sugar
6 tablespoons (90 g) granulated natural cane sugar
1 large egg, at room temperature
1 teaspoon (5 ml) vanilla extract
2 1/2 cups (470 g) semisweet chocolate chips
Preheat the oven to 350°F (180°C). Line 3 baking sheets with parchment paper (if you only have two sheets, just re-use the sheet from the first batch you bake; no need to change the paper).
Add the butter and sugars to a deep bowl. Beat until smooth and creamy. Add the egg and vanilla. Beat until well-blended. Add the flour, baking soda, and salt. Mix  just until incorporated, and there are no visible signs of flour. Using a wooden spoon, stir in the chocolate chips.
Drop heaping tablespoons of dough (see note below) onto the prepared baking sheets, spacing the dough mounds 2 inches (5 cm) apart. Bake, one sheet at a time (important for cookies to cook evenly!), until the bottoms and edges are lightly browned and the tops look set, 10-12 minutes (I opt for less time for a super chewy cookie). Let the cookies cool on the baking sheets for 5 minutes, then transfer the cookies to wire racks to cool completely.