chewy white chocolate & pistachio cookies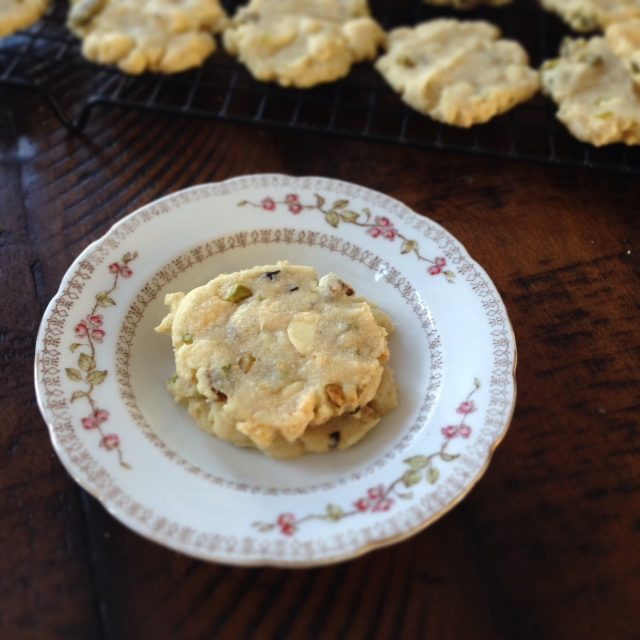 Write. Delete. Repeat.
This has been my habit as I stare blankly into the screen this morning. It's not so much that I'm at a loss for words. In fact, the words are scattered in my mind, a mental game of 52 pick up in progress. Still, my lack of clarity to how I'm feeling lately shouldn't get in the way of sharing these cookies with you. They're inspired by a recipe for chocolate chip cookies from a bakery in Paris called Laura Todd. It took a little detective work to figure out if levure sans phosphate was baking powder or baking soda, so thanks to Mardi for helping me out with that one.
Converting the recipe was easy since I develop my recipes in both U.S. and metric measurements all the time. I also had an idea of what the cookies should taste like since I had nibbled on a few just a couple of weeks ago while they were warm, soft and chewy from the bakery. I prepared myself for the reality that replicating them at home wouldn't be 100% since the flour, butter, basically all of the ingredients are inherently different here in the U.S. due to how they're produced. Still, it wouldn't be too off the mark.
I set about following the recipe exactly. After the first test batch, I decided it was too sweet. This also mirrored my feeling when I ate them in Paris, but somehow the extra sweetness didn't bother me so much then. The next time I went into the test kitchen, I scaled the sugar back by a half cup (100 grams), and think it could be reigned in even more if you want to give it a try. I also swapped in Guittard chopped white chocolate discs for the bittersweet chocolate because Virginia has declared she doesn't like chocolate chip cookies. A handful of chopped pistachios were thrown in too, knowing that M would've loved them. I fell in love with this version, but more so with the fact that the dough in itself is a lovely blank canvas.
You can probably toss the chocolate all together, and just use dried fruits and/or nuts to make your own favorite cookie. Dried cherries and pistachios come to mind immediately. Hazelnuts would well too, provided you like them (they're not my favorite nut). Now that I think about, imagine these buttery, chewy cookies studded with toasted sesame seeds? I literally let out a gasp as I wrote that last sentence. Much as I want to go soften a few sticks of butter, I've got a few deadlines to catch up on but this recipe hasn't seen the last of me. I've only just begun.
Chewy White Chocolate & Pistachio Cookies
Makes 56 cookies (2 1/2 inches/6 cm round)
Music Pairing: Souls Travel by Bettie Serveert
A few important notes, so please do read them before you make the cookies. First, they bake at a lower temperature than most recipes. I believe this is what helps them retain their soft, chewy texture. Most bakers achieve this by underbaking their cookies, which results in a raw center. By baking them at a lower temperature, for a longer time, the cookies bake evenly from the center to the edges. The lower temperature also means these cookies do not brown, so color is not an indicator of doneness. If you prefer a crisp cookie, then simply bake them 4 to 5 minutes longer.
The dough takes a bit of time to come together (see my notes in the recipe), and this will likely be faster if you're using a stand mixer. I test all of my recipes using a hand mixer since I believe that is what more people have in their home kitchens (I highly recommend this one). And don't freak out about mixing the chocolate and nuts in by hand. It gives you a real feel for the dough, and ensures that they're mixed in both thoroughly and evenly. Just be gentle, so as to not overwork the dough.
2 sticks (224 grams) butter, softened
1¼ cups (250 grams) granulated cane sugar
1 egg
½ teaspoon pure vanilla extract
2 ½ cups (375 grams) all-purpose flour
½ teaspoon (3 grams) baking powder
Generous pinch of fleur de sel
1 ½ cups (225 grams) white chocolate discs, coarsely chopped
¾ cup (95 grams) shelled pistachios, chopped
Preheat the oven to 300F (140C), with the rack adjusted to the center position. Line a few baking sheets with parchment paper; set aside.
Add the butter and sugar to a deep bowl. Beat until creamy, and well combined. Add the egg and vanilla. Beat until light and fluffy.
Add the flour, baking powder, and salt. Starting with the mixer on low, mix until the flour is blended in, forming a very crumbly dough. Gradually increase the speed to medium, at which point you'll likely begin to wonder if this dough will ever take proper shape (it will, I promise!). After mixing for 2 to 3 minutes, the mixture will come together into a smooth cookie dough.
Add the chocolate and nuts to the bowl. Using your hands, gently knead them into the dough, until evenly dispersed.
Use 2 teaspoons of dough each to form balls (I use this cookie scoop). Place the balls 2-inches apart on the prepared baking trays. Use the tips of your fingers to flatten the cookies—don't be shy here; give them a good press down because they won't spread much on their own.
Bake for 12 minutes. Remove tray from oven, and let cookies sit for 2 minutes before transferring to a wire rack to cool completely. Repeat with the remaining cookie dough. The cookies will stay fresh (code for soft and chewy) 3 to 5 days, stored in a covered plastic container.