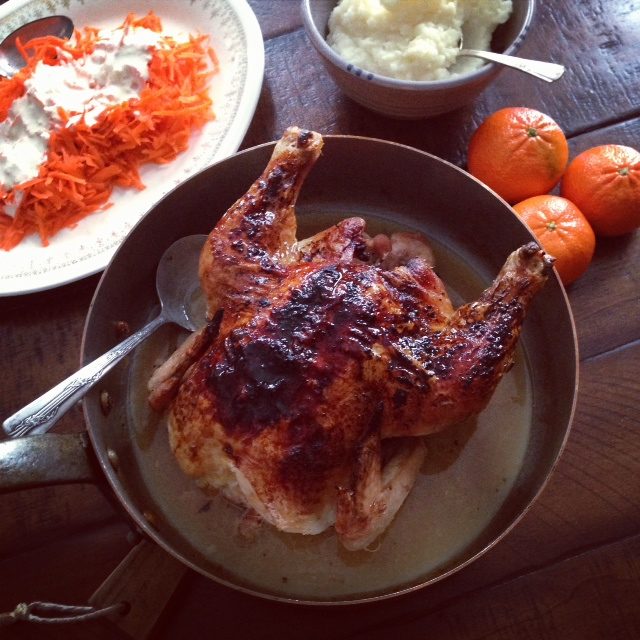 Bonnie Benwick wrote a great article in this week's Washington Post about salt. I know, you're thinking salt, are you kidding me? She hits on an interesting point, though, and one that I do believe is changing. The real truth is that people don't cook from scratch as much as they did a few generations ago, and the age-old way of writing recipes with salt "to taste", is confusing since for some homecooks that instinct may not be so fine-tuned.
As I read her article, I thought about something a friend told me a few months ago. Her 10 year old daughter cooks often from Homemade with Love, but said it drives her crazy when I write "salt, to taste" because she's not sure what that means exactly. That anecdote has been on my mind, and I could imagine her saying "see, that's what I mean" as I read Benwick's piece yesterday. It made sense to me the moment she told me her daughter's opinion on my salt writing tendencies, but I must confess only because she's so young, and just starting out in her kitchen journey. It is so easy to forget that novice cooks come in all ages, even for someone like myself who prides herself on writing easy, accessible recipes for every cook, regardless of experience.
So, I'd like to ask you all a question to help write recipes that focus on ease, and fun, and not frustration. What are your thoughts about "salt, to taste"? A good recipe to highlight this salt discussion is my roast chicken recipe in Homemade with Love. I've been meaning to share an updated version of it with all of you here, and as I was writing it out, that ubiquitous ingredient, with it's vague description is rather key to this particular recipe. For me, "salt, to taste" means a few very generous, thick pinches of Diamond Crystal Kosher salt—to the tune of 1 1/2 teaspoons (5 grams). I kind of wince when I say that measurement, not because I think it needs less, but because so many people are shy when it comes to salt these days. I once read that the best service in a restaurant is the one you don't notice. The kind in which you don't need to ask for a water refill, but yet your glass never seems to be empty regardless of how many sips you take. Salt plays a similar role in cooking. Too little, and your food will likely taste bland. Too much, and it'll be inedible. Just enough, and you'll never notice it, or at least think you don't notice it.
And on that note, I present you with this updated version of my simple roast chicken from Homemade with Love. Let's think of it as a cousin, since it doesn't stray too far from the original. I was on the fence about even including the recipe in the cookbook, but after talking to a few friends it seemed many of them weren't 100% sure of how to roast a whole chicken.  I can see how it would seem more intimidating than just throwing some parts in a pan, or using breasts, but nothing really compares for me. The bonus part is that you're left with a nicely roasted carcass afterwards that I immediately turn into homemade chicken stock. I don't even bat an eyelash, on this one. As I whisk away the dishes from the table, the leftover chicken goes straight into a pot with some onion, garlic, bay leaf, parsley, carrots, celery, and peppercorns. And yes, I even add a pinch of salt.
This post is part of Food Network's Comfort Food Feast. Here's a peek at some more recipes to inspire you this week.
Jeanette's Healthy Living: Slow Cooker White Chicken Chili with Green Chilies
The Heritage Cook: Gluten-Free Fried Chicken Cutlets with Madeira Gravy
Weelicious: Roast Chicken with Caramelized Lemons
Devour: Giada's Top Chicken Dinners
Taste With The Eyes: Griddled Gochujang Chicken Sandwich, "Kimchi" Slaw and Seaweed Mayo
Napa Farmhouse 1885: Italian Chicken Stew with Olives and Kale
Red or Green?: Oven-Fried Tortilla Chicken Drumsticks
Blue Apron Blog: 5 Not Boring Weeknight Chicken Recipes
Virtually Homemade: Chicken Puttanesca
Elephants and the Coconut Trees: Spicy Deep Fried Chicken
Domesticate Me: Crispy Baked Chicken Tenders with Sriracha Honey Mustard (Gluten-Free!)
Dishing with Divya: Couscous with Chicken and Vegetables
FN Dish: Winning Chicken Dinners
a simple roast chicken, updated
Adapted from A Simple Roast Chicken from Homemade with Love: Simple Scratch Cooking from In Jennie's Kitchen (Running Press 2013)
The main difference between this recipe, and the one in my cookbook, is the addition of white wine and butter. I also vary the technique a little, and don't rub the chicken with oil. Instead I let it dry roast with only the salt and pepper for 20 minutes. Then I deglaze the pan with the wine, water and butter. I've found that waiting to add the fat (in this case butter, not oil) makes for a very crispy skin. The super hot oven really does the heavy lifting, and all the chicken requires from you is a few bastings with the pan drippings. You can use any white wine. Lillet is often my go to because I always have it in the fridge, and seldom finish a bottle of white wine unless we're having company.
Music Pairing: Push It by Salt-N-Pepa
Serves 4
One 3 1/2 pound whole chicken
Coarse salt, to taste (Diamond Crystal kosher salt or Maldon salt flakes are what I use)
Freshly ground black pepper, to taste
1/2 cup (120 ml) Lillet, or other dry white wine
2 tablespoons (28 grams) butter, cut into pieces
Preheat the oven to 475ºF.
Place the chicken in a roasting pan, breast-side up. Season with the salt and pepper. Cook for 20 minutes, then add the wine, butter, plus a 1/2 cup of water to the bottom of the pan. Roast for 40 to 50 minutes more, basting the chicken with the sauce in the pan every 10 to 15 minutes, until the juices run clear and an instant read thermometer inserted in the thigh registers 185ºF.
Remove the chicken from the oven and let sit for 5 to 10 minutes before carving or cutting up.
No Truss Necessary: Tying up the legs and tucking in the wing tips makes for a pretty looking chicken, but trussing is totally optional in my book. In fact, I've found that not trussing, lets the heat to circulate into the center of the chicken, allowing it to cook more quickly.