Spur of the Moment Kale Soup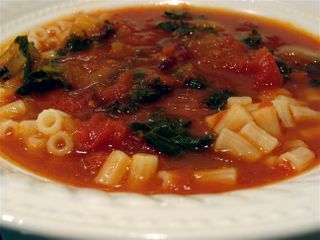 "What inspired this tonight" was the Mr.'s question as he spooned a mouthful of this soup on a ridiculously windy Brooklyn evening. It all started with an awesome looking bunch of organic kale at the local market. Wish I could say farmer's market but the Carroll Garden's Greenmarket hasn't opened yet and the trek to another one has been tough with two kids in tow. This humble bunch of vitamin-packed greens was found at the Korean grocer a few blocks from my house. It was an impulse purchase that got the culinary creative juices flowing.
I've been very much into no-recipe recipes these days. Perhaps it's because I write recipes for a living. At dinnertime, I want to let my culinary hair down and trust my instincts, all the while mentally noting what I've used so I can replicate the results if they're as tasty as I imagine. I had two rotisserie chicken carcasses waiting to become stock, so I got that started after I dropped IRP off at school. I added some carrots, crushed garlic and leftover roasted fennel, enough water to cover it all and brought it to a boil. 30 minutes later I had recycled what others would've sworn to the trash into a simple homemade stock.
Throw in a can of tomatoes (I've come to really enjoy the taste of Pastene's Ground Peeled brand over my normal San Marzano variety), some bacon (you really must try the smoked pork shoulder butt bacon from Flying Pigs Farm), a chopped onion, salt and pepper and it's a savory party. I found a rind of Grana Padano that started to dry out from not being wrapped properly and decided it would better serve the soup during the simmer stage than trying to grate it on top. If Parmesan is all you have on hand, go ahead and use it. All-in-all, this soup was made "making due" with what I had on hand. Feel free to put your own spin on it, and let me know the results.
P.S. it was even kid tested AND approved. I pureed some for my 10 month old and the five year old polished off half a bowl. This was a victorious meal all around!



Spur of the Moment Kale Soup
Serves 6 to 8
Make sure you remove the ribs from the center of each leaf before chopping the kale. It will stay tough and practically inedible no matter how long you cook it.

2 1/2 oz bacon, diced
Extra-virgin olive oil, as needed
Medium onion, chopped
28 oz can tomato puree
4 cups chicken broth
Salt and freshly ground pepper, to taste
4 packed cups, de-ribbed, chopped kale
1-inch piece of Grana Padano rind
Cooked ditalini pasta
1. Sauté bacon over medium-high heat in a heavy-bottomed pot until it starts to crisp. Add onion and some olive oil if necessary to coat bottom of pot (there may be enough bacon drippings that you don't need any oil at all).
2. Stir in tomatoes and chicken stock; season with salt and pepper. Bring to a boil. Add kale and cheese rind. Simmer until kale is soft and tender, about 45 minutes. Serve hot, ladled over cooked pasta.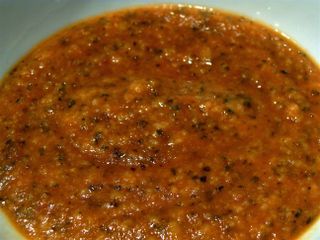 This was the baby's pureed soup. Even older kids may like this texture.