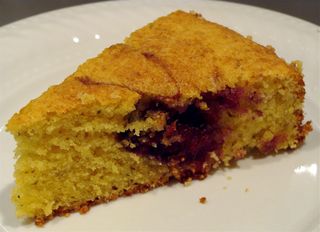 My shopping priorities are different from many gals I know. On my trip to Italy two years ago, I came home with a suitcase overflowing with food. After searching through the compactly packed layers of Arborio rice, sun-dried tomatoes, coffee, etc., the security agent asked me if there were any clothes. Forget the Manolos, let me loose in Rialto market for a good time.
The spontaneity of stumbling upon a farm stand or gourmet store dictates what I eat as much as my cravings. A few days ago I spied some blood oranges at a local shop. They're in season now, and you don't want to miss them. Less acidic than their Valencia counterparts, blood oranges can be sweeter, if you buy the Sicilian variety which are deep orange with a red "halo", to floral, more common of the California-grow ones which are a deep, garnet color as the name suggests.
I picked up a few with an idea in mind. After pondering my plan overnight, I headed into the test kitchen. The resulting recipe is elegant enough for a dinner party dessert, yet light enough to enjoy with your morning tea. I hope it makes your friends and family as happy as it did mine.

Blood Orange Cornmeal Cake
Makes one 9-inch springform cake
2 tablespoons almonds
2 blood oranges
1 cup flour

¾

cup cornmeal
2 teaspoons baking powder
½ teaspoon salt
8 ounces very good quality unsalted butter, softened

¾

cup sugar
2 large eggs, at room temperature

½

cup milk

This was an original post to The Cuisinart Stand Mixer Blog. For the rest of this recipe click here.