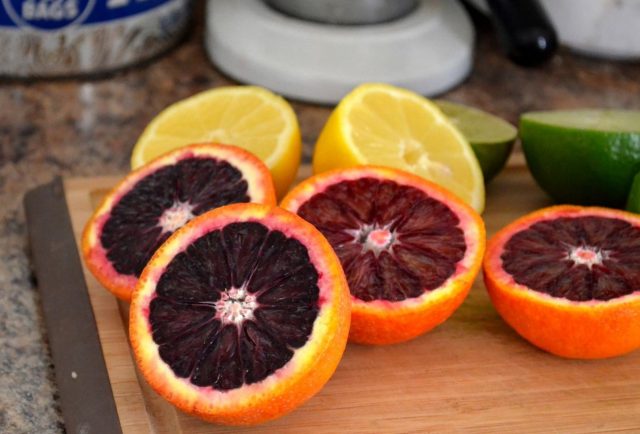 Yes, it's a busy week around here indeed. Kind of funny when you think about it. I leave the country for vacation, and there's all this posting happening here. I accepted two client projects recently without realizing they were scheduled to share within days of each other this week, so that explains the flurry of activity.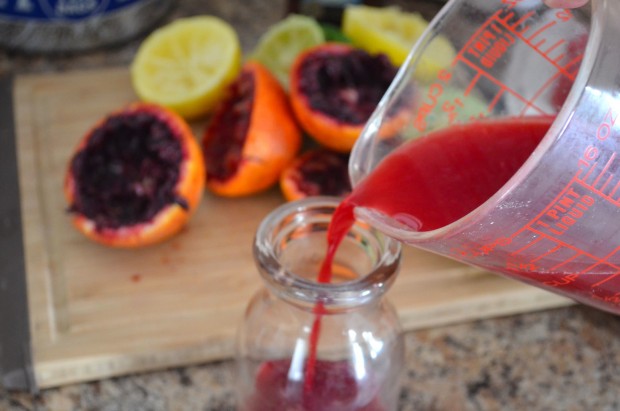 This recipe is a sneak peek for what's come, so scoop up some blood oranges while we're still able to reap the benefits of California's citrus season. You can freeze this sour mix in ice cubes trays, and thaw as needed. You can even use it to make ice pops for the kids! Please don't tell mine that I said that because I plan on hoarding mine. The recipe coming tomorrow that uses this blood orange sour mix is one I intend to enjoy all spring and summer.
Blood Orange Sour Mix
Makes 1 1/2 cups (355 ml)
Give the fruit a few rolls across the counter with the palm of your hand to help release the juices. Slice them in half, and squeeze by hand or use a juicer (I love my vintage one I found a few years ago in Brooklyn). Either way, you'll need 1 cup of juice, so if you're fruit doesn't feel very juicy or is on the smaller side, pick up a few extra while you at the market. You can strain the juice, if you like, to remove the pulp. I like pulp—it adds character to the juice. My kids can't stand it, so sometimes I do, and sometimes I don't. All depends on my mood. The choice is yours.
Freshly squeezed juice of 2 limes
Freshly squeezed juice of 1 lemon
Freshly squeezed juice of 2 blood oranges
1/2 cup (120 ml) simple syrup
Combine the juices with the simple syrup. Stir with a spoon, and use immediately, or store in a mason jar. Sealed in the fridge, the sour mix will last up to two weeks.