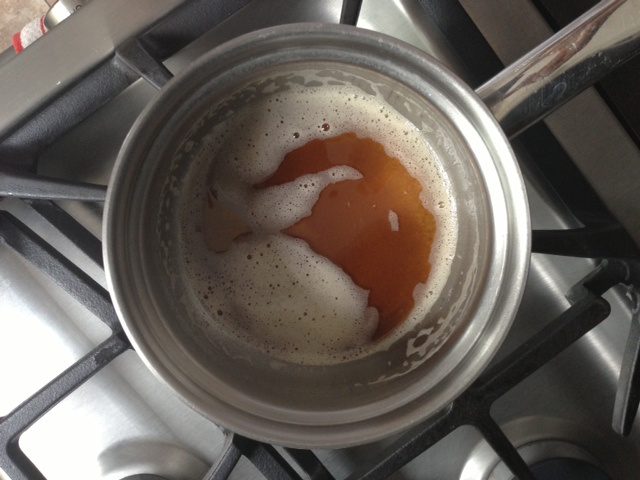 Just a quick check in to say hello. I've spent far too much time working this weekend, but it's all for a good cause. We're Montreal bound for spring break this week, so I'm trying to cram seven days' worth of work into two. Yes, I know. It's colder there than it is here, and it would've been nice to swap winter boots for open toe sandals. I'm on a mission for an amazing pain au chocolate I tasted at Patisserie Au Kouign Amann last summer. Montreal is only 250 miles from my house, and my motto is "will travel for good eats". I suppose once I tally tolls and gas, it's a rather expensive pastry, but since we only live once, I'm doing it to the fullest.
Anywho, I'm working on the April Newsletter (it's been a while, I know!), and the recipe in it calls for browned butter. If you've been with me for a while, then browning butter might not be anything new to you. Just in case, though, I figured it would be good to have a quick how to make brown butter here for reference. It's a very simple trick to coax a nutty, toffee-like flavor from a plain ol' stick of butter. In it's basic form, you can toss it with pasta for a humble, yet quite incredible tasting, meal. Taken a little further, say in a muffin, pie, or waffles, and you've got a new twist on an old favorite (see the links below). Also, don't forget to sign up for my monthly newsletter, if you haven't already. You can do so here.
One Year Ago: Peanut Butter & Chocolate Cinnamon Buns
Two Years Ago: French Toast Waffles
Three Years Ago: A Kiss To Build A Dream On
Four Years Ago: French Onion Tart
Five Years Ago: Orange & Sesame Stir-Fried Tofu
Six Years Ago: Plantains 101
How to Make Brown Butter
Note: the amount you need, and actual browning time, depends on how much is called for in the recipe you're using.
Music Pairing: Bread & Butter by The Newbeats
Add butter to a small pot over medium-low heat. Cook until the butter is melted, turns a deep golden color, and little browned bits begin to appear (this will take 5 to 10 minutes, depending on how much butter you're browning). Foam will rise to the top of the pot during the browning process. These are the milk solids. Give the pot a swirl, and you'll notice the foaming will dissipate as the solids begin to brown.
Pour the browned butter into a heat-safe bowl and let it cool slightly, about 10 minutes, before proceeding with your recipe. You can alternately leave it in the pot too, just keep in mind that it will take longer to cool down. A note about the browned bits at the bottom of the pot: some folks say they will add a bitter flavor to your finished dish, and pour the browned butter through a strainer before using. I've never found that to be the case, provided you don't burn the butter.
Recipes using browned butter: