crispy brown butter artichoke hearts
I should've been folding laundry or packing last Wednesday, but there were these artichokes nagging me in the fridge. They were the first of the season. I'd bought them at the farmers' market not remembering that I had a business trip planned. The prospect of a shortened cooking week left me thinking I'd made a horrible mistake. At $6 a pound I didn't want them to go to waste, but really, does peeling and prepping artichokes belong on the "must-do" list when there are dirty clothes and children that need tending to?
Well of course, so I figured the laundry could at least wait a little longer. The idea of the prep work is actually the worst part when it comes to artichokes. Once you get into a groove, it goes rather fast and next thing you know there's a bowl of hearts ready to fulfill your desire. For me, that meant crispy brown butter lemon artichoke hearts.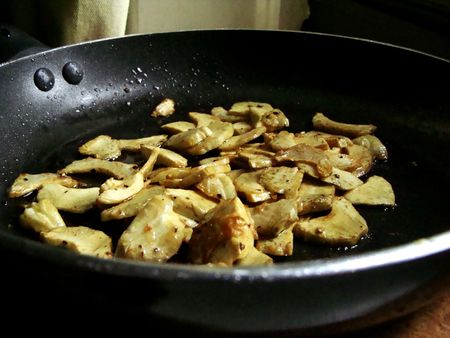 There's one thing I have to confess. I didn't weigh or measure anything, so there's no real recipe to post—yet, at least. I trust you can get on your way nonetheless. If you've never trimmed an artichoke, or need a refresher, take a look at this post from Elise at Simply Recipes. I used baby artichokes, but the method is the same, the yield is just less. Slice the prepped hearts very thin and add a drizzle of olive oil to a hot skillet with a few pats of butter (3:1 ratio), the overall amounts depend on how many artichoke hearts you're using. Season with salt and pepper, shake the pan after they begin to look crispy on the underside. Add some freshly squeezed lemon juice and transfer to a dish or serving platter once they're lightly browned on the other side.
Give it a try and let me know if you agree that making these artichoke hearts is much easier than washing, folding and putting away laundry—and tastier too.