hand pies & quiche: a tale of two recipes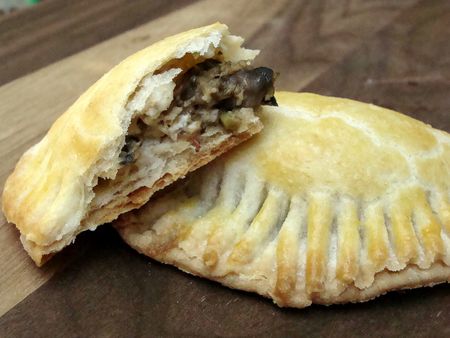 I'm in countdown mode. One month from today is the start of our annual summer vacation to Cape Cod. Two weeks of nothing but the waves lulling us to sleep and sun streaming through every window—a treat since we live in a lovely, but dimly lit garden apartment. Years ago, cell phone signals were rare and wi-fi didn't exist. It was so easy to unwind and unplug. Now we have to make an extra effort to ignore the noise of the busy lives we lead 260 miles away.
The minute we pull out of the driveway from our rental house on Route 6A, a sadness washes over at the reality that it will be a full 12 months before we return. I travel a lot for work, but going away as a family only happens once a year. Every year we say we're going to plan more weekend getaways, but then the reality of what it costs to escape the city for just a weekend competes with the mortgage, monthly bills and saving for college.
Sure visiting friends is wonderful, but sometimes I just want to hang with the Mr. and girls uninterrupted. I say this now, feeling all wistful in the wee hours of the morning, but rest assured if we get a long spell of rain at the Cape, I'll be sending smoke signals for help.
What does any of this have to do with hand pies? Well, one little recipe for basic butter crust has finally let me embrace using pie crusts. In the past, I'd always settled for a recipe that worked well-enough, but none had been so approachable that I actually looked forward to handling the dough, let alone would think of harshing my vacation mellow with a fussy crust.
Not anymore.
Ever since discovering this one, I've been a crazy pie and quiche-making machine. This recipe will be one very good excuse to power up the laptop, in case I forgot my own recipe. The veggie hand pies are featured over at Cuisinart, where I write two
weekly blogs. 
You'll also find this butter crust featured over at Relish Magazine, where I write the column Jennie's Family Table. This month I'm talking zucchini and that crust provides a flaky base for a sharp Zucchini & Pecorino Pie. As for me, it's time to take off these comfy, fluffy slippers and wake the kids for camp. There's a lot to be done in the next 29 days.
Roasted Vegetable & Ricotta Cheese Hand Pies
makes 16 to 18
Easy to make and perfect for freezing, these savory pockets can be filled with any combination of leftover vegetables you have on hand. You can even crumble leftover cooked hamburgers and add it to mix. I find the filling doesn't need additional seasoning since the vegetables were roasted with olive oil, herbs, salt and pepper, but have included salt and pepper in the ingredient list as "to taste", so oyu cna be the judge. Last note—these heat up great in the microwave. In 14 seconds, mine were warm inside and the crust retained a nice flaky crispness.
1 cup (6.5 ounces) roasted vegetables, chopped
1/2 cup (2.5 ounces) fresh ricotta cheese
Salt and freshly ground pepper, to taste if needed
1 basic butter crust dough
1 egg, beaten with a splash of water, optional
Preheat oven to 400ºF. Line two 11-inch by 16-inch rimmed sheet pans with parchment paper.
In a medium bowl, mix the vegetables and ricotta cheese together. Season with salt and pepper, if necessary.
On a lightly floured surface, roll the dough out to 1/8 to 1/16-inch thick. Cut out 5-inch circles. It's okay to re-roll the scraps until all the dough is used up. Place cut circles on the prepared baking sheets (do not forget to place on parchment before forming pockets or they will be too delicate to transfer). Spoon 1 to 1 1/2 teaspoons of filling into the center of each circle, fold over, making sure the filling is not spilling out the edges, and crimp the edges with a fork. Pierce tops with the tines of a fork to create steam vents.
Brush tops with egg wash, if using. Bake for 15 minutes, until golden. Let sit on sheets for 2 minutes, then transfer to a wire cooling rack. Serve warm. May be stored, wrapped in the refrigerator for up to 3 days. No doubt, they can also be stored in an air-tight zip-top bag in the freezer, though I don't know for how long since they get eaten too fast around here