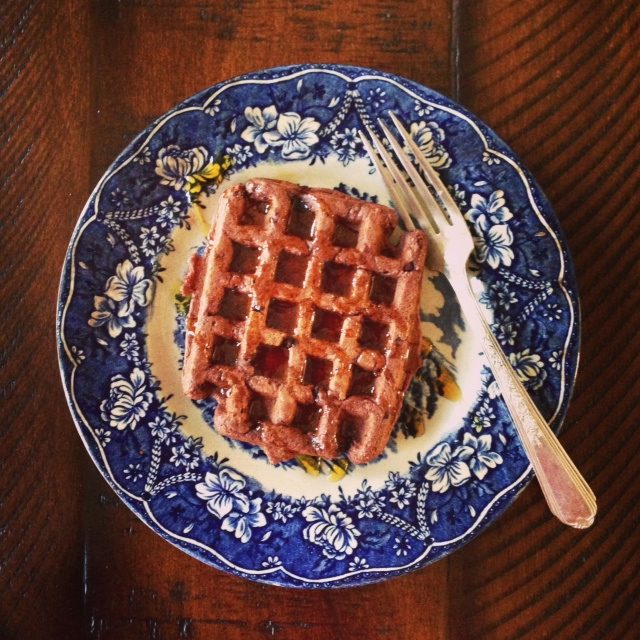 Every time I think I've moved a few steps forward, life sends me a reality check. My mind has been restless, probably because of the million things on my To Do list. I'm sure the key lies in surrendering to the chaos a little, and not worrying so much about the future. It's hard when you're a perfectionist to accept that the world itself is an imperfect place. Just writing ever so briefly about the clutter in my head helps me feel a little less encumbered by it all.
There's good news for all the busyness, though. I mentioned last time that I was writing for Relish Magazine again. Shifting my focus a little in my writing, not having every word flecked with memories of Michael, is important. It's good to get out of my own head, and necessary if I'm going to really sustain and nurture a life without him. Of course, he's always in my writing, even if I don't mention him with a specific reference. As I was developing my recent recipe for Relish—chocolate malted waffles, all I could imagine was his reaction to waking up to them on Valentine's Day. He had this way of closing his eyes when he took the first bite of a new recipe, and a wave of calm delight would wash over his face when it was a winner.
These waffles are the perfect way to say I love you to the girls when they wake up tomorrow (you can get the recipe for them here). I'll set the table with cloth napkins, and make fresh-squeezed clementine juice as I do every morning. Then I will focus on being happy, because for all I've lost there is still so much left to love about my life. Most importantly, there are the two little girls watching my every move with the same chocolate brown eyes as their daddy. It is through those eyes that they will learn how to be happy even in the most trying times life can hand them. It is through my actions that they will learn happiness is a choice we work towards every day.
Music Pairing: Love is a Rose by Neil Young
Last Valentine's Day: chocolate pistachio madeleines.
***
Homemade with Love update: I've added more places where the book is available for presale, If you click on the link now, you can pre-order it from Amazon, Barnes & Noble, IndieBound, Amazon Canada, and it is available internationally from The Book Depository with free shipping!