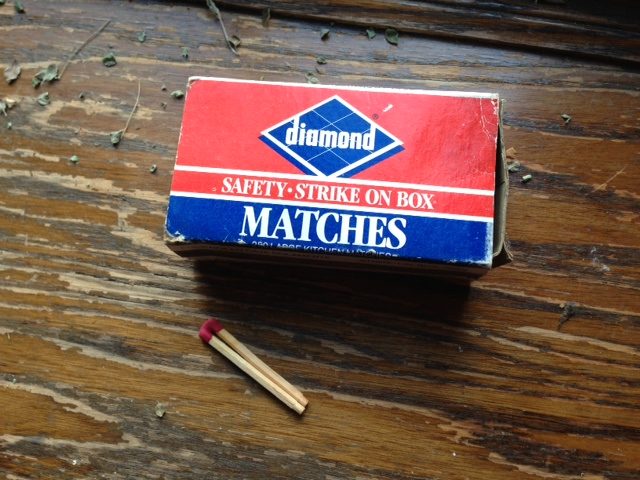 The other day I dropped a box of kitchen matches down an opening I didn't even know existed in the back corner of the windowsill. My heart jumped into my throat as I heard the whoosh as they slid down a crevice to which I was sure there'd be no rescue. In that split second, I told myself they were just matches, keep your cool woman.
Except they weren't just matches. That box of matches above is older than the babysitter I interviewed today. That box of matches were his matches. The first time I saw them was in his apartment in Astoria where I cooked my first meal for him in June of 1995. Apparently we don't didn't use a lot of matches because that box of 250 matches moved from Astoria, Queens to Cobble Hill Brooklyn in 1997, and then a few blocks down to Carroll Gardens in 1999.
When I moved in November of 2011, less than three months after Michael died, I packed the matches. And when I moved again six months later, those matches came along. Those matches brought birthday candles to life over 17 years. They cast a glow to romantic dinners for two, which soon blossomed into family dinners for four.
All that flashed through my mind in the split second when I realized they fell. It explains why I had to choke back tears. I forced my arm through an opening meant for a mouse—literally. My fingers fondled something that felt like a glue trap, and I jerked back, wondering what the hell was wrong with me. They're just matches.
But they're not.
I went in again, this time trying to avoid the sticky trap.
No luck.
Before resorting to ripping up the wooden antique windowsill, I took a deep breath. You don't need them anymore. They're just matches.
But they're not…
So I grabbed the metal tongs hanging on a nail above the windowsill. It took a few tries, but I managed to push the top of the box up through the crack in the back of the ledge. It was a beginning. I had the top at least, that would suffice, right?
No.
So I prodded a few more times, and let out a sigh of relief as the bottom of the box peeked through the crack. That should've satisfied my insanity at this point, but it didn't. A few matches fell out during this whole episode. I could hear them trickle to the floor like a slow drip. I needed to make sure one special match was still in the box.
After Michael passed away, I don't remember when exactly, I reached into the box for a match. I plucked out two that had been fused together by whatever it is they coat matches with to make them light. I know, nice technical explanation, huh? I smiled when I saw those two matches below stuck to each other. It reminded me that for as imperfect as our relationship was at times, we really were a good match overall.
And so, every time I reach for a match, I always pick over those two, and choose a single solitary one. No breaking up a seemingly happy couple if I can help it. As you can see, the matches survived the fall. They plunged into the depths of darkness, but remained together, much like our relationship during its 17 years. I'm working on believing that they're just matches.
But right now, they're not.
Music Pairing: I Want Everything by Cracker