Chewy Oatmeal Walnut Allspice Cookies
For a brief moment, I thought to myself, we'll get through this. We will be fine. It was a fleeting moment because then I read this, and it thrust be back into reality. The stinging, harsh reality that everything I hold dear is at stake these next four years. Many people talk about the election in terms of grief, and I understand why on an intellectual level. Many of us are mourning the loss of everything good and decent for which our country stands.
It's just that, having been on my own journey of loss, this is nothing like that, at least not for me. Even in the loneliest of moments, as I look back, I realize I never lost all hope. I missed miss Michael every waking moment. I longed for my old life, and still do, even in the midst of happier times these last five years. My girls were my hope. It was for them that I had to keep on going, to nurture them, watch them grow, and help them see that even in despair you can indeed conquer dread.
But with each new cabinet appointment announced, and now this ruling by the Texas courts that will put undue emotional burden on a woman already going through a very hard moment in her life. Well, that is chipping away at all the hope in my reserves. For the first time since Michael died, I honestly can't say to my daughters that we'll be fine. I truly fear for the future, as we sink slowly towards January 20, 2017.
Baking was my salvation and escape last week. I needed a break from this reality, so took a few days off during the holiday weekend. I hunkered down with flour, butter, sugar—all the things I've been avoiding the last two months. I'm loathe to admit it, but  even gained back a few pounds in the last two weeks. I'm not beating myself up about this, at least that's what I keep saying. My jeans are still slipping below my waistline. Sweaters that were snug last year, have some wiggle room now.
The truth is as the weather gets colder, and the days increasingly shorter, I'm having trouble getting out for my daily walks, too. And I've no doubt slipped a little in my eating to comfort the anxiety I feel these days about where we're headed. Still, I didn't let that stop me from practicing my own kind of therapy. I spent the weekend reading this book from cover to cover, and baked up a storm from it. More on that in the next week, or so.
I also revisited an old favorite recipe, one I developed a few years ago. I wondered if it was as amazing as I remembered. Back then, every time a warm batch of Chewy Oatmeal Walnut Allspice Cookies came from the oven, the kids patiently waited for them to cool enough to hold, and squirrel into their mouths.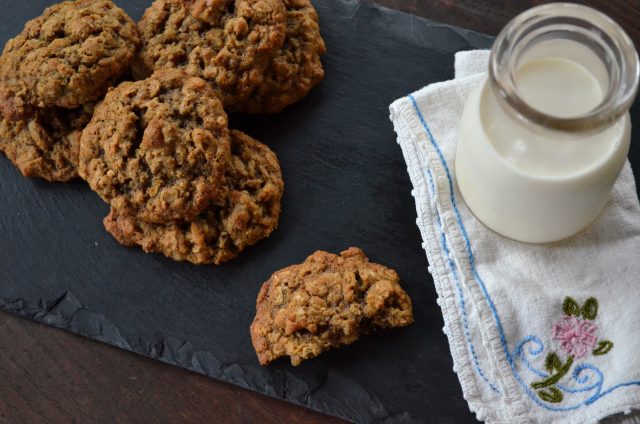 A few minutes after putting the first tray in the oven, Isabella peeked into the kitchen. Soon after, Virginia was there, eyes closed, slowly inhaling the fragrant spice-scented air. And then came the moment of truth. Yes, they were as good as we all remembered. The girls and my sitter, thankfully, made a nice dent in the pile of cookies. On Sunday, I enjoyed the last half left in the mason jar.
The thing is, the past isn't always like this. Segregation, back alley abortions, limits being put on who you can love—those are not memories I want to become a reality again. Right now, I can't promise my kids what the future holds, but I can surely keep fighting to keep us moving forward in the right direction.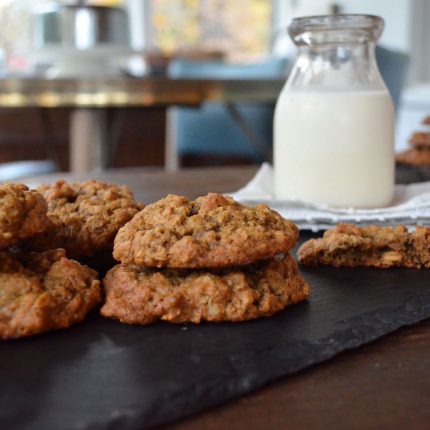 Chewy Oatmeal Walnut Allspice Cookies
I love these Chewy Oatmeal Walnut Allspice cookies so much that I may have to stop baking them. Usually, I have incredible self-control. A bite or two is generally enough to satisfy my craving. I might as well call these crack cookies, because they are wildly addictive. This time of year, magazines are filled with ornate-looking, time-intensive cookies. You'll find none of that nonsense in this recipe. It's a busy month, and the last thing any of us needs is to be up late, using tweezers to perfectly place sugar crystals on cutout cookies (ahem, guilty as charged). These cookies are ready in less than an hour, from start to finish, including a brief chill period. The flavor is familiar, yet unique, making them a delicious gift. One last note—chewy cookies are my preference, and these are a soft-batch style. If you like a crispier cookie, then add a few more minutes to the baking time. Note: I prefer to bake one pan at a time.
Ingredients
1 1/2

cups

135 grams old-fashioned oats (not quick cooking)

3/4

cup

112 grams whole wheat pastry flour

1/2

teaspoon

4 grams baking soda

1/4

teaspoon

1 gram sea salt

1/2

teaspoon

5 grams allspice

1/2

cup

1 stick – 112 grams butter, melted

3/4

cup

150 grams granulated natural cane sugar

2

tablespoons

42 grams molasses

1

large egg

at room temperature

1/2

teaspoon

2.5 ml vanilla extract

1

cup

100 grams coarsely chopped walnuts
Instructions
Preheat the oven to 350F. Line two baking sheets with parchment paper.

Add the oats, flour, baking soda, salt, and allspice to a deep bowl. Whisk until well mixed.

Add the butter, sugar, molasses, egg, and vanilla to a separate deep bowl. Whisk until well blended, about 1 minute. Pour in the oat mixture, and stir with a wooden spoon until combined, and there are no visible signs of flour. Stir in the walnuts. Cover, and chill in the fridge for 15 minutes.

Drop 1 1/2 tablespoonfuls of dough onto the prepared baking sheets (I use a cookie scoop for this part), leaving 2-inches between cookies so they have room to spread.

Bake for 12 minutes, until lightly golden around the edges (the cookies are a bit dark overall because of the molasses). They will be very delicate, and seem underdone; don't worry. Let the cookies cool on the pan for 15 minutes, then transfer to a wire rack to cool completely.