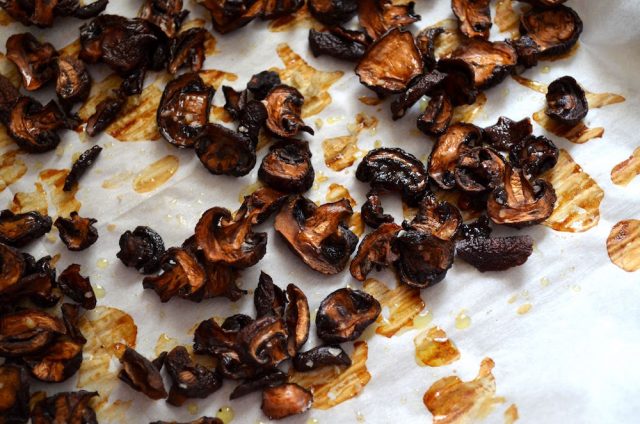 These Crispy Roasted Mushrooms were inspired by a soup I used to eat all the time when I lived in Brooklyn. I still remember the spicy, fresh flavors of the vegetable pho from Nightingale 9, even though it feels like forever since I last visited the restaurant.
Growing up, and living in New York City for so long spoils you for eating out in a tiny town. Ethnic foods are severely lacking (although I did recently discover a Thai restaurant in Rhinebeck that does a decent job, in terms of Thai-American cuisine). So, a few years ago, when the urge for this soup hit, I took matters into my own hands, and worked on a homemade version.
You can find the recipe for the full soup here. Right now, the business at hand is all about those crispy little mushroom nuggets that they scattered on top of the bowl.
These Crispy Roasted Mushrooms are easier to make than you might think, but patience is key.
As far as prep work goes, it couldn't get any easier. You just have to thinly slice a half pound of mushrooms. The pre-sliced ones they sell at the grocery store won't work. They're cut too thick, and thin is key here. Essentially, you're using your oven to slowly pull the moisture from the mushrooms. Think of it as partially dehydrating them, transforming them into a rather addictive topping for soups, salads, and snacking out of hand.
Once the mushrooms are sliced, you add them to a parchment paper lined baking sheet. I don't like silicone for this. The paper lining helps the mushrooms crisp up better, and also makes for easy clean up. Then they get a two hour, slow roast in the oven. It's pretty hands off from there, except for an occasional stir. The result is something bound to become a pantry staple.
Crispy Roasted Mushrooms
A lovely, gluten-free stand-in for croutons in salad, these crispy roasted mushrooms are also a great garnish in soups.
Ingredients
8 ounces (224 grams) crimini mushrooms, sliced thin
Extra virgin olive oil, for drizzling
Sea salt, to taste
Instructions
Preheat the oven to 300F. Line a rimmed baking pan with parchment paper; set aside.
Add the mushrooms to a medium bowl. Drizzle with a bit of olive oil, just enough to coat the mushrooms. Season with salt, and toss well to mix. Spread in a single layer onto the prepared sheet pan. Bake for 1 hour and 15 minutes, give the mushrooms a stir, and bake for 45 to 60 minutes more, until crisp.
Let the mushrooms cool completely before using, or you can store cooled mushrooms in a tightly sealed container in the fridge for up to 2 weeks.