Asian Vegetable Noodle Soup
I know, so many posts this week. I debated about holding this one for the weekend, but one crucial element to this Asian Vegetable Noodle Soup requires a bit of time to slow roast, making it a perfect weekend cooking project. I'm also sharing this recipe today in lieu of my Thankful Thursdays. The week has gotten way from me, as often happens with post-holiday weekend weeks (oh man, that's a tongue twister).
It's been almost three years since I left Brooklyn. Okay, only two and half, but frankly it feels like forever. When I go back to visit now, it's more akin to walking a movie set with recreations of a place I once lived, linking me to a life I once knew (and loved fiercely). 
There's been so much change these last few years, but I'm ultimately happy being back in the Catskills. This is the place where my girls thrive. That took some time for me to truly understand. My heart is in New York City. My girls are country bumpkins. So be it. But that doesn't mean I have to leave all my cherished memories behind.
My taste buds long for some of the favorites foods, one of them being a mushroom pho served at Nightingale 9 in Carroll Gardens. On busy afternoons, I'd find myself sitting at the counter, hurriedly slurping down a bowl of it before running across the street to pick up the kids from school.
The only way to satisfy the craving now is to make it myself, working solely from memory of my many lunches there. I decided to prep the carrots as ribbons using a vegetable peeler because they cook faster this way, and I like to twirl them with my chopsticks. Slice them into thin coins if you prefer, just note they may take longer to cook.
What makes this pho-inspired soup so intensely flavored is starting with a rich, homemade mushroom stock (get the recipe here). You can use canned vegetable broth to save some time, but just know it won't have the same deep, rich flavor. I'd add a few splashes of soy sauce to the soup, in that case, to add some extra oomph (most packaged stocks skimp on salt to keep the sodium count down on the nutritional analysis).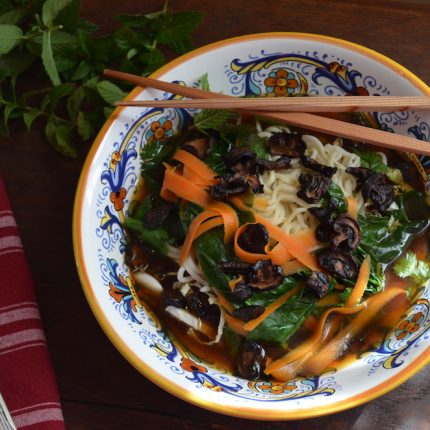 Asian Vegetable Noodle Soup
Asian Vegetable Noodle Soup - a faux pho Prep time: 5 mins Cook time: 7 mins Total time: 12 mins Serves: 4 I usually cook the whole package of noodles, and store leftovers in a covered container in the fridge. This way I can prepare my next pot of soup in less than 10 minutes. The leftover noodles also make a great school or work lunch, tossed with shredded spinach, cabbage, julienned carrots, and a dressing of soy sauce, sesame oil, rice wine vinegar, and a drop of simple syrup.
Ingredients
2

carrots

6

cups

Rich Mushroom Stock

recipe here

Generous handful baby spinach

Splash of rice wine vinegar

3 1/2

ounces

98 grams Chinese noodles (such as chukka soba), prepared according to package directions

1/4

small head of green cabbage

thinly sliced

Handful fresh cilantro

Handful fresh mint leaves

Fresh red chili pepper

chopped fine (optional)

Slow-Roasted Crispy Mushrooms

recipe here
Instructions
Using a vegetable peeler, create ribbons with the carrots (store the cores in a container, and use to make vegetable stock, but truthfully my girls love eating them as-is).

Combine the stock, carrots, spinach, and rice wine vinegar in a medium pot. Bring to a boil, and then reduce heat to a simmer. Cook for 5 to 7 minutes, until the carrots are tender.

Divide the cabbage and noodles amongst four deep soup bowls. Ladle the soup into the bowls. Top with the herbs, chili pepper, and mushrooms. Serve hot.