Roasted Cauliflower, Ginger & Pear Soup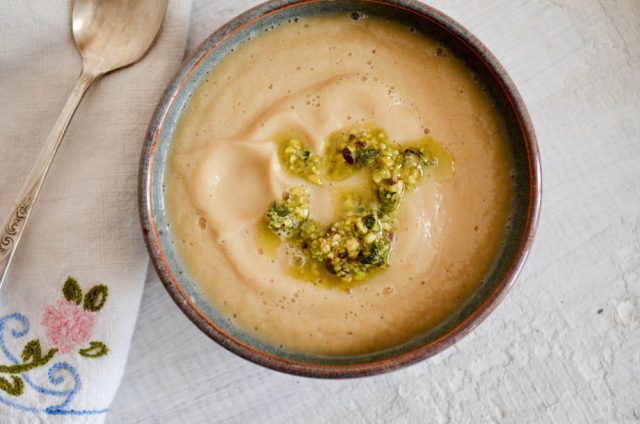 I was getting ready to share a post from last year on my Facebook page, and found myself taken aback by the first paragraph. The last few sentences were accurate for what I was feeling one year ago, and yet the first few foreshadowed something I couldn't predict. I was tempted to just delete them. The rest of the post could stand on its own merit without the reminder of the failure I feel. Life doesn't have a delete button, though, and regret is only useful if you use it to fuel future decisions with the wisdom of where you've been, and where you want to be.
My year in Maryland. Words will surely fail me here, too. I'm not sure I can sum up how I feel about my time there in just the way I want. It's all still a tangled ball of emotions. I often leap without a safety net, figuring I always land where I'm supposed to be. This is especially true right now. I don't think I could truly appreciate the stillness of my life here upstate if I hadn't made that move, and lived outside of my comfort zone for a year. And you know what? There's a lot of life, and love, and laughter in that stillness. It's not a stifled or boring as it seems.
My year in Maryland brought me closer to my older daughter, and that's an amazing gift as your kids enter their teen years. We bonded in our growing uncomfortableness with our surroundings. Delved deeper into the world of the Perillo Girls which some people in my life might've interpreted as being closed off, unwilling to acclimate to a new environment. Instead, it was our way of circling the wagons, and protecting the core of our family. Stronger together doesn't just apply to politics.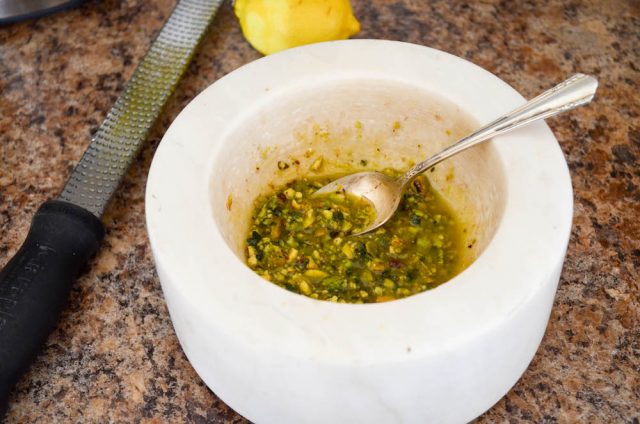 In the months since my break up, I've felt sadness, anger, failure, and now peace is creeping in slowly. There are so many things I wish I'd done differently since Michael died. Ultimately, life has a plan for us, not the other way around. We can create an outline of our future, but life is too unpredictable a beast to etch it in stone. Rather than think of Maryland as a failure, I try to focus on the clarity it gave me. The suburbs aren't for me. Someone can be a good person, just not the right good person for you. Kids really do bounce back, and their unfailing way of seeing their mom as the strongest person in their life is the greatest gift.
And sometimes the greatest love story involves one person, not two. It's the love and kindness with which we show ourselves that reflects back into the relationships we form.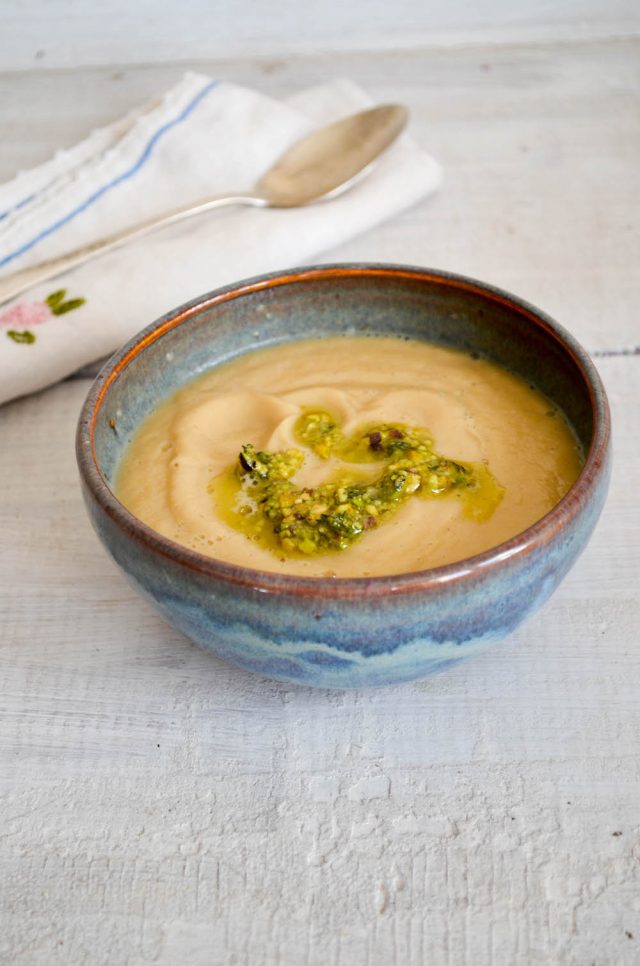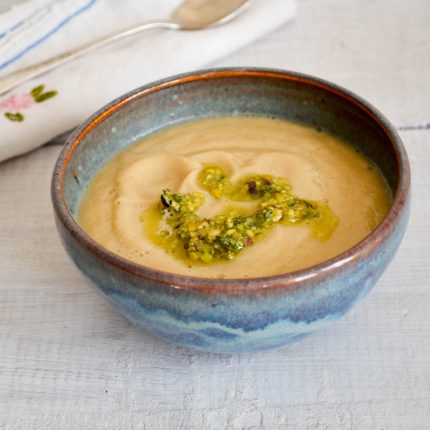 Roasted Cauliflower, Ginger & Pear Soup
This would be a wonderful appetizer to serve at holiday cocktail parties. A light counterpart to the sweet, and often rich food of December. You can serve it in shot glasses which is what I used to do back in my former catering life. A simple dollop of crème fraîche can be used in place of the pistachio garnish, too.
Ingredients
For the Soup

2

cups

200 grams Roasted Cauliflower (store bought, or use this recipe)

1

pear

peeled, cored & diced

1/2

inch

thick slice of fresh ginger

peeled (or larger if you want a strong ginger flavor)

2

cups

.5L broth (vegetable, chicken, or even this healing brothwould be great)

To Finish

1/4

cup

31 grams toasted pistachios

4

sprigs of lemon thyme

Pinch

of sea salt

Freshly grated zest from 1/4 to 1/2 a lemon
Instructions
Combine the cauliflower, pear, ginger, and broth in a medium pot. Bring to a boil, then reduce heat to simmer. Cook for 5 minutes.

Meanwhile, work on the garnish for the soup. Place the pistachios and lemon thyme on a cutting board. Sprinkle the salt and zest over them. Chop it until it forms a fine mixture. Add to a small bowl, and drizzle in some olive oil, stirring until it forms a loose paste. You can also do this whole process in a mortar and pestle if you have one.

Remove the soup from the heat. Ladle half of into a blender bowl. Blend until smooth. Repeat with the remaining soup. Return it all to the pot, and heat again, if needed. Spoon a bit of the pistachio paste on top before serving.
And sometimes we have to walk hundreds of miles to realize our starting point was where we meant to be.