Roasted Cauliflower Steaks
I'm thankful my kiddos aren't too obsessed with trick or treating, and consuming as much candy as possible in one day, so no sugar hangovers here today. It's only the last two years that Virginia has even enjoyed going out on Halloween. This year Isabella felt like she was too grown up to trick or treat, so we walked, arms locked at the elbow, taking in the spectacle of the evening. What better way to follow up Halloween, than with a recipe for Roasted Cauliflower Steaks, yes?
Cauliflower makes two out of three of us squeal with delight. Perhaps that just means Virginia and I are weirdos? I mean, it's not exactly normal to be excited about cauliflower, is it? Isabella is firmly in the "no, thank you" camp when it comes to this cruciferous veggie (though she does love broccoli).
Cutting a perfect cauliflower "steak" can be challenging. It all depends on the size of the head, and how close the stalks are bunched together. I recently bought some gigantic heads from the farmstand. Using it up felt almost impossible until I remembered it would be great to use for cauliflower "steaks".
Once you use this simple roasting technique, the rest is up for interpretation. I had some of this pesto, so decided to drizzle it over for a quick, no-cook sauce. Swap in your favorite pesto, drizzle with a warm vinaigrette (like the one in this recipe), this romesco would be amazing with it, too.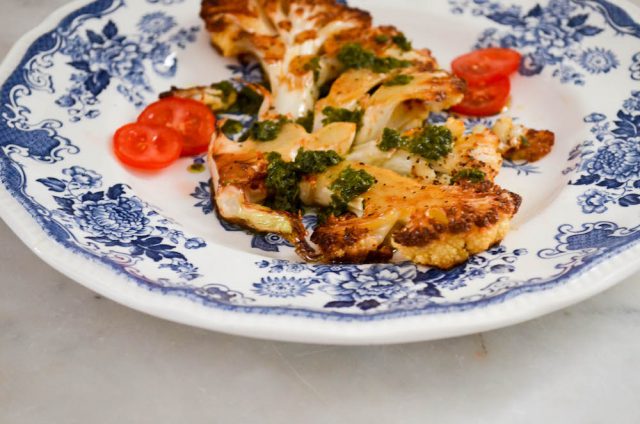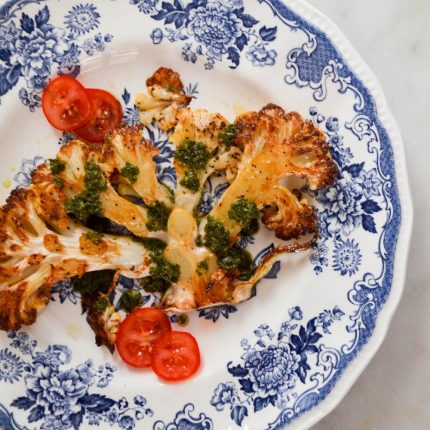 Roasted Cauliflower Steaks
The number of "steaks" you'll be able to cut depends on how large a head of cauliflower you buy. I've been finding humongous ones at the farm stand. There will be stray florets, the pieces that break off not so neatly. You can toss those with some oil and seasoning, and roast them on the pan, or store them in a container for another use (try this or this). I've left the measurements open here for a reason. Trust your instincts, as this is really a no-brainer. Add as much (or as little) of the salt, pepper, and paprika, as you like.
Ingredients
Extra-virgin olive oil

1

large head of cauliflower

Sea salt & ground black pepper

Smoked paprika

Basil pesto

recipe here
Instructions
Preheat your oven to 400ºF (200ºC).

Rub a bit of olive oil all over a rimmed sheet pan; set aside.

Cut the head of cauliflower down the center, then cut each half 1-inch thick (TK-thick cm) slices.

Rub both sides of each slice with a bit of oil. Sprinkle with salt, pepper, and paprika on both sides of the cauliflower slices. Place seasoned "steaks" on the prepared pan.

Bake 15 minutes, until deep golden underneath. Carefully flip "steaks", and cook until golden brown on the other side, 10 to 12 minutes more. Serve hot, with pesto, if desired.
SaveSave
SaveSaveSaveSaveSaveSaveSaveSaveSaveSaveSaveSaveSaveSaveSaveSaveSaveSaveSaveSave
SaveSave