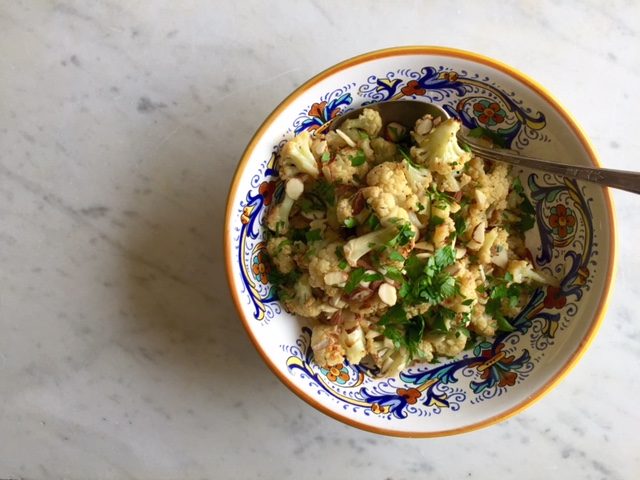 I'm a late bloomer in my love for cauliflower. No particular reason, except for the fact that we didn't grow up eating it. During my years in the restaurant business, I tasted some delightful preparations, and yet it still didn't translate to my home kitchen. Last year, we began a serious affair, a hot and heavy one, with me eating it every chance possible. And then, one day, my little one asked to taste a bite. She was hooked like her mama. Recently, I decided to try this dry roasted cauliflower method.
Cauliflower releases a lot of liquid as it roasts, so rather then drench it with more liquid in the form of oil, I tried this approach. Start off by preheating your oven to 375ºF (190ºC) with a rimmed sheet pan on the rack. Once the oven is good to go, remove the pan, and add the cut up florets (and stalks, if you like, but I save them for slaw). You'll hear a sizzle! Season with salt and pepper, then roast for 30 minutes, turning once halfway through. This way the cauliflower gets a nice golden sear as it cooks.
Hot from the oven, cauliflower absorbs flavors —a nice bonus so I can make mine spicy, and keep some mild for my little one. I like to give it a drizzle of olive oil, some korean chili flakes, and even a few gratings of nutmeg, along with a handful of fresh chopped herbs. Sometimes I skip the chili flakes, and use a thick, grainy French mustard and a smidge of honey.
If you want some texture, add sliced almonds for crunch (you can also add them to the pan during the last 5 minutes of roasting so they toast a bit). I bet even pistachios would be nice. I cooked up a whole head just yesterday. We devoured half of it with dinner, and the rest will work its way into meals this week—fried rice, salads, and even tacos.
It's time for me to get the kiddos off to school now. After a leisurely 10 day spring break, it's back to business as usual for us all. This week I'll be busy pulling all the elements together for the spring issue of City Girl, Country Kitchen, so I can get it off to the printer soon. Oh, and one more thing—my cassava article went live on Food 52 last week. Take a look here, and see my thoughts and tips for working with it.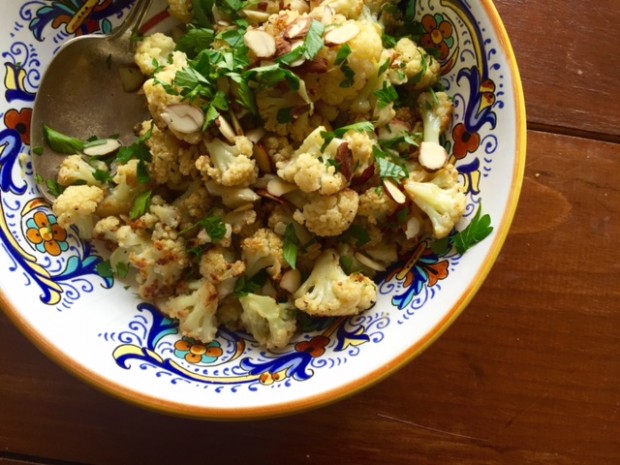 Seven Years Ago: How to Make Butter
Six Years Ago: Quick & Easy Marinara Sauce
Five Years Ago: Vegetarian Matzoh Ball Soup
Four Years Ago: Parallel Lives
Three Years Ago: All-Purpose Baking Mix
Two Years Ago: When I'm Gone (eggs in purgatory)
One Year Ago: Easy, Homemade Granola Bars