quick and easy marinara sauce
Doesn't that tomato sauce look good up there? It's so easy a kid could make it with proper supervision from mom or dad. It has all of five ingredients—the last one is salt and pepper, which is usually a giveaway ingredient when it comes to cooking contests. Once you make and taste this marinara you'll be a convert and see there is no reason to ever, ever…did I say ever, buy a jarred sauce. It just seemed like the perfect recipe for my new column,  Jennie's Family Table, over at Relish Magazine.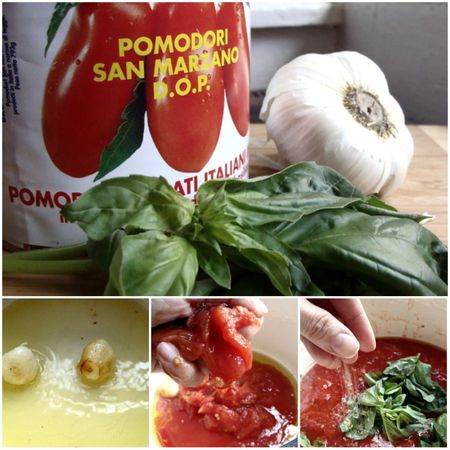 One thing I'd like to implore when making any tomato sauce based recipe is use good quality tomatoes. You'll taste the difference. If you're using San Marzano tomatoes, make sure they have the D.O.P. certification on the label. This Denominazione d' Origine Protetta (D.O.P) assures you they are actually from Italy and have been harvested by hand so as not to bruise the delicate crop. Combine that process along with international shipping, and it's easy to understand why these tomatoes run a pretty price. Honestly, it's not worth buying a knock off San Marzano, so it pays to read the labels and even test drive a few brands to find your favorite. The brand I really love best, Coluccio, costs more than $5 at my local Italian market. I'm sure it can be had a few pennies cheaper someplace else or online (I just found out Coluccio has a store not far from my house), but I love the shopkeeper and when my budget allows, I like to support my neighborhood store.
Now, I've got a family of four to feed, and we consume a lot of marinara sauce—the name gives it away, right? So, when San Marzanos aren't in my budget, my "go to" canned tomatoes are Pastene's Ground Peeled ones, which run around $2 a can. Unlike other brands, these are not from concentrate and have not been watered down. Pastene also sells San Marzano canned tomatoes but I haven't seen them in my local supermarket, so can't vouch for the taste. Now that we've got that out of the way, go get some tomatoes and make some marinara sauce—you'll need it later in the week to go with the gnocchi you see below.