David Lebovitz's Racines Cake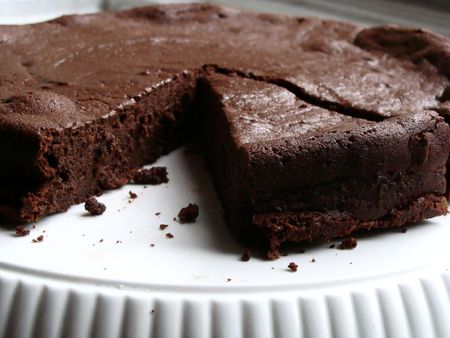 About 10 years ago my aunt had surgery and was unsure she'd be able to bake the hundreds of dozens of cookies she normally made and mailed as gifts to friends and family. I was determined to help keep her tradition going, and in 48 hours we baked 120 dozen cookies.
One sheet at a time. That is all her tiny 35 year old oven could accommodate.
All in a small Sunbeam stand mixer. Her KitchenAid didn't come until a few years later.
She directed me from her handwritten recipes scribbled in a golden cake yellow-colored notebook. She taught me to get my hands into the dough and work in the rest of the flour. I rolled sugar cookies, pressed butter cookies, made many a thumbprint and walnut cups.
And then she looked at me with wonder as I used a tweezer to place colored sugar sprinkles to outline the sugar cookie houses. Yes, that was way before children.
Not a moment goes by when I'm baking that I don't think of that weekend. So, auntie, thank you for inspiring me and giving me such a wonderful gift which will now be an edible heirloom I pass down to your great nieces.
So, what does this story have to do with David Lebovitz's new book exactly? While I owe a great debt to my aunt for instilling my love of baking, I tend to fly solo in the kitchen these days making my own original creations for work. Every now and then, though, I like to be in the passenger seat. Working with someone else's recipe is like a baking GPS if you find an author you can trust implicitly to not guide you down a road of wasted ingredients.
David Lebovitz's new book Ready For Dessert arrived with perfect timing. Isabella is on spring break, and while that makes finding time to work challenging, it does relieve me from school routines and homework. What better way to spend a day than making some cake and cookies just for fun?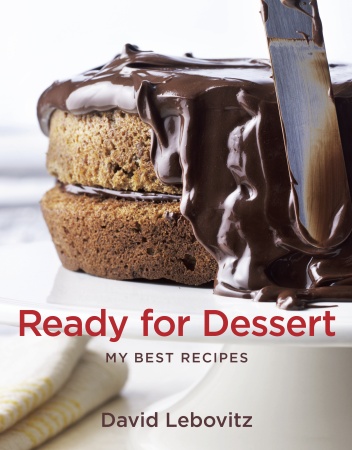 My first instinct was to make the Guinness-Gingerbread Cupcakes. David's inspiration came from tasting a Claudia Fleming dessert. When I worked at Gramercy Tavern, I spent a lot of time in the pastry department. I pretty much worshiped her, and it was months before I could look her in the eye, let alone utter a word. Being in her presence was close to godliness for me, and she'd chuckle if she read this right now. She once left a message on my answering machine asking for my fudge recipe. I nearly died. And the Mr. almost did too…when he accidentally erased the message.
Long story longer, I didn't have all the ingredients on hand for the Guinness-Gingerbread Cupcakes, but then another one caught my eye. It was the start of Passover, and while I'm not Jewish, by now you probably know my mother-in-law is. The recipe for Racines Cake looked like a decadent, chocolate, flourless treat to fit the bill for our Passover celebration.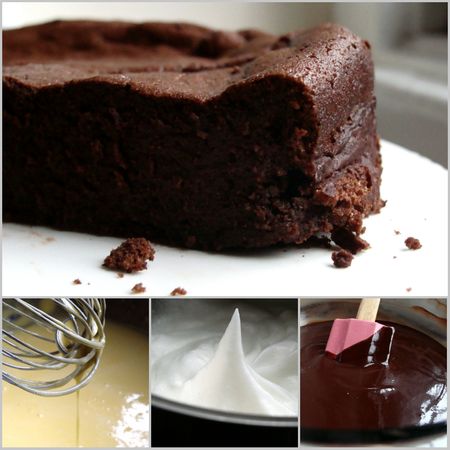 Aside from the cake taking a few minutes less than directed to bake, this is recipe writing at its best my friends. I also made the peanut butter cookies. Chewy, peanutty goodness in every bite—and I highly recommend an icy cold glass of milk for dipping. Both recipes are well worth the price of admission.
p.s. I'd love to hear what got you started baking. Just leave a comment with your own special memory and you may be the one lucky person to get an extra special treat—a copy of Ready for Dessert, courtesy of Ten Speed Press.
Racines Cake
reprinted with permission from
Ready For Dessert by David Lebovitz, courtesy of Ten Speed Press
makes one 9-inch cake
A few days after baking, I discovered this cake is really two treats in one. Lebovitz suggest this is best served the same day it's made—and he's right if you want a light airy kick of deep chocolate to the taste buds. Two to three days later, though, I found the flavors mellowed, making for a denser cake, with a more delicate flavor (sounds crazy, I know). Imagine the cake equivalent to decanting a bottle of wine. Whichever way you decided to serve it, fresh whipped cream is a must. I simply whipped some cream with a bit of sugar but imagine the orange-flower water one Lebovitz suggests would be lovely too.
Cocoa powder, for preparing the pan
10 ounces (280 g) bittersweet or semisweet chocolate, chopped
1/2 cup (4 ounces/115 g) salted butter, cut into pieces
1 tablespoon freshly brewed espresso
1/2 teaspoon vanilla extract
6 large eggs, separated, at room temperature
1/4 cup (50 g) plus 2 tablespoons (30 g) granulated sugar
2 tablespoons (20 g) cocoa nibs (optional)
Powdered sugar, for dusting the cake (optional)
Preheat the oven to 350°F (175°C). Butter the bottom and sides of a 9-inch (23-cm) springform pan, dust it with a bit of cocoa powder, and tap out any excess.
In a large heatproof bowl, combine the chocolate, butter, and espresso. Set the bowl over a pan of simmering water and stir occasionally until the mixture is melted and smooth. Remove the bowl from the heat and stir in the vanilla.
In a stand mixer fitted with the whip attachment, whisk together the egg yolks and the 1/4 cup (50 g) granulated sugar on medium-high speed until the mixture is light and creamy, about 1 minute.
In a clean, dry bowl and with a clean whip attachment, whisk the egg whites on low speed until they begin to hold their shape. Add the remaining 2 tablespoons (30 g) granulated sugar and whisk on high speed until the whites hold soft peaks.
Fold the beaten egg yolks into the melted chocolate mixture, then fold in half of the whipped egg whites. Fold in the remaining whites, mixing just untiI there are no visible streaks of egg whites. Don't overfold.
Scrape the batter into the prepared pan, sprinkle with cocoa nibs, if using, and bake until the cake feels as though it's just barely set in the center, about 25 minutes (Jennie's note: my cake only took 21 minutes—I always start checking a few minutes before directed finish time). It shouldn't feel too firm. Let cool completely.
Run a knife around the sides of the cake to help loosen it from the pan. Release the sides of the pan and dust the cake with powdered sugar, if using.