zucchini apple whoopie pies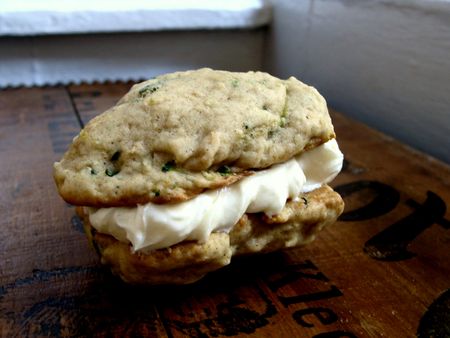 I can't take full credit for this recipe.
I mean I did create the cake-like cookies.
I'm even responsible for the crazy gaul to add ricotta to buttercream frosting.
The idea to layer them into a whoopie pie, though, was all Gail's. It's just one of the many reasons I love her and cherish our friendship. Only two sugar-obsessed minds could come together to create a zucchini apple whoopie pie.
My original intent was to a make a chewy zucchini apple cookie. After the first tray baked, I decided they were too chewy, and the batter needed tweaking. Simply adding a few more minutes to the baking time wouldn't do the trick.
All was not lost, though. Turns out this dough is perfect cake consistency—a bit on the denser side, but moist and bursting with a lemony undertone. See the trick here is the apples were shredded, so it almost melts into the cake resulting in a heavier crumb that doesn't taste dry or feel like a punch to the gut. Sometimes even the kitchen misses turn out to be a success of another kind.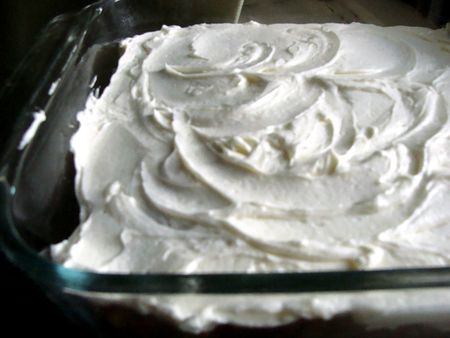 On my second batch of frosting, which doubles as a filling for the whoopie pies, I decided to morph these into a Rosh Hashanah dessert. Pairing apples with honey signifies wishes for a sweet New Year, so I cut back the sugar and added a teaspoon. Consider this the city chic cousin to the homey, country apple honey cake, except no one will roll their eyes when you walk through the door with it.
zucchini apple whoopie pies
makes 9 to 12 assembled cookies
I also made a lovely single-layer cake with this batter, so keep that as a trump card if you're short on time and don't want to assemble them into whoopie pies. And, yes, this recipe looks long—probably the longest one you'll ever see from me, but I promise it is very easy. Really.
for the cakes
12.25 ounces (2 1/2 cups) flour
1 gram (1/2 teaspoon) ground cinnamon
3 grams (1/2 teaspoon) sea salt
4 grams (1/2 teaspoon) baking soda
freshly grated zest of 1/2 a lemon
8 ounces (1 1/2 cups) packed, shredded zucchini (skin on)
2.5 ounces (1/2 cup) peeled, shredded semi-tart apple (I used a jonamac)
1 1/2 tablespoons fresh lemon juice
4 ounces/8 tablespoons butter, softened
4.5 ounces (3/4 cup) sugar
1 large egg
Preheat oven to 350ºF. Line baking sheets with parchment or reusable silicon liners.
In a medium bowl, whisk together the flour, cinnamon, salt, baking soda and lemon zest; set aside.
In a separate bowl, toss the zucchini and apples with the lemon juice; let stand while you prepare the batter.
Beat the butter and sugar in a stand mixer until light and fluffy. Add the egg and beat until mixed in well. With the mixer turned off, add the flour mixture. Starting on a slow speed, mix  until there are no visible traces of flour. The batter will look more like a cookie dough at this point. Fold in the zucchini and apples. The liquid released will loosen the mixture up into a thick batter consistency.
Drop by heaping teaspoonfuls onto the prepared sheets. Bake one tray at a time on the center rack of the oven for 15 minutes. Remove tray from oven and let cool on sheet for two minutes. Transfer cookies to a wire cooling rack and let finish cooling completely before filling.
To make this is a cake, grease an 8-inch square baking dish. Spread batter into dish and bake for 25 minutes, or until a metal skewer inserted comes out clean.
for the filling
4 ounces/8 tablespoons butter, softened
1/4 cup/1 ounce/40 grams confectioners' sugar
1/3 cup/4.2 ounces/118 grams fresh ricotta cheese
1 teaspoon honey
In a stand mixer, beat the butter until light and airy. Add the confectioners' sugar and beat until creamy and no streaks of sugar remain. Add the ricotta and honey; beat for 1 minute. Scrape down bowl, then beat for 2 to 3 more minutes until filling is light and fluffy.
To assemble the cookies, lay half of them flat-side up on a clean counter or tray. Evenly spoon the filling onto the center and gently spread to the edges using an offset spatula. Top with the remaining cookies. Let chill in the refrigerator, covered, for 15 minutes to set. Serve or keep chilled until ready to serve.
If serving as a cake, simply spread the frosting over the top. No need to chill before serving. Best served the same day.