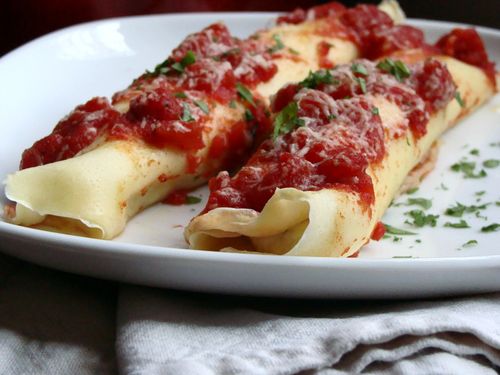 I try to never go back on my word. It's one of the tenets of parenting. You must keep your promises (which is why it's also important to be careful what promises you make!). Well, I know I teased you with my last post on Parmesan Skillet Croutons. I said it was the start of a mini-series in baby steps in cooking that would lead to a velvety, comforting rich tomato soup. That was before i found out that my recipe for homemade manicotti was a finalist over at Food 52. So, please forgive me for my little white lie. I promise next week to come back with a recipe for homemade bouillon (baby step #2). But, today, let's talk about these tender pasta crepes filled with creamy tufts of fresh ricotta cheese and lightly dressed with marinara sauce.
I can't recall the first time I tasted homemade manicotti, but the experience left an indelible impression on my tastebuds. I'd never been a fan of them, and that was likely because the commercially manufactured ones are belly bombers. My family never made them from scratch.
Then one day I found myself in the kitchen with the urge to make them myself. I started by making some fresh ricotta. It's incredibly easy, so give it a try. If you pressed for time, then it's okay to buy it, but make sure it's fresh—you'd just be doing yourself a disservice otherwise. And don't forget about the marinara sauce. Surprisingly, I've never posted my recipe, so here's the short version.
Saute a few cloves of garlic in extra virgin olive oil. Add one 28 ounce can of crushed San Marzano tomatoes. Season with salt and pepper to taste. Add a handful of fresh basil, or a teaspoon of pesto if you made some for the winter months. Bring to a boil, then reduce to a simmer. Cook for 15 minutes, and presto you've got homemade marinara sauce. I also add a dash of sugar to balance out the tomatoes' acidity, and yes, I know about carrots and all the other natural ways to add a bit of sweetness. I've tried them, and much prefer a smidge of sugar—it's how my mom and her mom did it. Feel free to skip the sugar all together.
The rest of the recipe is below, and even has some helpful step by step pictures. I've added a new printer friendly link to all my posts, so you can easily print the whole recipe out when you settle in to make it. Moms take note, it's also a fun cooking project for the kids. Let them give the batter a whirl in the blender and those little fingers are great for rolling the manicotti. And if it turns out you like this as much as my family, then go over and vote for me at Food 52. I promise, and really mean it this time, to be back next week with the second step in building the best tasting tomato soup. See you in February!
This recipe is now part of my new site, Simmering. It can be found by searching the archives
here
.